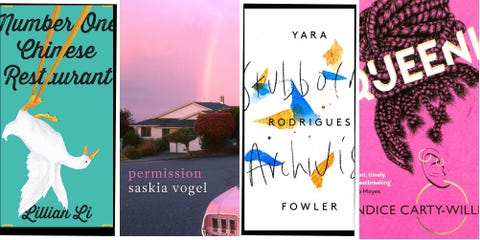 The new year is jam-packed with literary debuts we can't wait to hit the shelves. Here's a selection of first books by authors you'll want to get stuck into in 2019 - happy reading!
1
My Sister, the Serial Killer by Oyinkan Braithwaité
Set in Lagos, this is an unputdownable, darkly comic novel following Korede, whose little sister is in the habit of killing her boyfriends (three so far), and Korede has patiently helped her clean (and cover) it up. Hilarious, disturbing, and so much fun to read.
Out in January
2
Optic Nerve by María Gainza
This is a dazzling combination of memoirs, fiction and art book. The story follows a narrator who is obsessed with art, has a job showing it to rich foreigners, and sees her life through the paintings and artists who obsess her. It's short and snappy; like nothing you've ever read before; and set in a vivid and moody Buenos Aires backdrop.
Out in January
3
Notes to Self by Emilie Pine
This collection of personal essays was a word-of-mouth phenomenon after it came out in Ireland from a small press; so much so that it's being released in the UK and US in 2019. Affecting and intimate, the six essays here revolve around womanhood and its pains and joys, poignantly examining topics including infertility, self-harm and grief. The first essay especially, about growing up the daughter of an alcoholic father and learning to love him and take care of him, is deeply moving and will stay with you.
Out in January
4
Golden Child by Claire Adam
This novel follows a family that find themselves having to choose between the fates of their twin sons when one of them, on whose future they hadn't invested as much as in his brother's, is kidnapped in the night. Set in Trinidad in the 1980s, this is an atmospheric literary work which hooks like a thriller. It's also second release in the States.
Out in January
5
Stubborn Archivist by Yara Rodrigues Fowler
This novel beautifully explores the notion of home, belonging and trauma for people who, like this Brazilian-English writer, find themselves growing up between languages and cultures and identities. Written through collected bits and conversations the protagonist archives, this is a unique book you'll be able to read in one immersive sitting.
Out in February


6
You Know You Want This by Kristen Roupenian
You know you want to read this collection by the author of the viral short story – the stories here are as creepy and perceptive, and sometimes downright bonkers – in their exploration of toxic masculinity, gender norms and power dynamics in the realms of sex and dating. One story in particular, The Good Guy, is chillingly accurate.
Out in February


7
Number One Chinese Restaurant by Lillian Li
This twenty-seven-year-old author has drawn on her own experience as a former waitress in a Chinese restaurant in the US for this funny, brilliant and highly enjoyable novel set in the Beijing Duck House, a popular family-owned establishment in Maryland. Li goes behind the scenes and weaves a multigenerational narrative full of decades-long grudges, intrigues and complex characters, whose lives are put to the test when disaster strikes.
Out in February


8
The Age of Light by Whitney Scharer
This historical novel tells the story of icon Lee Miller – famously a muse and lover to Man Ray, she was actually a free-thinking pioneering artist, photographer, model for Vogue, Conde Nast's first war correspondent in WWII (she took a ), and more. This novel shows how she transcended the male-accessory role and casts her in a new light as the protagonist of her own independent, ambitious life. Fans of Mrs Hemingway and The Paris Wife will love this one.
Out in February
9
Permission by Saskia Vogel
We've admired Saskia Vogel's work as a translator of cool, edgy for a while and can't wait for her debut novel to come out. It follows a failed young actress who becomes emotionally paralysed after her father gets swept away by the sea off the coast of L.A., and she finds solace when she meets a dominatrix. Author Ryan Ruby said of it that it 'lies just beneath the Hollywood dream factory we think we all know and against all odds finds something sacred there.'
Out in March
10
Daisy Jones and the Six by Taylor Jenkins Reid
Fans of Almost Famous, listen up. This is the fictionalised story of the rise and fall and eventual break-up of an all-popular rock band of the late 70s, rife with sexual tension, drugs, love triangles – sound familiar? It is indeed based on Fleetwood Mac, and Reese Witherspoon has already bought the TV rights.
Out in March
11
Show Them a Good Time by Nicole Flattery
Irish women writers are on fire, and Nicole Flattery is yet a further brilliant example (among others in this list). This collection of short stories "explores types – men and women, their assigned roles and meanings – in today's society." That translates as ten smart stories about dating, relationships and the absurdities of modern life, and they are irreverent and unexpected despite the familiar territory (, a story about a young, broke Irish woman who narrates her relationship with a New York comedian, won Flattery the White Review Short Story Prize).
Out in March
12
Our Lady of Everything by Susan Finlay
This is a charming, quirky novel set in mid-2000s Nottingham about multicultural life, love and faith (including magic, occultism and tarot). When a young soldier is dispatched to Iraq, a cast of characters (including his Irish grandmother and his Polish girlfriend) come together, while individually struggling to make sense of their own lives. It's refreshing to see a novel that focuses the lens on regional identities and makes Nottingham a major character within the story.
Out in March
13
Constellations: Reflections from Fashion by Sinéad Gleeson
Sinéad Gleeson's collection brings together passionate, transcendent essays about bodies and art, ghosts and womanhood, grief and motherhood, and what it's like to live in a body that fails you. Like the perfect title indicates, this is a glistening ensemble of pieces that live on their own but, all together, form a powerful emotional universe.
Out in April


14
Queenie by Candice Carty-Williams
Queenie is about a 25-year-old Jamaican British woman in London who, at the start of the book, is breaking up with her boyfriend and having to vacate their flat and move into a houseshare. She works at a newspaper amidst white middle-class colleagues, starts dating questionable men – to the dismay of her group of friends –, feels like she doesn't fit in between two cultures, and isn't getting on with her mum. Grab the popcorn, so to speak.
Out in April
15
Cygnet by Season Butler
The set-up for Cygnet is irresistible: The Kid is a seventeen-year-old girl who finds herself stranded on Swan Island, 'an eccentric old-age separatist community who have shunned life on the mainland for a haven which is rapidly sinking into the ocean.' Her arrival is a threat to them, and she will have to fend for herself in a world that's crumbling around her. A highly original novel with a memorable narrator, China Miéville said about it: 'Terribly moving. A clear-sighted, poignant rumination on loneliness, love, the melancholy of age and of youth – and, in its quiet way, the end of the world.'
Out in April
16
The Farm by Joanne Ramos
Golden Oaks, a luxury-retreat-meets-fertility-clinic in upstate New York run by an ambitious businesswoman, is a place where women become surrogates for the fetuses of the ultra-rich and, in exchange, get 'the very best of everything'. Jane, a young Filipina immigrant with few options, gets convinced to join for nine months. Exploring power, class, inequality and the role of luck in our lives, this novel promises to be an unsettling, unputdownable read.
Out in May
17
What Red Was by Rosie Price
This novel follows a young British woman, Kate, who meets charming and extremely privileged Max and immediately rides the wave of their fun, uncomplicated, consequence-free friendship and lets herself be absorbed by his glamorous family. Until, one night at a summer party in their house, she is the victim of rape – by someone too familiar to name. This set-up is no-doubt familiar, but what Rosie Price does with it is subversive and sophisticated, and her exploration of sexual violence and class makes for an unforgettable read.
Out in May
18
Salt Slow by Julia Armfield
The stories in this collection look at women's bodies and their experiences in society with an eerie, otherworldly lense – for instance, in them women become insects, men turn to stone, cities become insomniac and landscapes are always shifting. For fans of Carmen Maria Machado, Sophie Mackintosh and Megan Hunter – as hard to describe as a group of stories can sometimes be, take Daisy Johnson's word for it: 'Reading this collection is the only thing you need to do right now.'
Out in May
19
Saltwater by Jessica Andrews
When Lucy moves from her working-class family home in Sunderland to London for uni, she thinks she can unlock the kind of glittery life she sees in 'cool girls in chunky sandals' and East London warehouse parties and the neon lights hitting the river at night. 'I thought that was the kind of life I was supposed to want,' she says. But despite the city's promises, her new life is not what she expects and she still feels like an outsider. Her journey will take her to her late grandfather's cottage in rural Ireland, where she will try to piece together who she really is.
Out in May
20
My Past Is a Foreign Country by Zeba Talkhani
This memoir is about self-empowerment, body positivity and mother-daughter relationships. In it, Muslim feminist Zeba Talkhani charts her experiences growing up in Saudi Arabia amid extreme patriarchal customs, and her journey to finding individuality abroad in India, Germany and the UK as a young woman. Touching on often taboo subjects like hair loss, Talkhani's story of grit is a portrait of a young woman who refused to let others define her.
Out in June