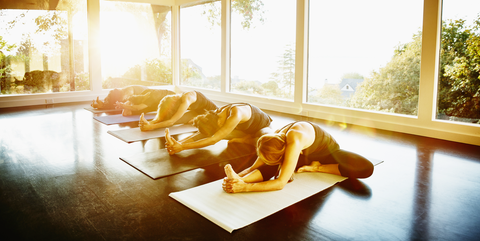 Thomas Barwick
Getty Images
If you feel like you've already ditched most of your New Year's resolutions (oh well...), here are the best fitness events and festivals happening in January to take you from the bar to the barre. And stretch.
2
Cold-Water Dip Meet Up With Team52
When: 20 January
Where: Brockwell Lido, South London
Price: Free
Sign Up
Start your year by throwing yourself in at the deep end and make a splash with Team52, a south-London based fitness collective, at Brockwell Lido in south London. Blast away your January blues with a cold-water dip and expect a major endorphin high as well as a boost to your immune system and circulation.
Already feeling cold at the thought of it? Fear not, if you take the plunge, you'll be rewarded with cake afterwards. Not to mention a prize for the wackiest swim hat.
As Lady Gaga sang in A Star is Born, 'I'm at the deep end, watch as I dive in'. It wasn't, but it could have been written about the cold-water dip at Brockwell Lido.

3
Barre And Brunch At Orrery – Xtend Barre
When: 20 January
Where: Xtend Marylebone, London
Price: £40
Book Now
If 2018 was the year of barre then 2019, is the year of barre and brunch?
We think so. Xtend Barre, known for being one of the best barre workouts in Manchester are inviting you to work out for the morning at their Marylebone studio. An hour-long vigorous barre workout which is guaranteed to work up an appetite, as well as your glute muscles.
Thankfully the French restaurant Orrery just down the road is inviting attendees to sample their delectable new brunch menu in a private dining room. Bon appetit!
4
Power Yoga With Matthew Feczko
When: 20 January
Where: Basement, Shoreditch, London
Price: Free
Sign Up
Fancy being zen but with a bit of a kick? Frame London's star instructor Matthew Feczko is making it his mission this January to whip us all into shape and have fun while doing so. The instructor known for his toothy grin and love of lamé gym leggings will be hosting a free hour long 'Power Yoga' session at Blockhead Basecamp gym in east Manchester combining elements of Vinyasa and cardio.
The dynamic workout requires a lot of focus and stamina but promises benefits for both your physical and mental health.

When: 26 January
Where: Oval Space, East London
Price: £25 for FRAME PLAYPEN and REBOUNDING RAVE, £5 for PICKLE FACTORY FRAME X FACEGYM
Book Now
The much-loved boutique gym FRAME is celebrating its 10thanniversary this year (Happy Birthday to you!) and kicking off the year-long party is a REBOUNDING RAVE at east London's Oval Space. Think rave music, glowsticks, hair braiding, a goody bag to sink all other good bags and a trampoline class to really shake off any festive hangovers, both literal and metaphorical.
After the class, there are Pukka lattes to be downed and an extra FACEGYM and Frame Quickie Butt Lift workshop across the way in the Pickle Factory if you've still got energy to burn.

7
Jo Loves x Sweaty Betty Wellness Morning
When: 26 January
Where: Sweaty Betty Carnaby Street, London
Price: £37.69 (Brunch included)
Book Now
Doing pilates in a room infused with the scent of Jo Malone's popular 'Jo Loves' fragrances sounds like a dreamy way to start your Saturday, right?
Jo Malone and Sweaty Betty are collaborating for a zen-ful wellness morning with a Pilates session in a scented studio, followed by a delicious brunch at the hip Farm Girl Café. While you dine, Jo Malone herself will be giving a motivational talk on finding balance in life and building a personal brand. On top of this you'll receive a Jo Loves x Sweaty Betty goody bag. What's not to like?

8
Another__Space's Urban Quadrathlon
When: 26 January
Where: Another__Space, Bank, London
Price: £30
Sign Up
If you're one of those people who are always wanting to push themselves further, then Another__Space's urban quadrathlon is the endurance challenge for you.
Back by popular demand hardcore fitness fanatics will meet at Another__Space's Bank studio, hit the spin class 'Cycle' for 30 minutes, then run through the City of Manchester followed by 35 minutes of 'HIIT' (described on their website as a "high-energy punchbag workout") and finally unwinding with 45 minutes of yoga. Namaste.
Arduous? Yes, however you're post-Christmas body goals will love you for it.

When: 26-27 January
Where: Westgate Oxford
Price: Free (but book in advance)
Book Now
If you're considering taking up a new fitness regime but are too scared of fully committing, then FitFest Oxford is the answer. Offering a 2-day opportunity to sample everything from yoga, boxercise, spin classes, jump fit and hoop tone, this is a great chance to find out what works for you.
On top of this, Lush will be offering a workshop where attendees can make their own custom cleanser. Other popular beauty brands such as Aveda and Neal's Yard will be offering massages and facials. Sign us up!
Health-focused Jericho's Kitchen and the contemporary Indian food outlet Cinnamon Kitchen will also be there doing cookery demonstrations.