Yesterday, The Duke and Duchess of Cambridge shared some snaps of their family at the Chelsea Flower Show on the Royal family's official Instagram page. They depict Kate Middleton, Prince William, Prince George, Princess Charlotte and Prince Louis playing in the Royal Horticultural Society 'Back to Nature' Garden designed by the Duchess (with help from architects Andrée Davies and Adam White).
But while everyone was oohing and awwing at the adorable royal children, we were cooing over Kate's floral dress. Because it is clearly just as cute.
We have good news people, the floral-print number is super-affordable: £79 from & Other Stories. But, the bad news is, it's already sold out...like most high street pieces Kate wears.
Luckily, the Scandi brand has dropped several dresses for SS19 in the same floaty floral chiffon. There are mini and midi options, so you'll be pretty much uniformed for summer.
WE EARN A COMMISSION FOR PRODUCTS PURCHASED IN SOME OF THE LINKS IN THIS ARTICLE

The midi is cut at the same length and has a peplum hem, just like the Duchess'. However, it has a ruffled bib rather than a mandarin collar and a looser, more relaxed silhouette.
It's a versatile piece – you can wear it with wedges à la Kate or make it work for the office with flats.
Printed ruffle bib midi dress, £89, & Other Stories
The mini dress has a ruffled waistband and cuffs, and a pin-tucked button-down front.
The floaty shape makes it perfect for summer holidays, but it would also look good with strappy sandals at parties.
Floral ruffled mini dress, £49, & Other Stories
If you're really committed to the cause, why not snap up Kate's accessories too?

The Duchess was wearing £8 earrings from Accessorize and a pair of espadrille wedges from Spanish brand Castaner. The Carina style has also been spotted (on more than one occasion) on Kate's sister Pippa Middleton and the Duchess of Sussex, Meghan Markle.
SHOP HERE
Carina 60 wedges, £90, Castaner
Kate has been killing it recently with her wardrobe choices. We've rounded up her best style moments right here:
The best of Kate Middleton's amazing style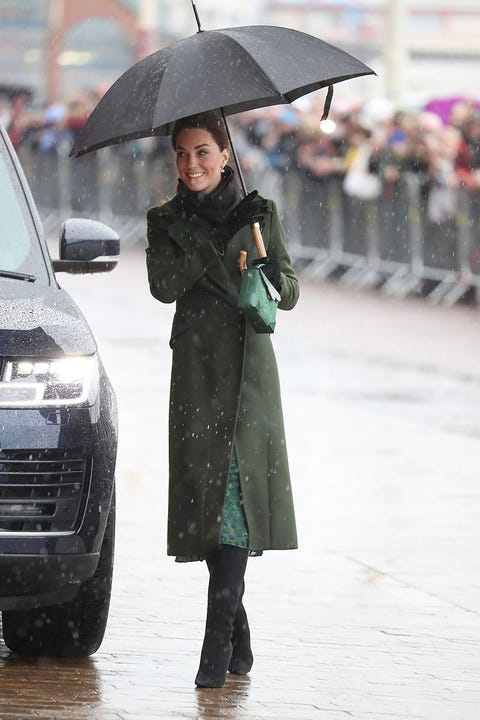 Visiting Blackpool
We earn a commission for products purchased through this article
The Duke and Duchess of Cambridge arrived in a drizzly Blackpool today and Kate wore her new favourite colour - green. She teamed her trusty old Sportmax wool coat (which is sadly no longer on sale) with a green dress, gloves and over-the-knee boots. Kate also sported a brand new Manu Atelier bag, and we want it immediately. Thankfully, you can pick up the style in a number of colours on the Selfridges website. Phew!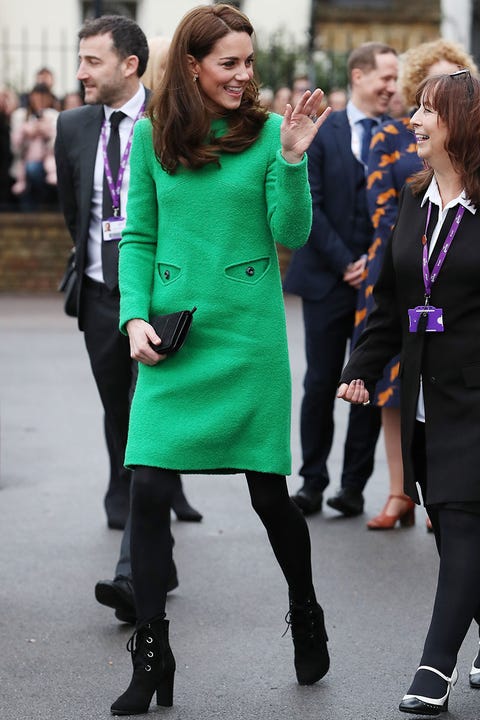 Visiting schools in London
The Duchess certainly seems to have found her signature colour. She chose a green £2,100 dress from Eponine and £199 LK Bennett £199 lace-up boots with tights during a visit to London schools for Children's Mental Health Week. Children were asked to share things that 'make them feel good', and Kate shared a family picture for her own item.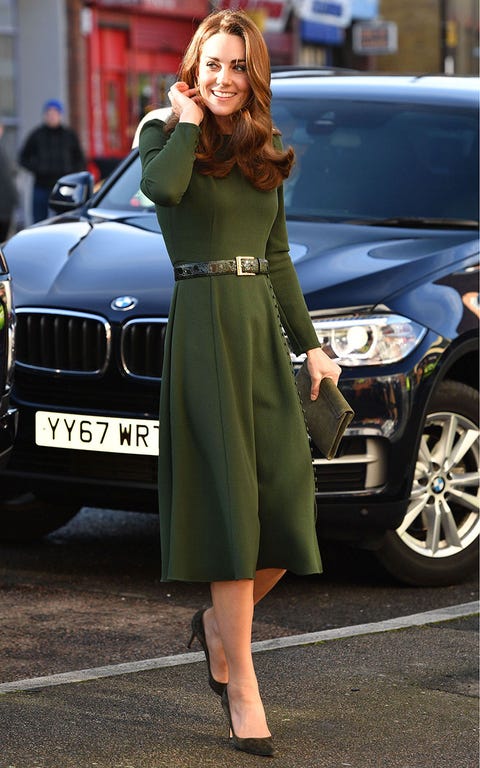 Visiting a family charity in London
The Duchess is supporting ethical fashion in this bespoke dress by Beulah - a brand which helped woman who've been trafficked into the sex trade in Delhi. While visiting Family Action in Forest Hill, Kate opted for block colour in her green button-detail midi dress, which will be available to shop later today. For now, there's a similar style online for £550.
BUY NOW Navy midi dress, £550, Beulah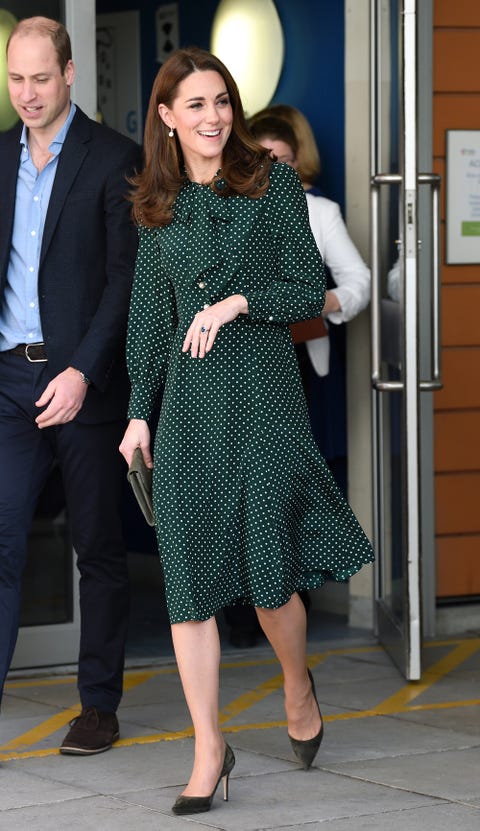 Visiting a children's hospital
Kate Middleton and Prince William just brought some festive cheer to Evelina Children's Hospital in London today. For the occasion, Kate wore a polka dot green dress by LK Bennett, with matching suede clutch, both of which are still in stock.
Buy now Mortimer Green Polka Dot Silk Dress, lkbennett.com, £325
Buy now Dora Khaki Suede Clutch, lkbennett.com, £119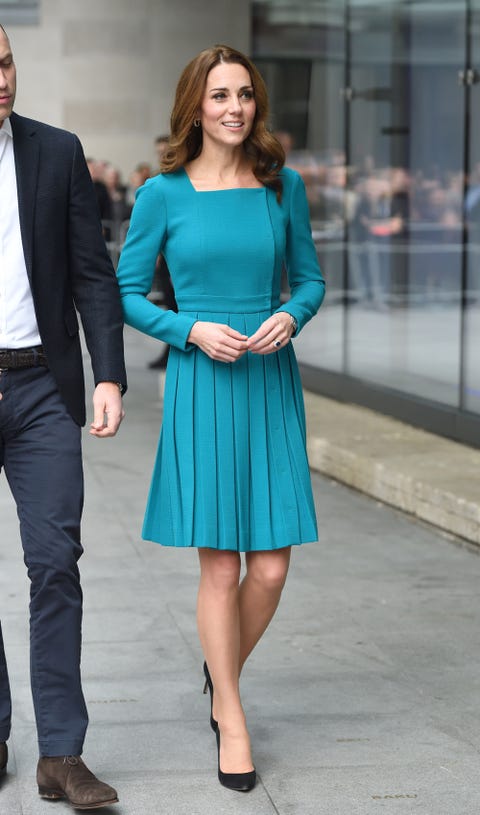 Arriving at The One Show
Kate and William marked anti-bullying week by making an appearance on BBC's The One Show to discuss their cyber bullying campaign. Kate ditched her diamonds from Prince Charle's birthday party the night before, and opted for a blue Emilia Wickstead pleated dress and black high heels.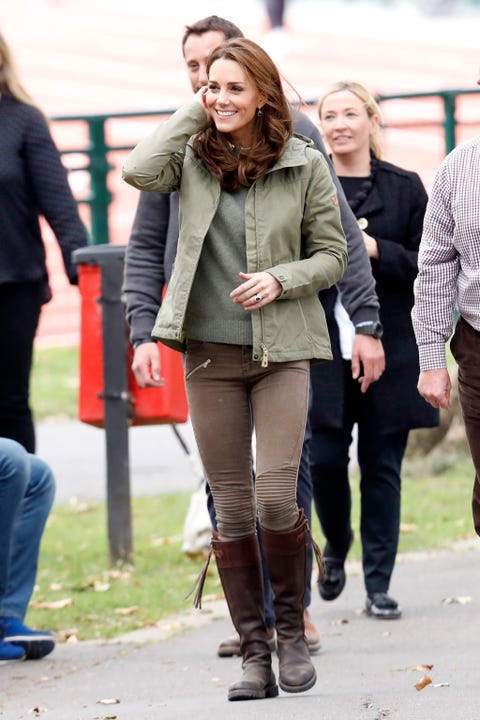 Visiting Sayers Croft Forest School and Wildlife Garden
You know the old saying: if it ain't broke, don't throw away your boots. And that's a motto Kate Middleton seems to live by, as she was photographed on her first royal engagement post-maternity leave wearing a pair of Penelope Chilvers boots she's loved for over 10 years. Kate paired her trusty boots with brown jeans and a khaki green jumper and coat.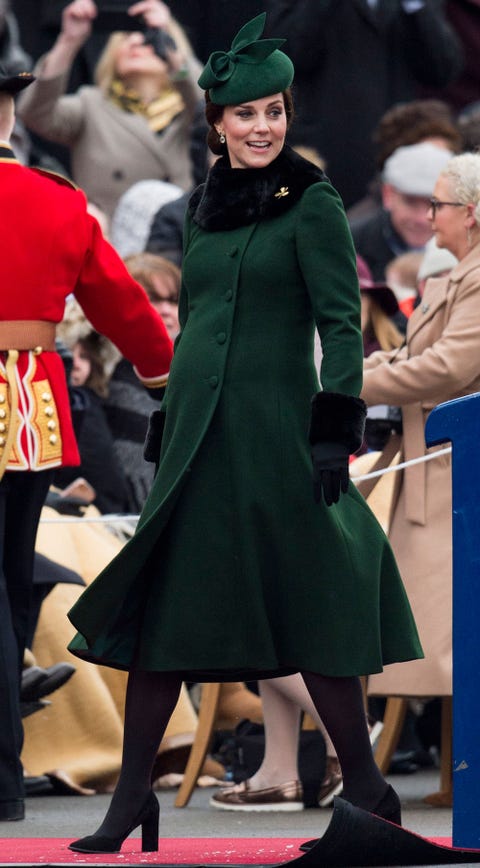 Visiting the Irish Guards on St Patrick's Day
Kate and her baby bump got fully into the Paddy's Day spirit in this all green ensemble. Keeping warm with black tights and gloves, Kate had to leave the Guinness tasting to Wills this time.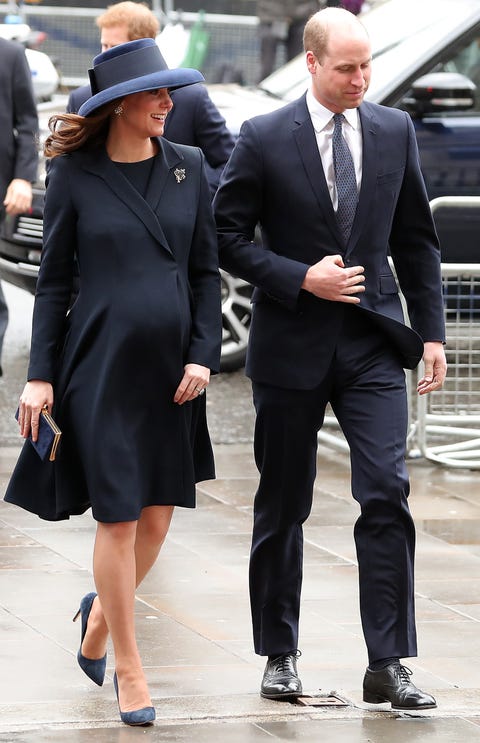 Attending a Commonwealth Day service at Westminster
The Duchess of Cambridge joined Meghan Markle at a special service at Westminster Abbey with the Queen to mark Commonwealth Day. For the occasion, she chose a head-to-toe navy look and a chic wrap coat to flatter her growing baby bump. Cute!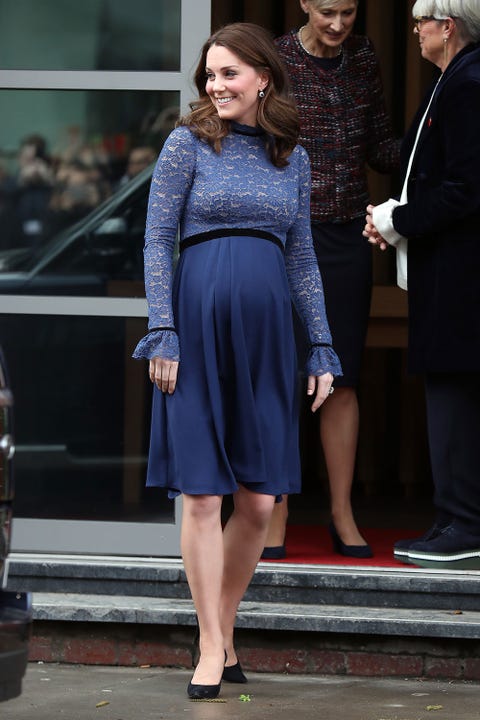 Opening a charity headquarters
Kate arrived for the opening of mental health charity Place2B headquarters looking stunning in this blue lace dress. We love the details on the sleeves and the empire waist line makes it the perfect baby bump fit.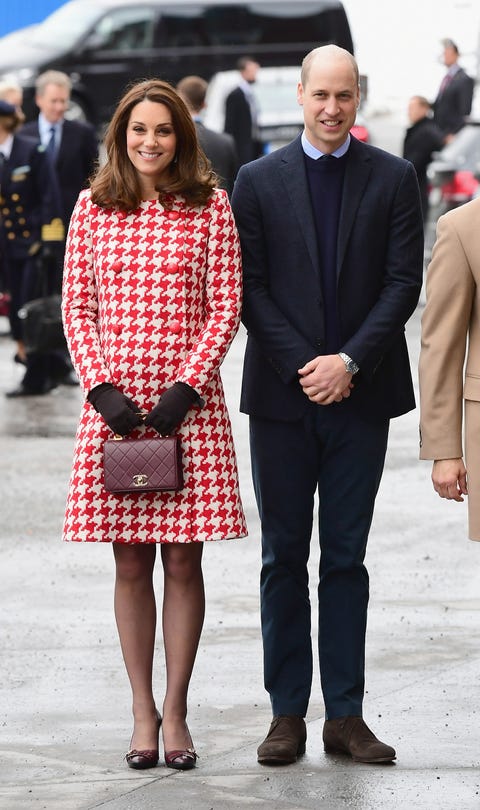 On Royal Tour in Sweden
YASSSS Kate!! And no, we're not celebrating that choice of houndtooth Catherine Walker coat (although it is super chic), we're swooning over that bag she's carrying. Usually a fan of the high street and brands like L.K Bennett, we're excited to see the Duchess rep a designer bag for once - and a really cute, patchwork Chanel one at that. Full marks!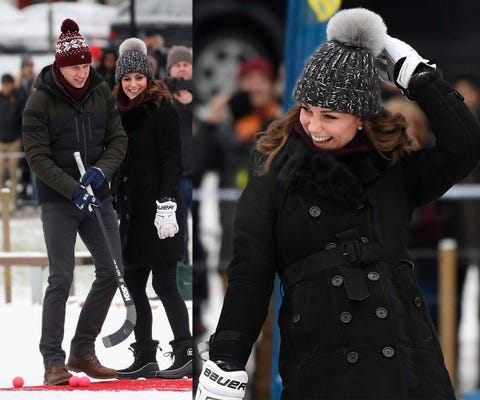 Visiting Sweden
Wills and Kate donned cute his and hers bobble hats for their visit to Sweden this week proving that they are completely and utterly adorable. We loved Kate's winter look, espesh those Sorel boots!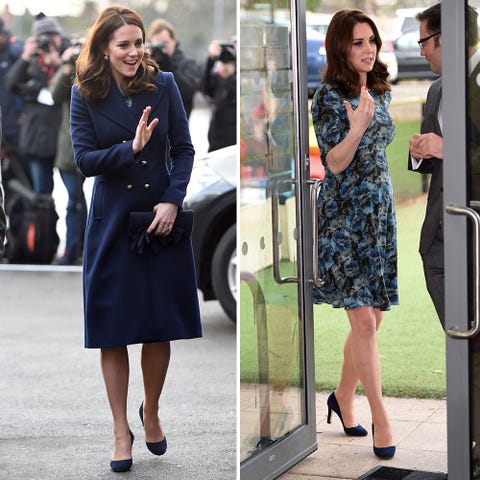 Visiting a school
Kate Middleton chose a coat from high street store, Hobbs, for a trip to visit a school in Feltham this week. Underneath, she wore a dress by maternity brand Seraphine.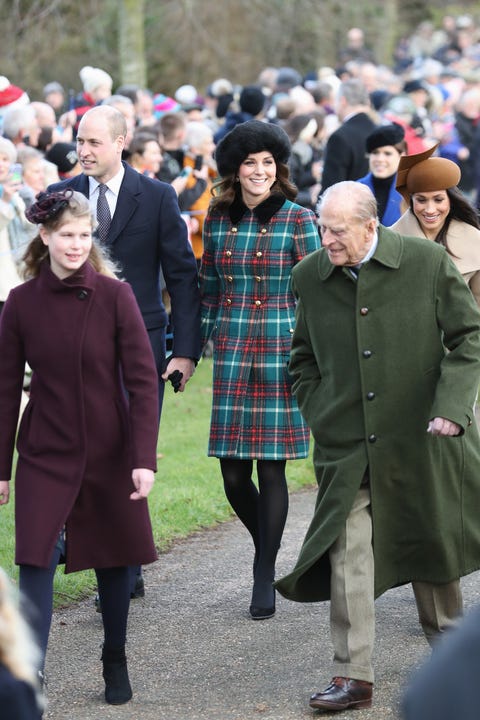 Attending Church on Christmas Day
Kate Middleton opted for a festive tartan dress for the annual royal outing to Church on Christmas Day. Unlike Meghan Markle who wore a smart, brown hat, Kate accessorised with a fun fluffy headband. Cute!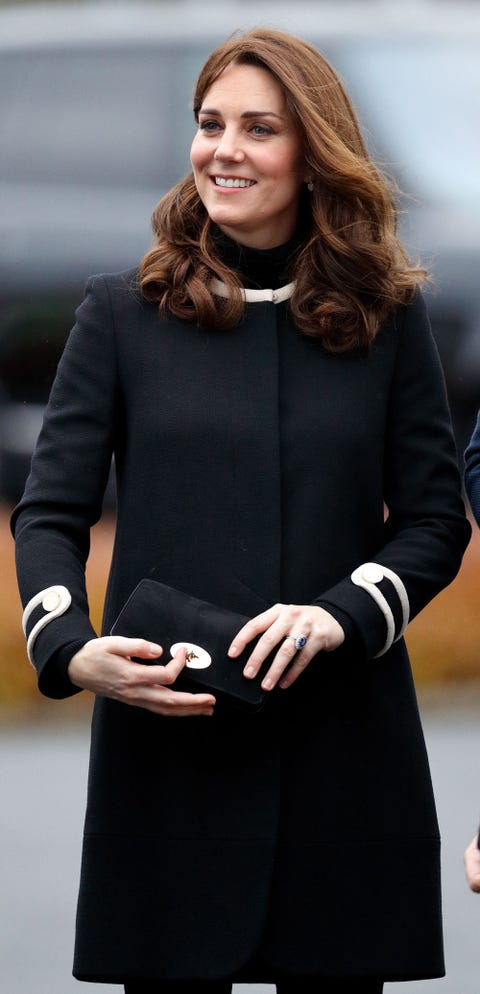 Visiting Birmingham
Who would have thought that Kate shared our love of an all black wardrobe. The Duchess continued to showcase her chic maternity fashion on a visit to Birmingham, in this tailored black coat, complete with matching black Mulberry bag.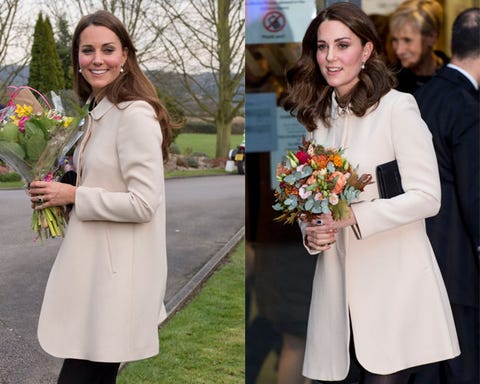 In 2013 and 2017
We know Kate is a thrifty Duchess, which is why we weren't surprised to see her recycling this cream coat from her 2013 maternity wardrobe, when she was pregnant with Prince George.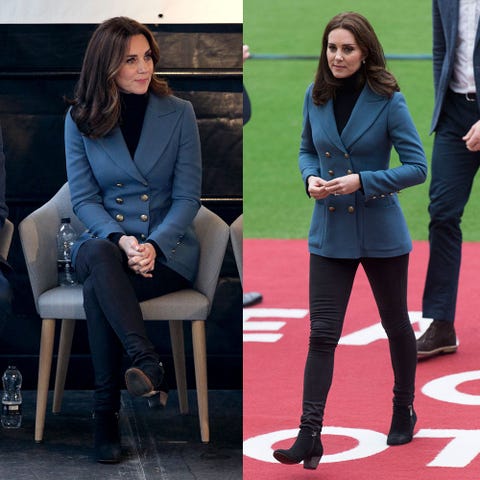 At a sporting event in London
The Duchess looked super chic in her teal blazer this week as she attended a sporting event with Prince William and Harry. Recognise her look? While she has not worn this exact one before, the Duchess has previously donned a red version of the Philosphy Di Lorenzo Serafini blazer (which costs around £760). See, she's just like us - finds something she likes, buys it in every colour!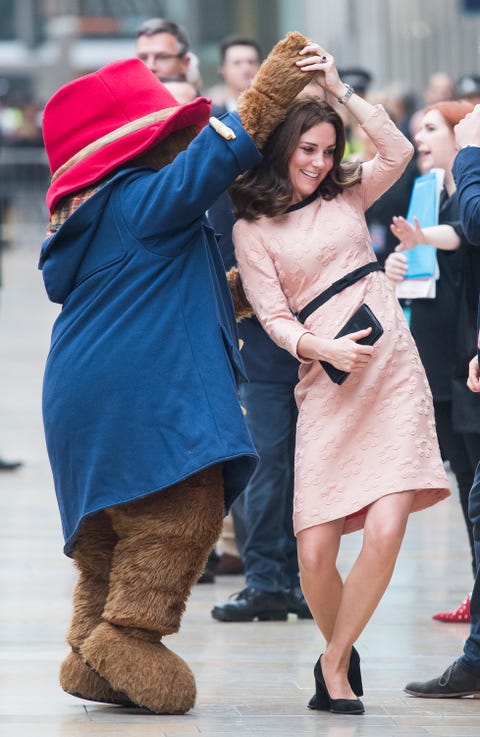 Attending the Charities Forum Event
Kate Middleton stepped out of her designer label comfort zone this week ignoring the Jenny Packham hanging in her wardrobe in favour of a dress by Irish designer Orla Kiely. We love the pastel pink shade and black trim detailing, perfect for a day dancing with Paddington Bear!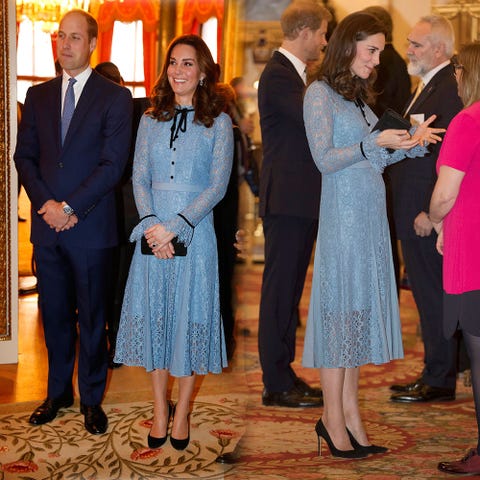 Supporting World Mental Health Day
The Duchess of Cambridge stepped out for the first time since announcing her pregnancy news this week in a blue lace dress. Trying to tell us something, Kate? The Duchess matched her shoes and clutch with the cute ribbon detailing on the Temperley number and left her hair loose and wavy.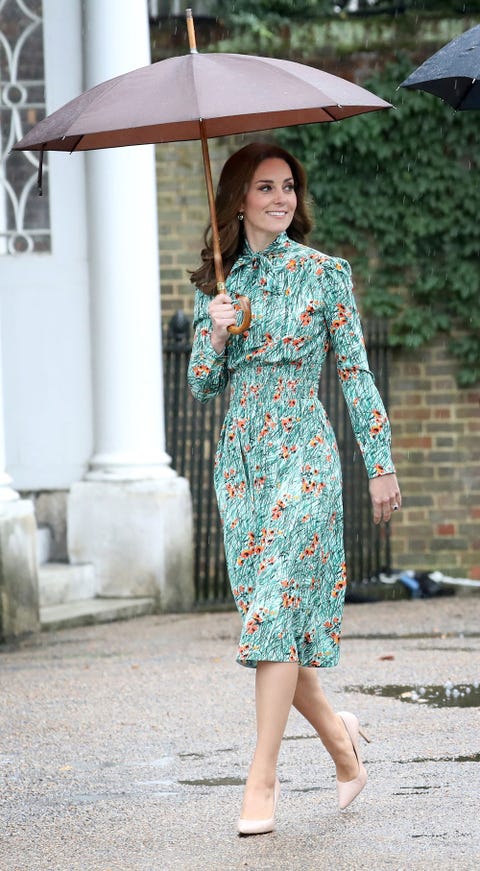 At a memorial for Princess Diana
Kate joined William and Harry in the gardens of Kensington Palace for a memorial to Princess Diana. Wearing a green floral Prada dress and nude pumps, Kate was dressed perfectly for an English country garden (umbrella included obvs).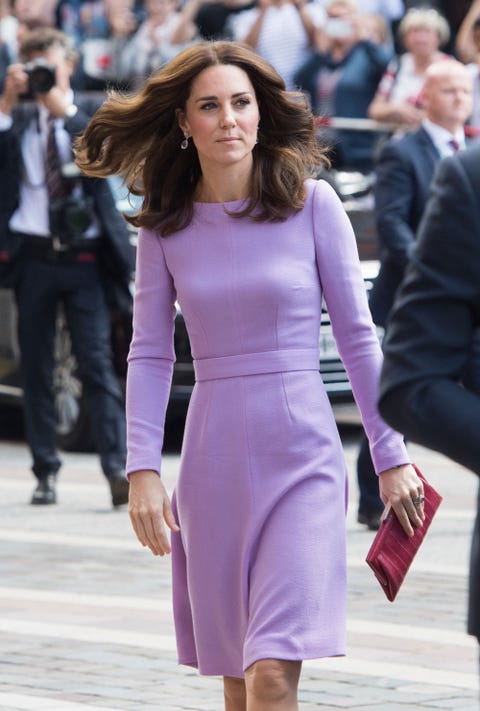 Visiting Hamburg, Germany
Every time Kate wears a new dress we swoon over it, but guys we really think this might just be our favourite one yet. While purple isn't a big theme in our all black wardrobe, we're genuinely considering making a change after seeing Kate in this Emilia Wickstead purple number.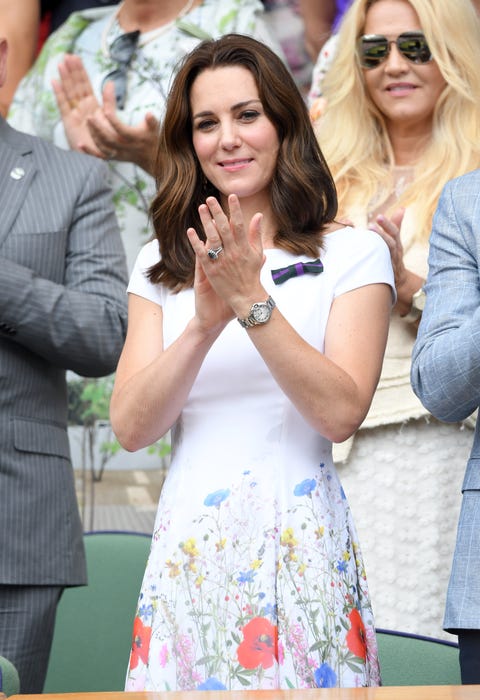 At the Wimbledon men's singles finals
Like her sister Pippa, Kate attended Wimbledon on Sunday wearing a pretty floral white dress. That long bob is still looking on point, too.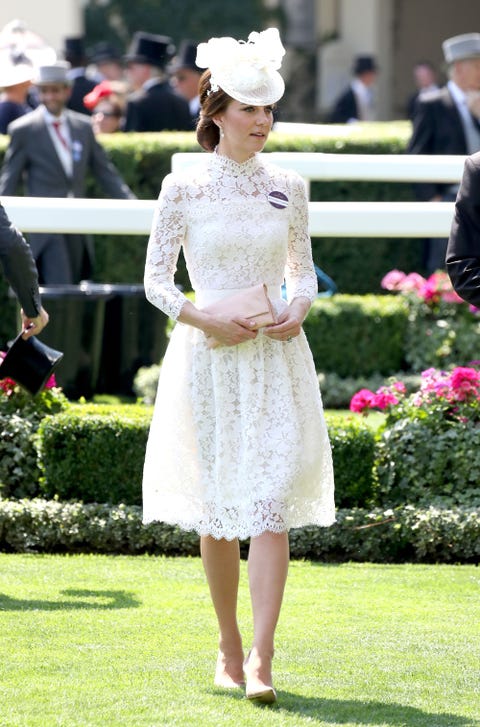 Attending the first day of the Royal Ascot
Despite it being a boiling 30 degrees, Kate looked like she was about to walk down the aisle in her white lace Alexander McQueen gown, at this year's Royal Ascot. Who said white was just for brides?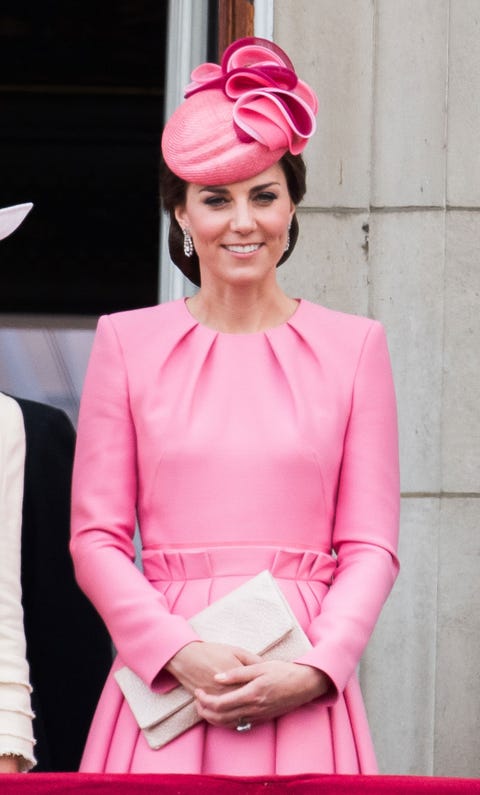 Trooping the Colour
Taking part in the Trooping the Colour parade, in celebration of the Queen's birthday, Kate wore an incredible Alexander McQueen dress, in a gorge shade of pink.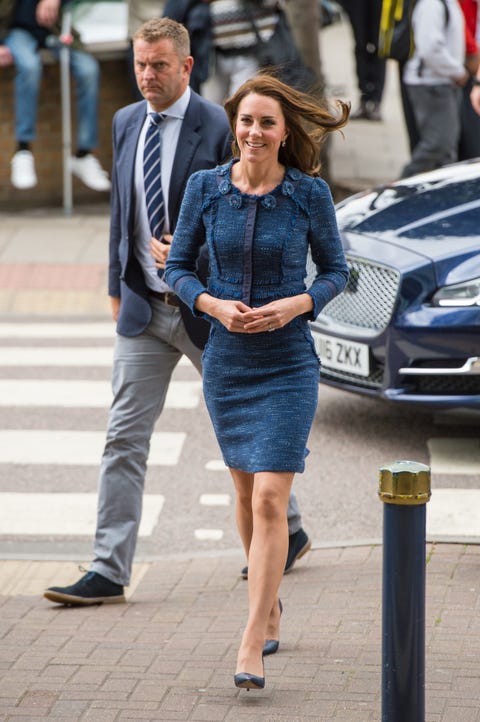 Visiting King's Hospital, London
The Duchess surprised staff at King's Hospital this week when she visited to thank everyone for their role in rescuing victims from the London Bridge terror attack. For her official visit Kate wore a blue tweed suit and matching navy heels.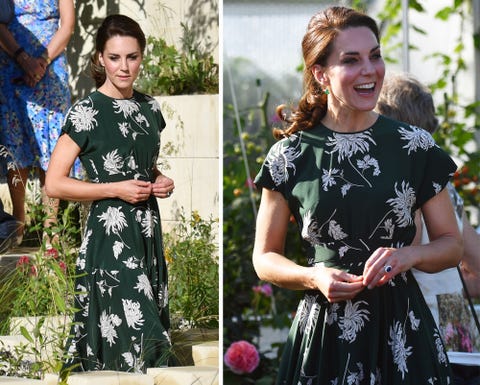 Chelsea Flower Show
Just like when she goes to Wimbledon she wears white, when Kate goes to the Chelsea Flower Show, she wears flowers. OBVIOUSLY. We're kind of enjoying Kate's floral tribute though, especially that colour green which we rarely see her wear.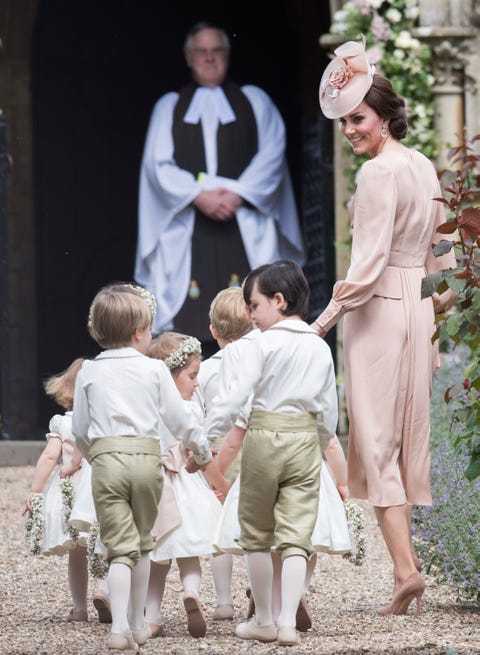 Pippa Middleton's wedding
Kate wore a beautiful pastel pink Alexander McQueen dress to Pippa Middleton's wedding, the same designer she wore to her own wedding in 2011. LOVING the floaty fabric.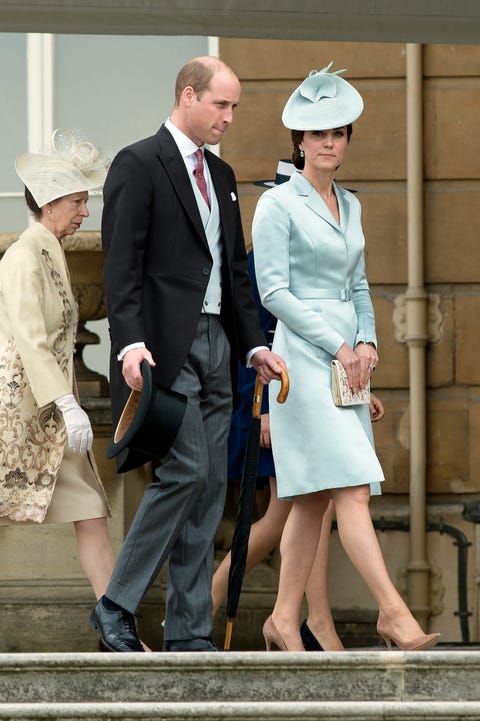 Attending a garden party at Buckingham Palace
Kate went for one of her trusty coat dresses and matching fascinator for the first Buckingham Palace garden party of the gear. We love the icy shade on the Duchess which she of course paired with her beloved LK Bennett beige heels.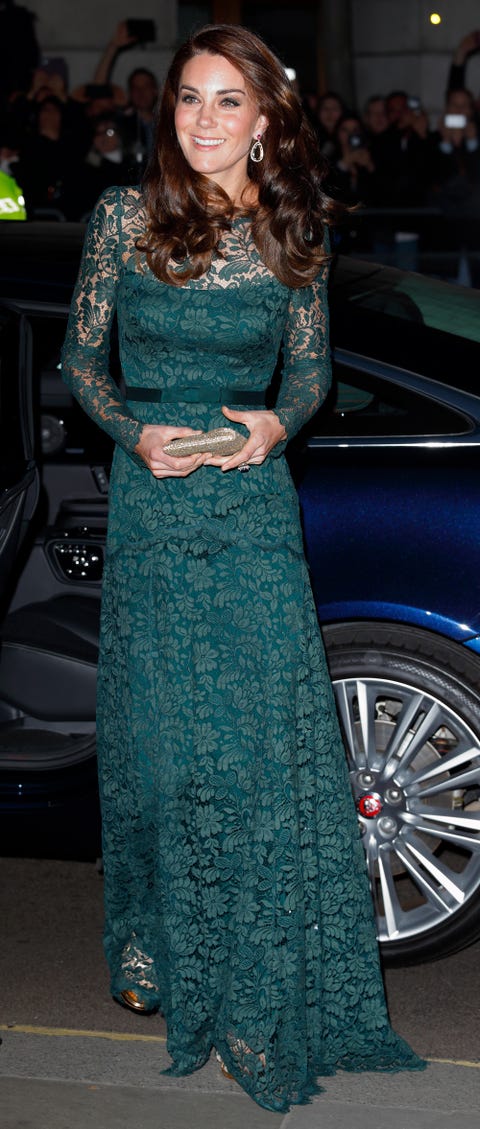 Attending the 2017 Portrait Gala
Now we know Kate is normally pretty thrifty when it comes to her wardrobe but she went all out last night, making us green with envy in this floor length lace Temperley dress. Paired with gold Jimmy Choo heels and ruby and citrine earrings.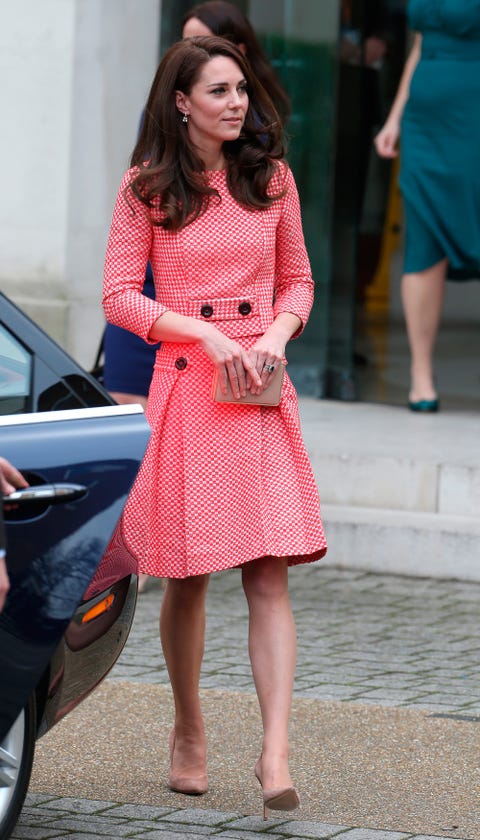 Attending the launch of Maternal Mental Health Films
We know Kate loves a red outfit so it's fun to see her switching it up with this pink checked number. Always one for a matching accessory, Kate matched her nude clutch to her heels.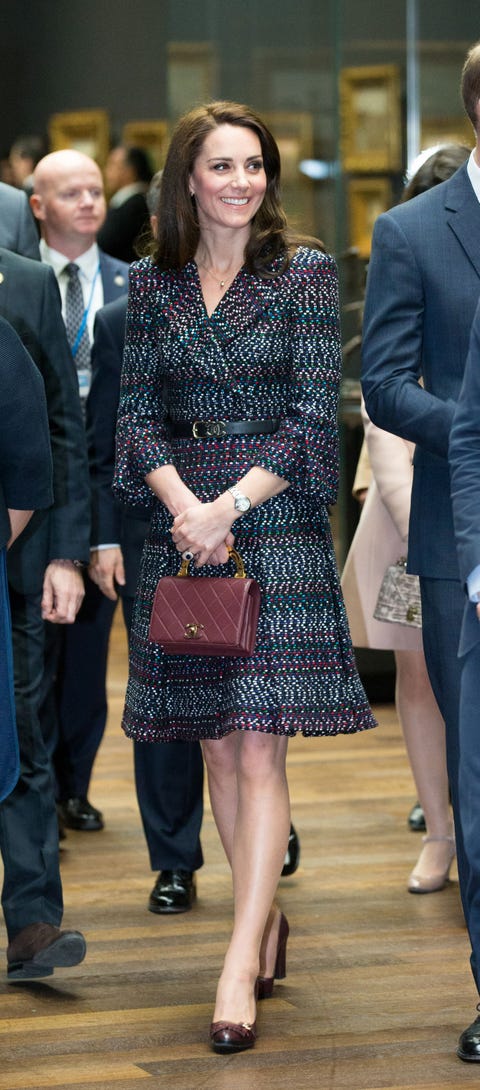 During a visit to Paris
Kate Middleton stepped out of her accessories comfort zone this weekend swapping her favoured clutch bags for a super cute flap bag by Chanel. True to form, the Duchess colour-matched her maroon quilted bag with some slip-on heels.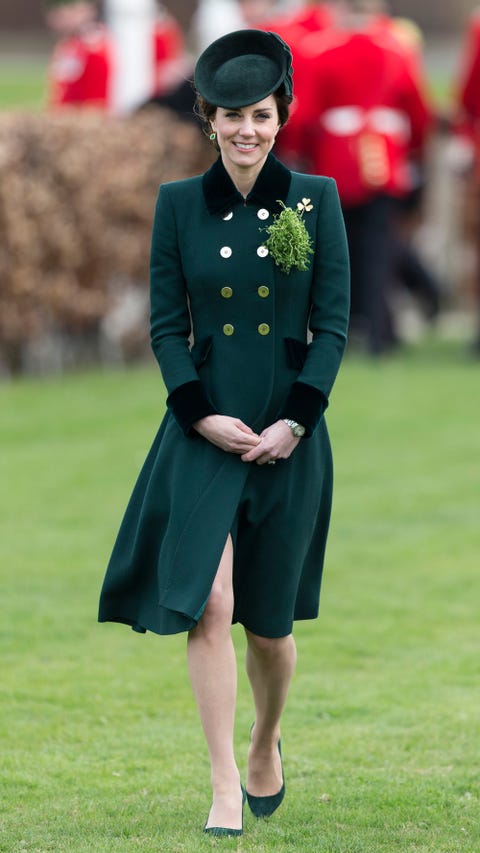 At the Irish Guards St Patrick's Day Parade
St Paddy's day is one of our favourite days of the year and judging by Kate's outfit, it looks like it might just be hers too. Wearing top to toe green (even down to her shoes and hat) complete with a shamrock pin, we think K-Midd just hit peak Paddy's day.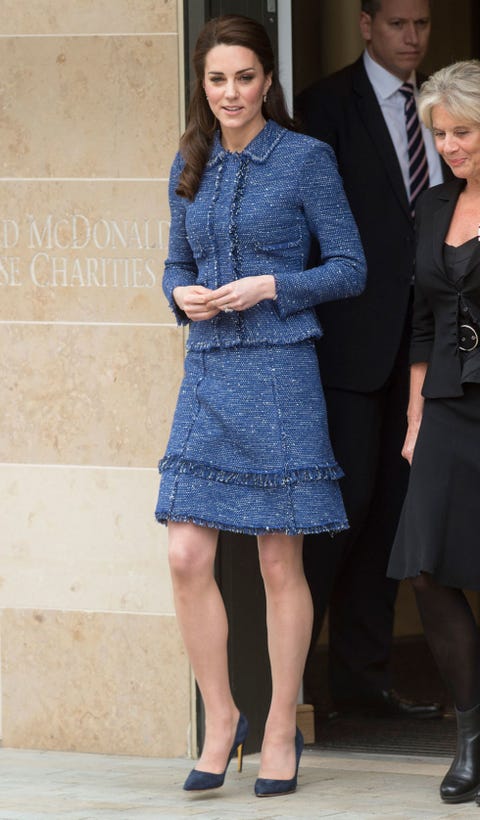 Visiting Ronald McDonald House in London
We struggle to match our all black wardrobe, so props to Kate co-ordinating her blue tweet suit with matching blue earrings, bag and shoes.

At a reception to mark the 2017 India Year of People
Wearing a silver sparkly Rhona dress, Kate looked every inch the real life Disney Princess.
Visting Action for Children in Wales
K-Midd is having somewhat of a red moment, this is her fourth crimson outfit in a row. We love that she swapped the pencil skirt for a skater style as it gives her outfit a much more modern, younger feel.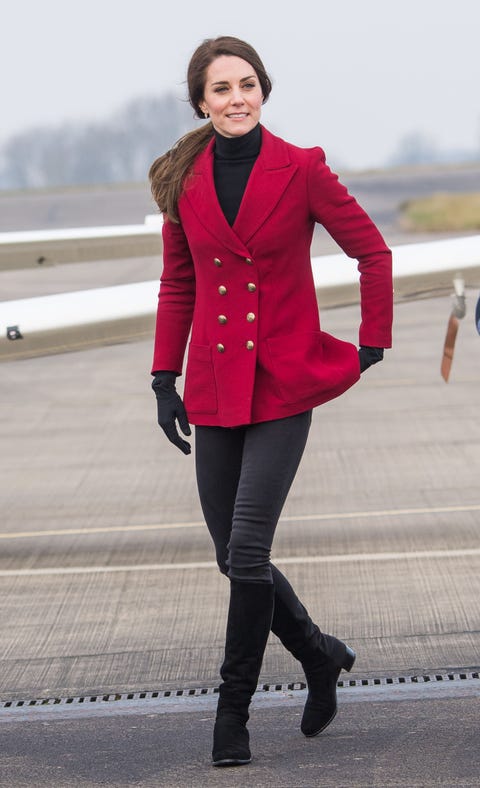 Visiting the RAF air cadets
Kate Middleton embraced all the feels on Valentine's Day when she wore a red coat and heart-shaped earrings to a day out at the RAF air cadet base.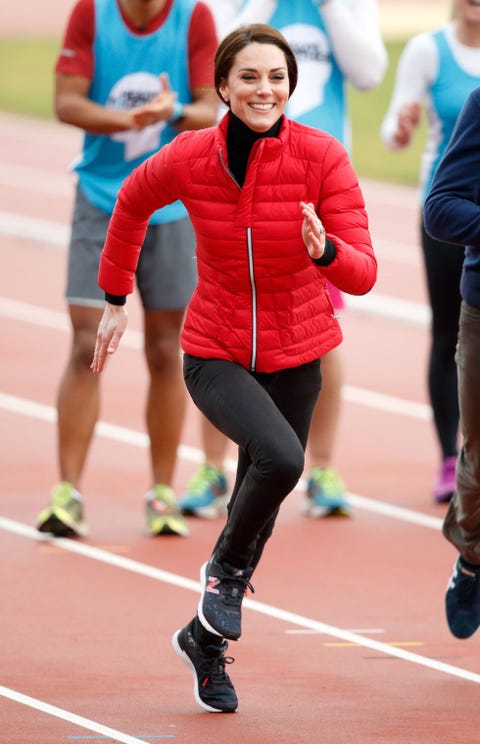 At a London Marathon training day
Another red coat, but this time of the puffed variety. Is this the most casual look we have ever seen Kate? Who knew she even owned trainers...crepcheck.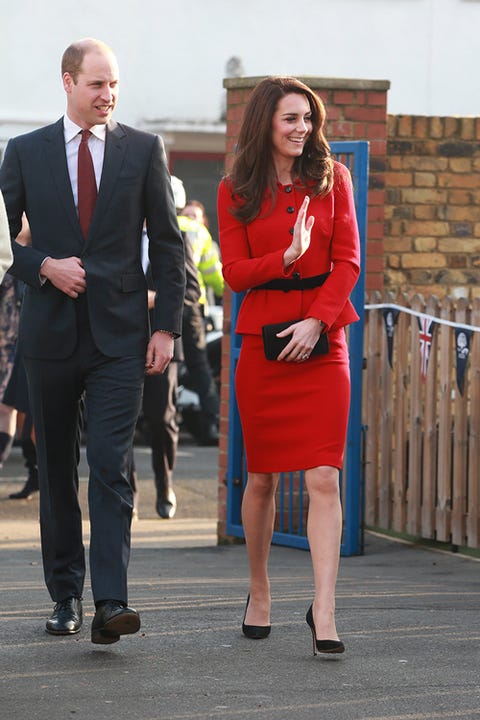 Attending the Place2BeBig Assembly for Children's Mental Health Week
Kate looked a vision in her red skirt and jacket combo. How cute is that black bow belt? Of course she accessorised her look with her favourite style bag, the clutch.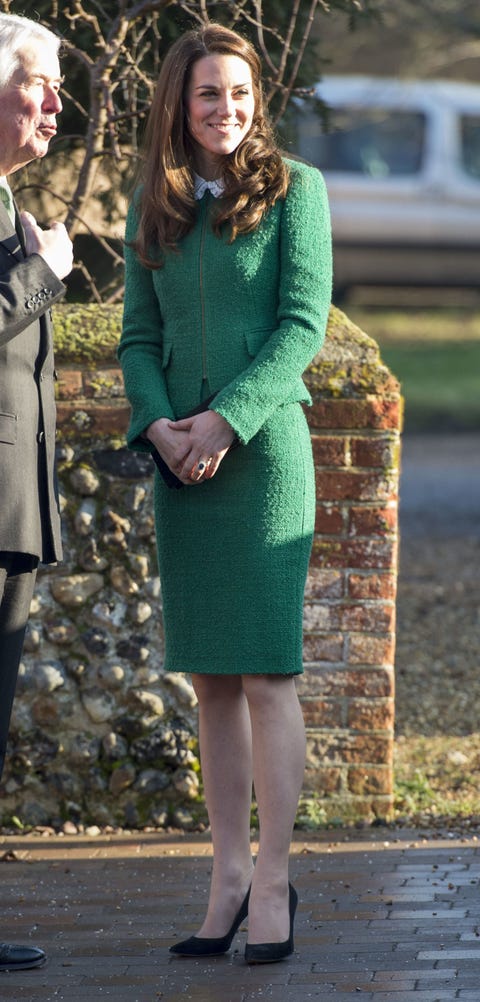 Visiting East Anglia's Children's Hospice
Kate Middleton stuck to one of her trusty colour-blocking outfits for a visit to a children's hospice on Tuesday. The bright green colour looked lovely against the Duchess' beautiful brunette blow dry.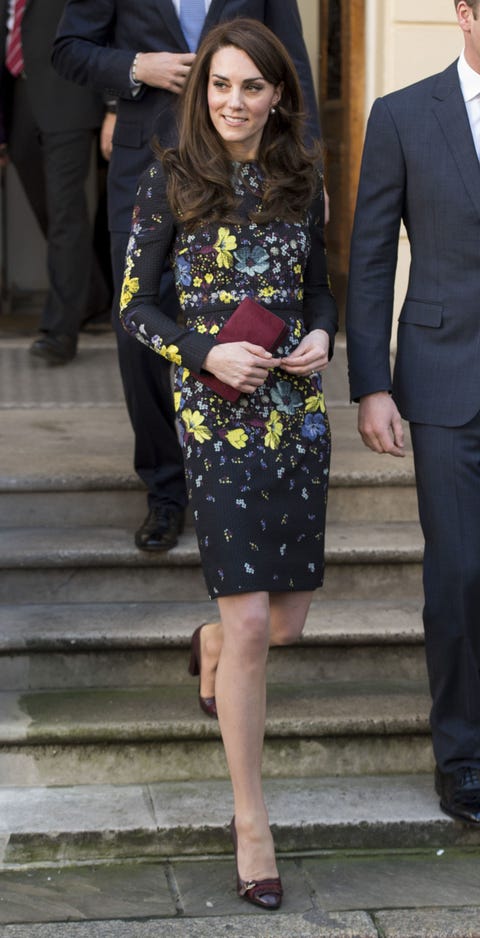 Heads Together briefing ahead of the 2017 Virgin Money London Marathon
Kate Middleton ignored the frosty weather warning when she stepped out in London wearing a long-sleeved dress and not a lot else. The Duchess opted for a bare leg and no coat as she attended a Marathon meeting with Princes Harry and William, letting her floral Erdem number do all the talking. We love that she stepped out of her comfort zone with the maroon accessories, too - no colour-blocking today!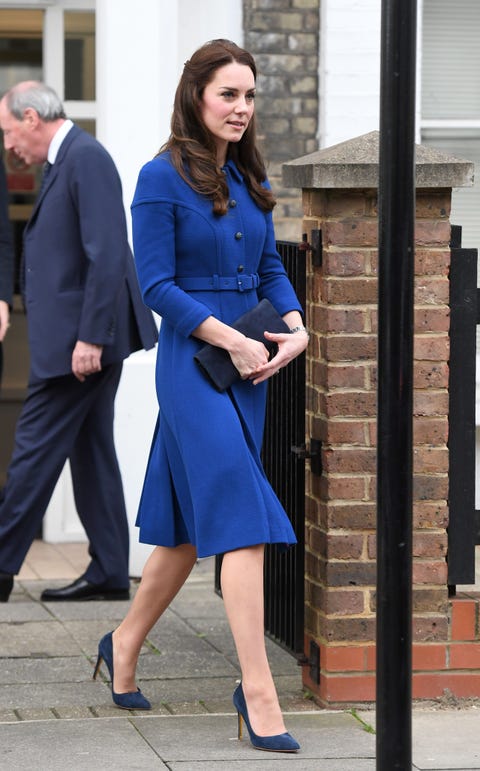 Visiting The Anna Freud Centre
Freezing temperatures don't stop Kate Middleton when she has a function to attend. Thankfully for the Duchess, her wonderful collection of winter dress coats mean at least her upper body is toasty.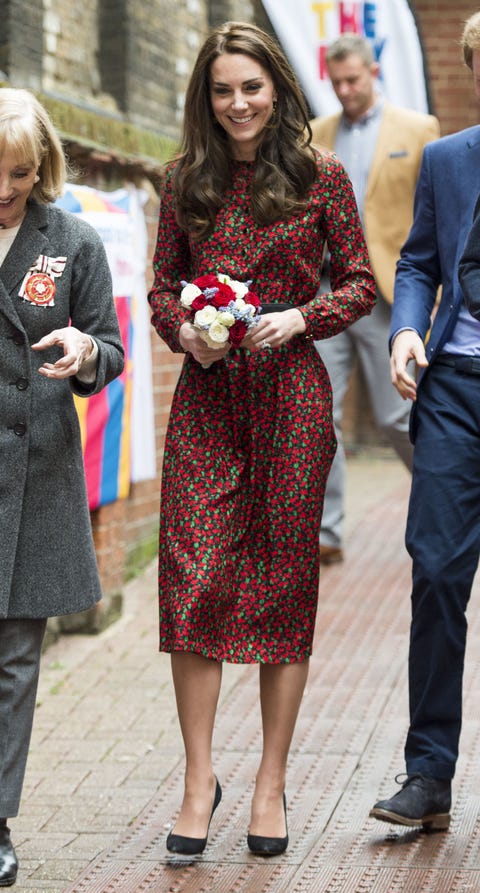 Attending a Christmas party with The Mix
Kate Middleton chose a suitably festive dress for a charity Christmas party proving that Christmas colours don't have to be all novelty and no substance.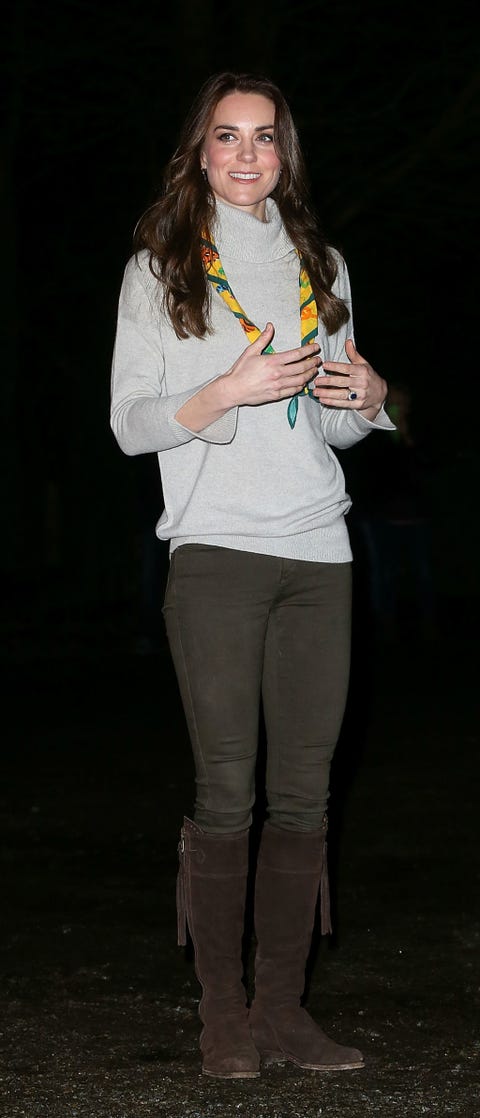 Attending a Cup Scout pack meeting to celebrate 100 years of Cubs
For her Cub Scout meeting, Kate kept it casual with a grey polo neck jumper, olive green jeans and brown, suede, knee-high boots. Her only accessory...a cub scout scarf.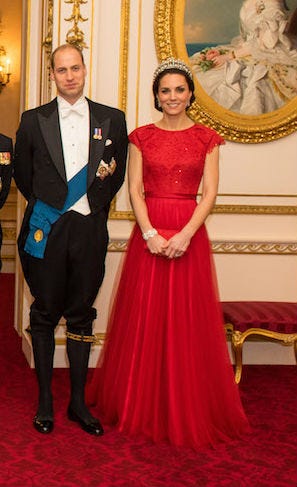 At the Diplomatic Reception
Wearing one of Princess Diana's favourite tiaras, The Cambridge Lover's Knot and a Jenny Packham red dress.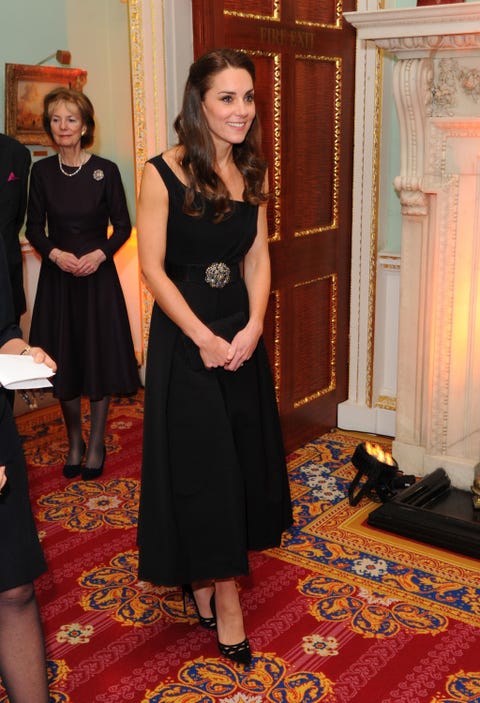 Attending the Place2Be Wellbeing in Schools Awards
Kate has her LBD sorted for the festive season with this Preen cocktail dress.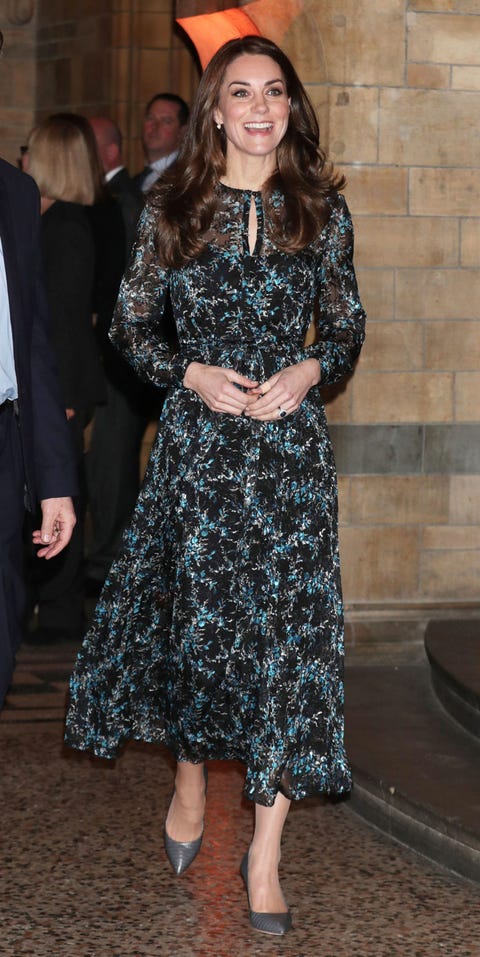 At the National History Museum for 'Dippy' the dinosaurs children's tea party
Who said you can't wear florals in winter? We love this L.K Bennett dress.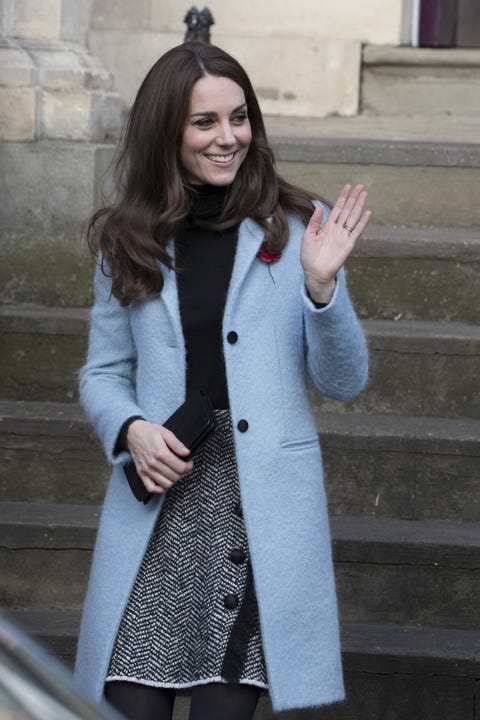 At the Nelson Trust Women's Centre
Another day, another great coat from the Duchess, this one from Mulberry.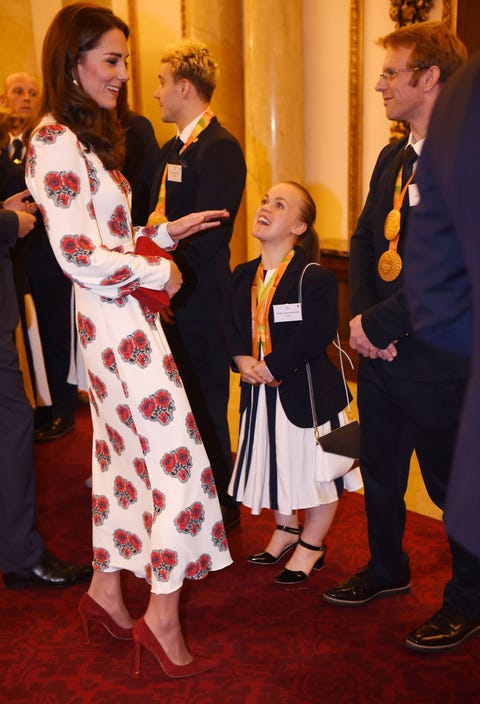 At an Olympic and Paralympic reception
Kate greeted our Olympic and Paralympic heroes at a royal reception wearing the most gorgeous midi poppy print dress.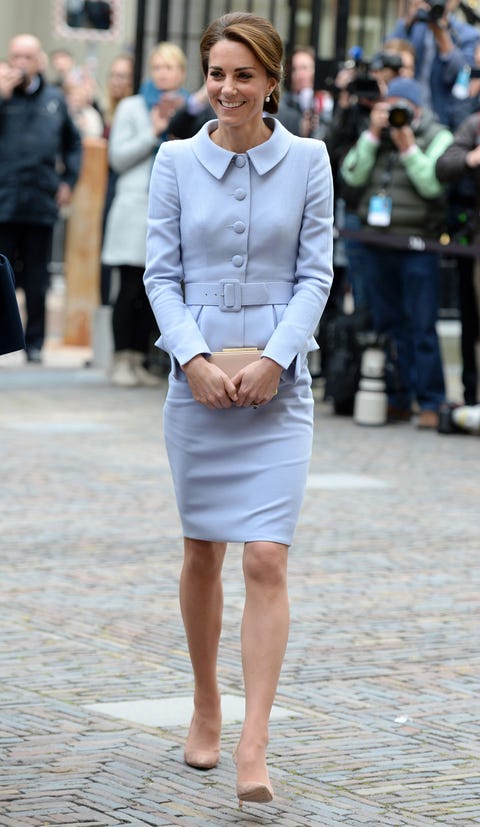 Visiting The Netherlands
The Duchess headed on her first royal visit abroad without Prince William this week and decided on a baby blue peplum suit for the occasion. Kate borrowed some earrings from the Queen's own jewellery collection because, well, because she could and showed them off by wearing her hair in a smart up 'do.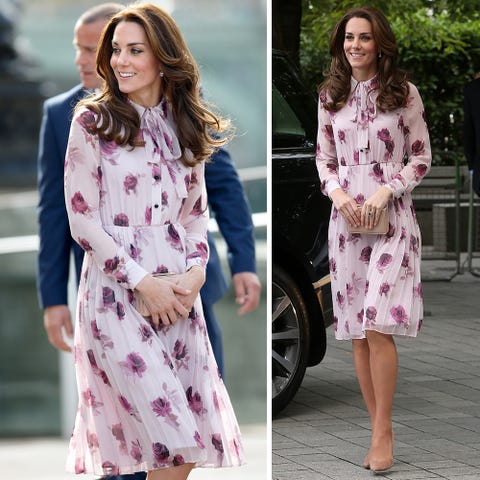 Attending a World Mental Health Day event
The Duchess' floral Kate Spade dress may have split opinion but we think the pale pink hue is gorgeous on the royal - and the Queen would approve of the length, too.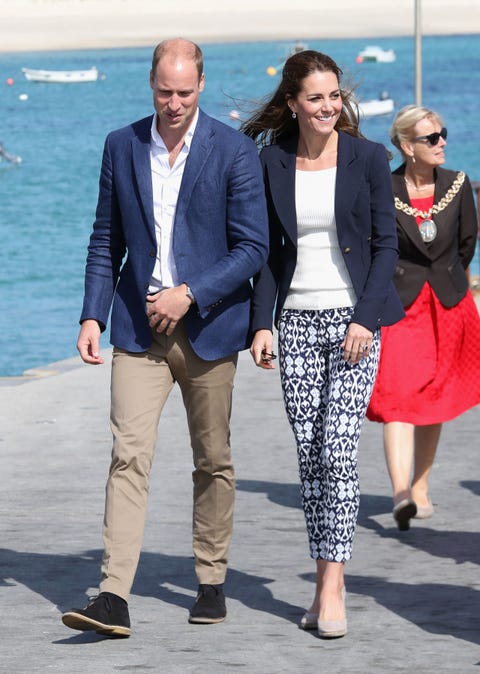 Visiting the Isles of Scilly
Kate Middleton shocked us all when she visited the Isles of Scilly wearing a pair of printed trousers - a first for the Duchess as far as we can recall. We love how she completed the look with a laid-back tee and blazer combo.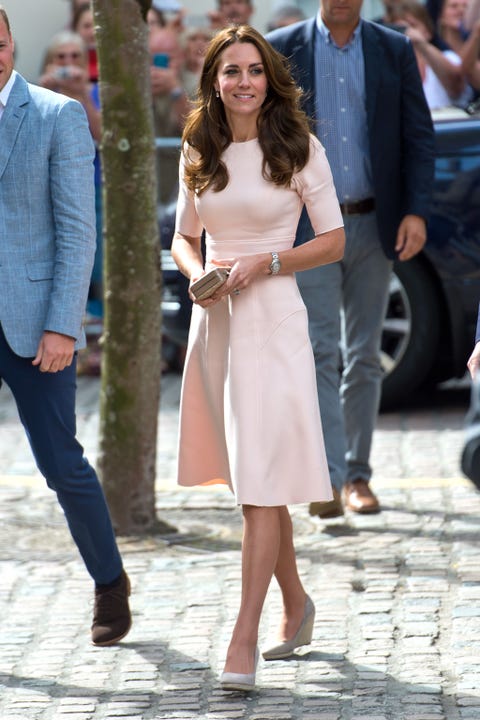 Visiting Cornwall
We LOVE the pale pink hue of Kate's knee-length sun dress - those wedges were a good shout for her trip to the beach, too.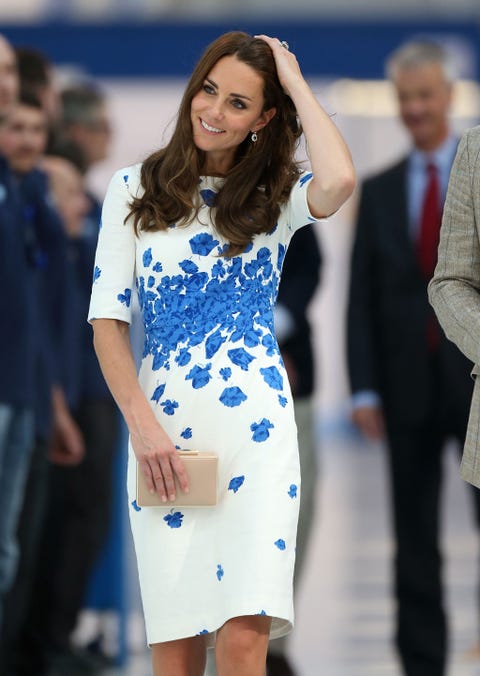 Visiting a children's hospice in Luton
Kate Middleton rewore an LK Bennett dress from her tour of Australia while visiting youth projects in Luton. We're not surprised the Duchess wanted to give this number another run-out, we're loving everything about this look.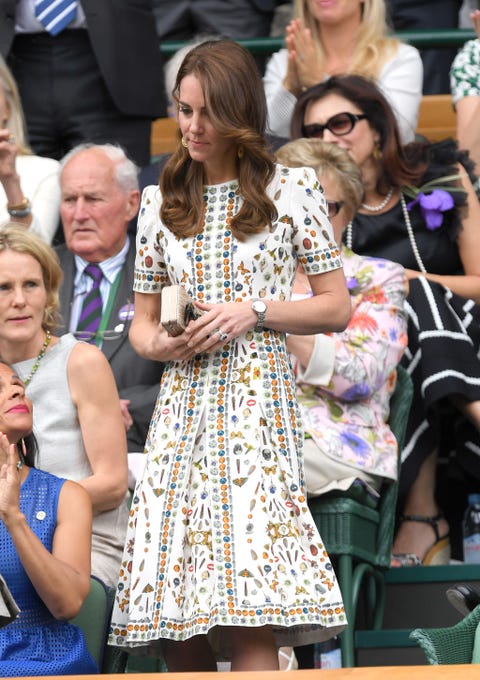 At the Men's Singles Wimbledon Final
Kate Middleton is no stranger to centre court, so we weren't surprised to see the Duchess in the Royal Box for Andy Murray's 2016 Wimbledon final. Her pretty printed dress? Alexander McQueen, of course.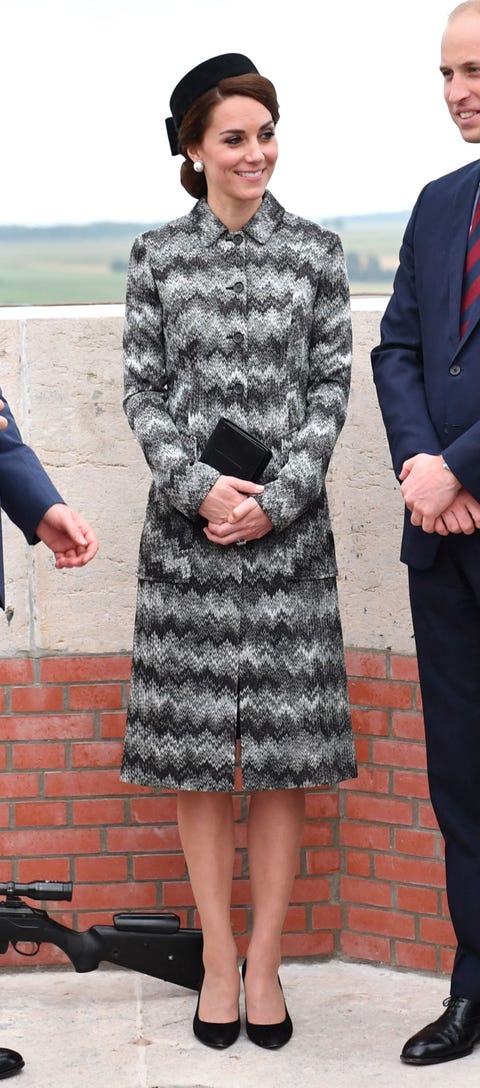 At the Somme Centenary commemorations in France
Kate's Missoni jacket was the perfect choice for the Royal Family's official outing in France and we love the pearl earrings and pillar box hat combo, too.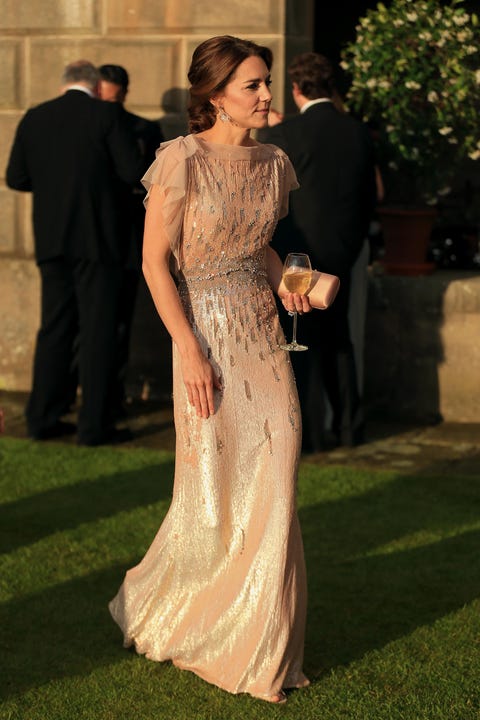 At East Anglia's Children's Hospices' Gala
The Duchess of Cambridge re-wore one of her most stand-out gowns ever at a Gala for the East Anglia's Children's Hospice because if Kate loves a dress, she's going to wear it more than once. And, let's face it, if we owned this Jenny Packham stunner we'd probably be in it 24/7...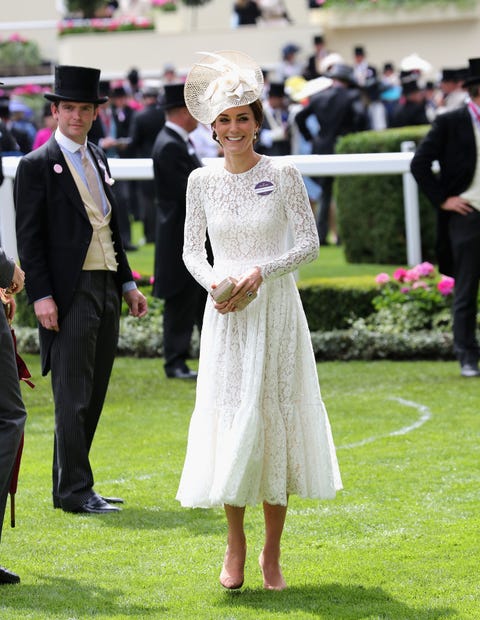 At Royal Ascot 2016
Kate Middleton opted for a white lace dress of dreams to join the Queen at Royal Ascot. We LOVE the full skirt and long sleeves on this number - and of course the matching headgear, too.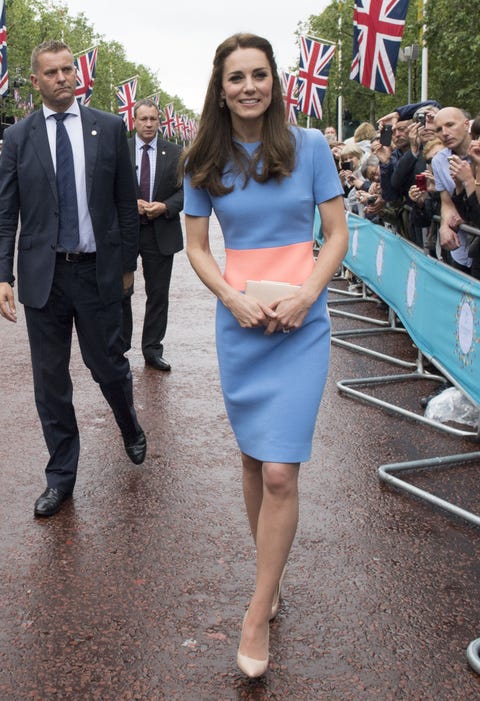 At the Queen's 90th birthday celebrations
Kate opted for a slightly less formal look for the Queen's garden party lunch - we love her colour-block shift dress and neutral accessories.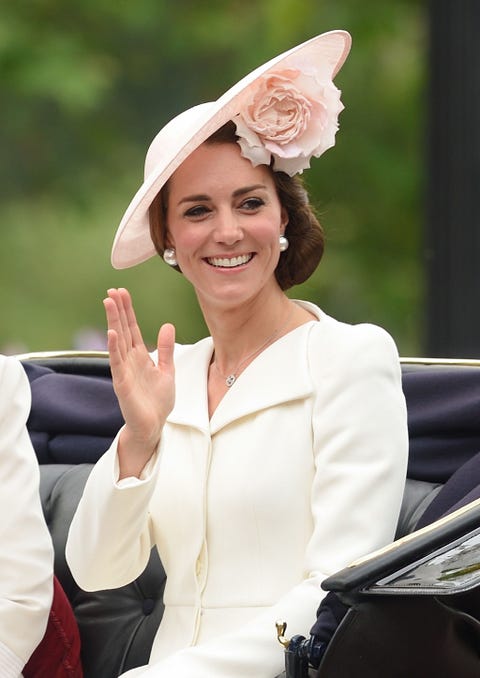 At the Queen's 90th birthday celebrations
We love the Duchess in a pale pink number - and this hatinator is just perfect.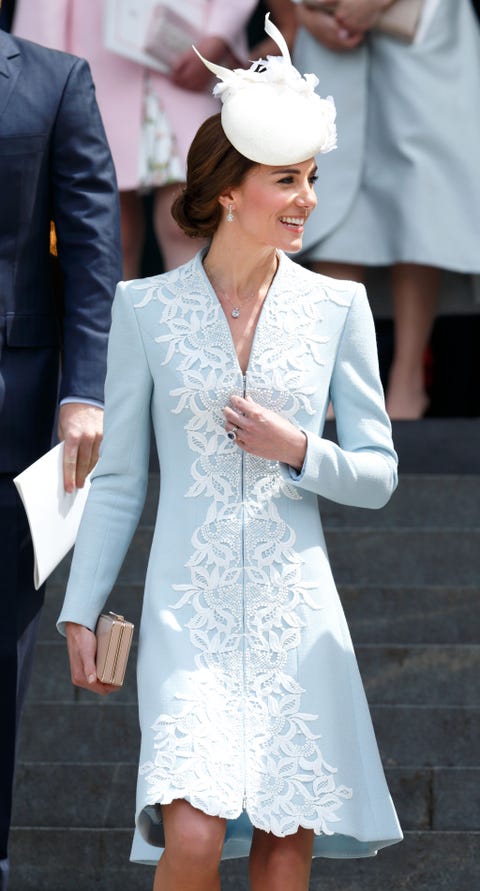 At the Queen's 90th birthday celebrations
A smart coat dress and fascinator made up the perfect outfit for the Queen's special church service.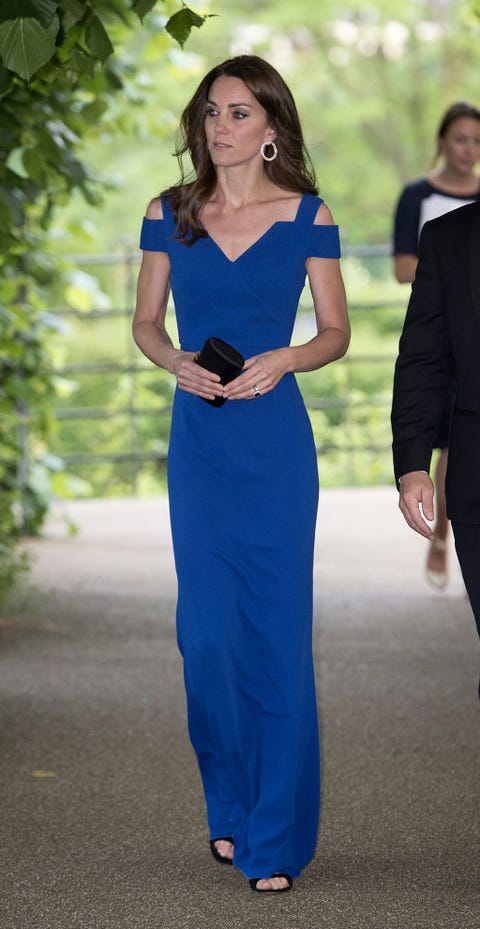 At the 40th anniversary of SportsAid
We're seriously falling for Kate's blue, cut-out Roland Mouret gown - and those Cartier diamond earrings (reportedly worth around £40k) aren't too shabby, either.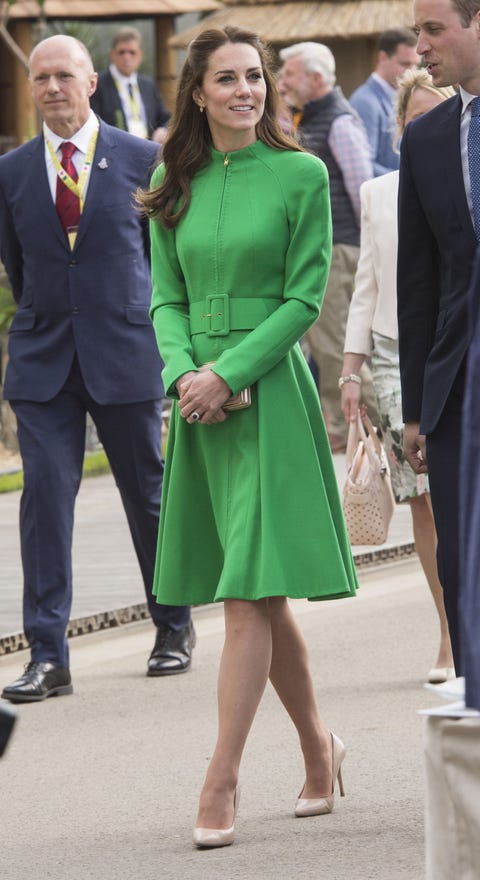 Visiting the RHS Chelsea Flower Show
A vivid emerald green coat-dress and nude heels made for an elegant, daytime pairing.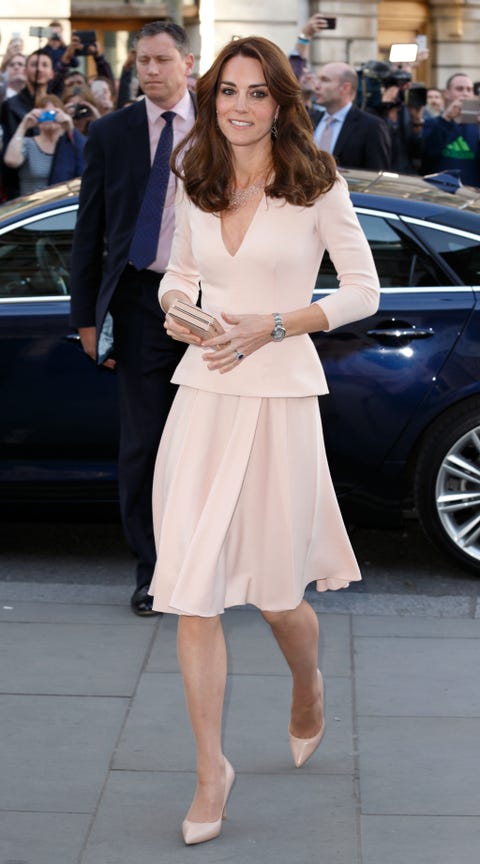 Visiting the Vogue 100 Exhibition
The Duchess looked lovely in this pretty pastel daytime dress - the perfect outfit choice for her viewing of the Vogue 100 exhibition featuring her own fab portraits.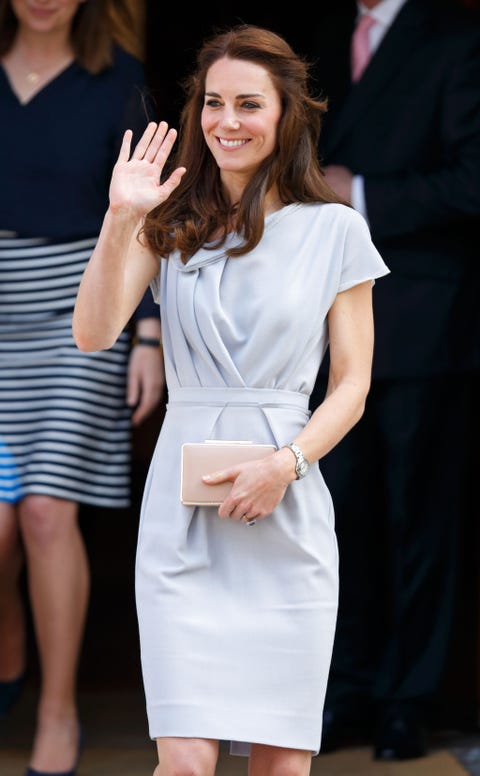 Anna Freud Centre lunch
This structured pale blue shift dress was both elegant AND pretty - we love Kate's boxy, nude clutch, too.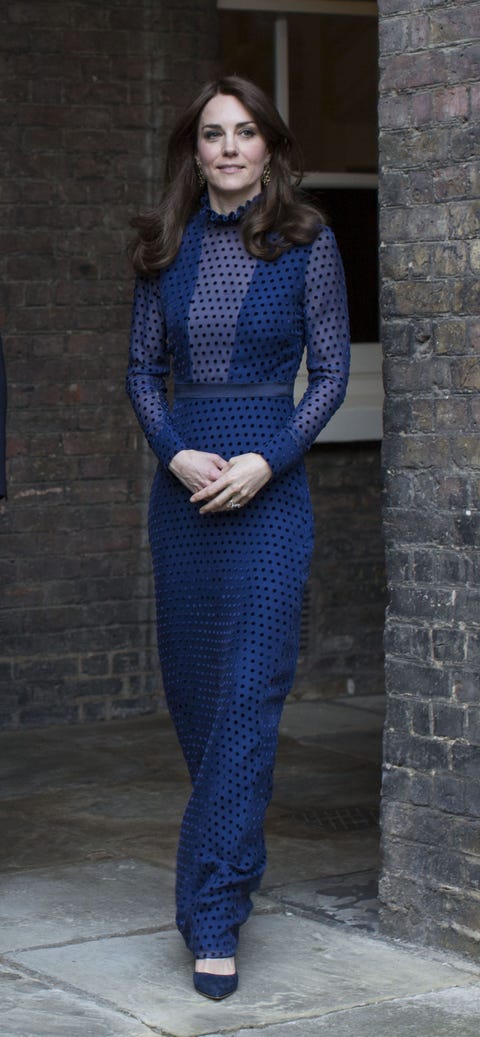 Reception at Kensington Palace
Kate basically made our jaws drop when she stepped out to greet her guests at a Kensington Palace reception wearing a sheer gown - because when has the Duchess ever worn something see-through before? PS - we love the dress.
Visiting the XLP project London Wall
Kate's took inspiration from her picnic table cloth with this snazzy number.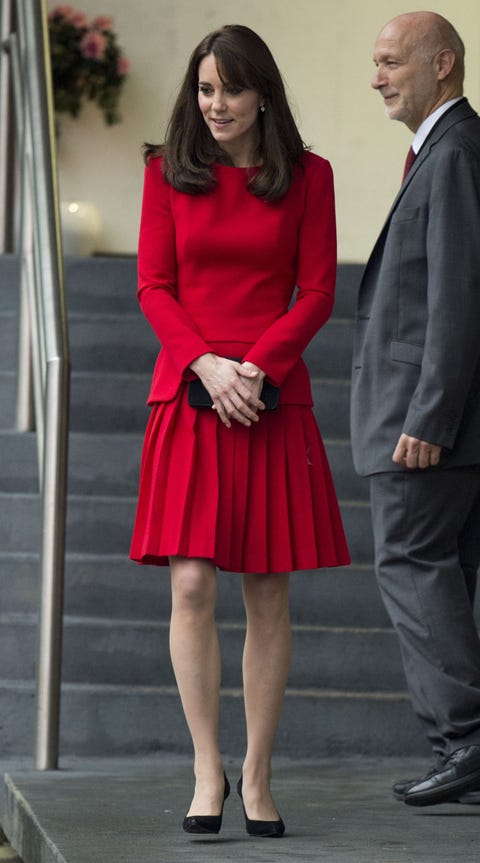 Visiting the Anna Freud Centre Family School
Kate decided to dress in her festive best for a trip to the Anna Freud Centre Family School on Monday. The Duchess selected one of her favourite Alexander McQueen dresses for the occasion and wore simple black accessories to match.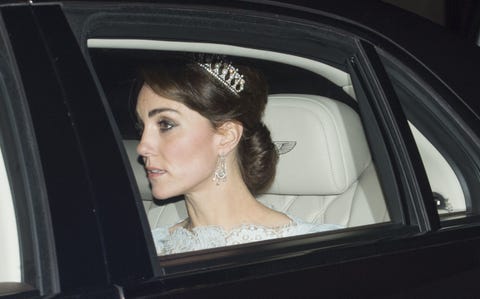 On route to a reception at Buckingham Palace
Kate pulled out all the princess stops for a swanky reception at Buckingham palace this week, choosing a tiara that Princess Diana used to wear. The Duchess added even more bling to her look to compliment her crown - we just wish we could get a look at that dress!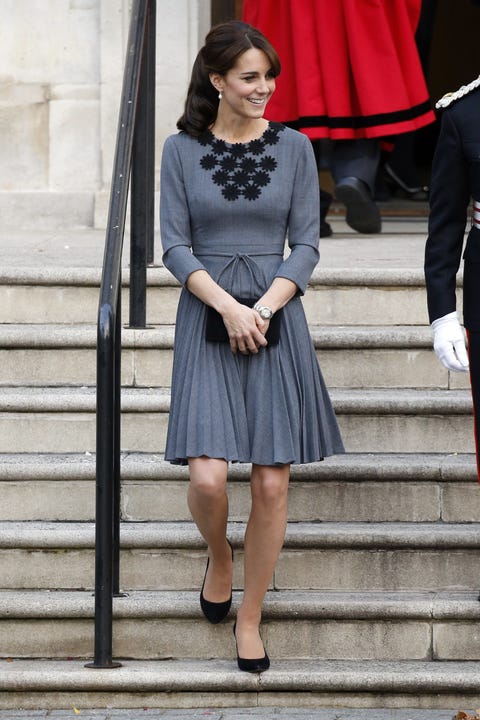 At a Chance UK charity event in London
Kate Middleton made a case for pleated skirts being cool again with a lovely grey dress by Orla Kiely, complete with a black floral detail around the neckline, a perfectly-pleated skirt, and a simple tie belt. She's actually worn this one before, back in 2012. See? Kate doesn't actually have a never-ending wardrobe (even though it definitely seems like she does).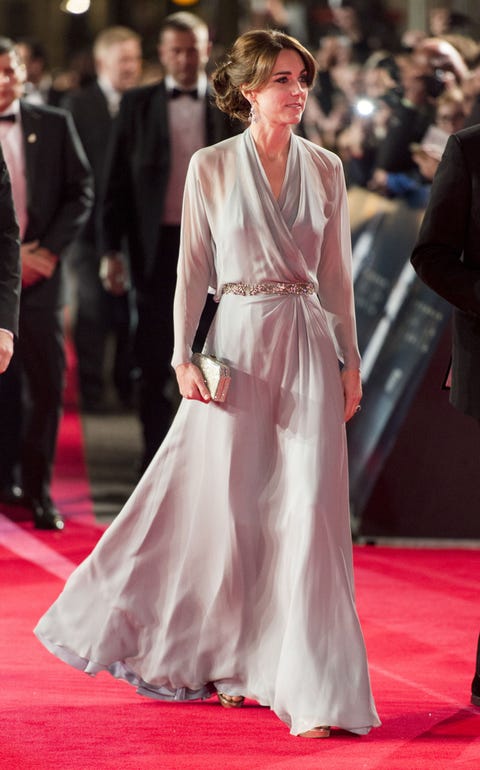 At the premiere of Spectre in London
Kate Middleton turned to her favourite designer, Jenny Packham, to create this gorgeous grey dress. The Duchess added extra sparkle with a metallic clutch and glittering waist belt.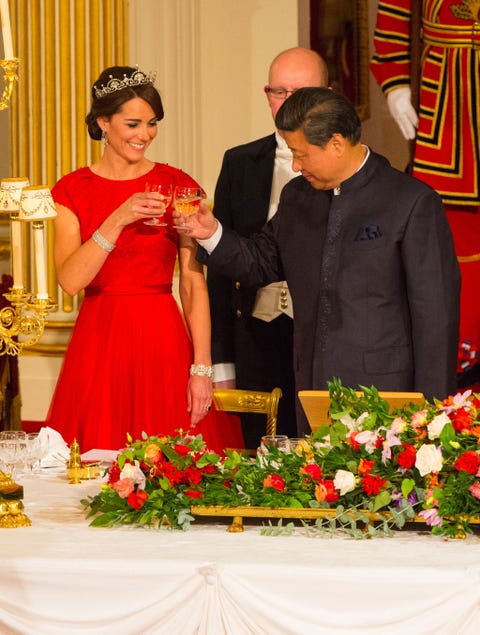 At a state banquet in China
Kate Middleton had the perfect princess dress made for her by none other than her favourite designer, Jenny Packham for her formal visit to The People's Republic of China. Aside from her incredible red dress, K-Mid got people talking thanks to her bejewelled crown.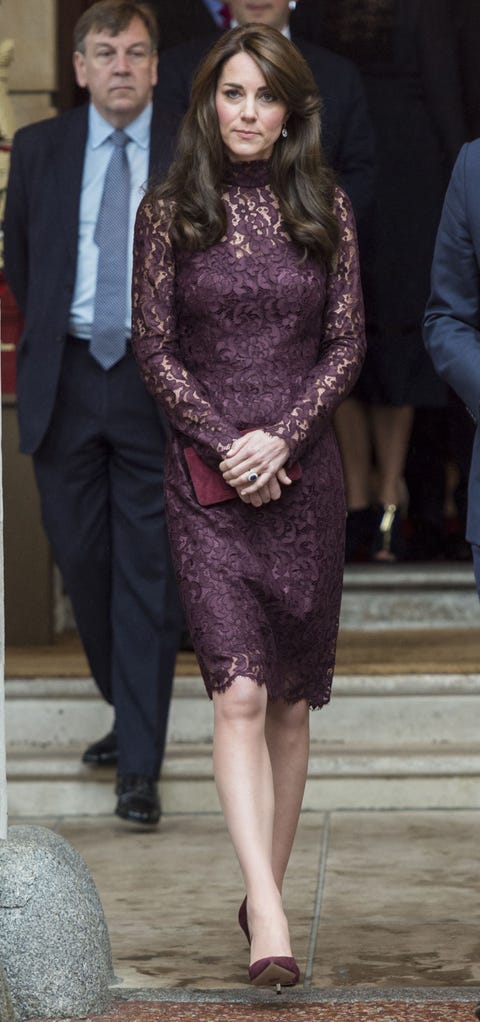 On a state visit to China
Kate selected a lacey burgundy dress with a high neck and long sleeves for a meeting with the President on Wednesday - and we LOVE it.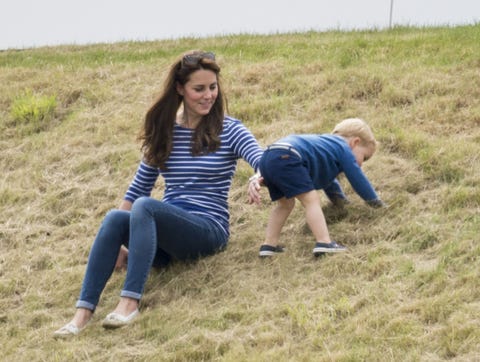 Playing with Prince George
Kate Middleton loves a striped Tee and this blue and white number from Me+Em might be our fave yet. The Duchess selected the breton, skinny jeans and flats combo for a trip to the Polo with Prince George.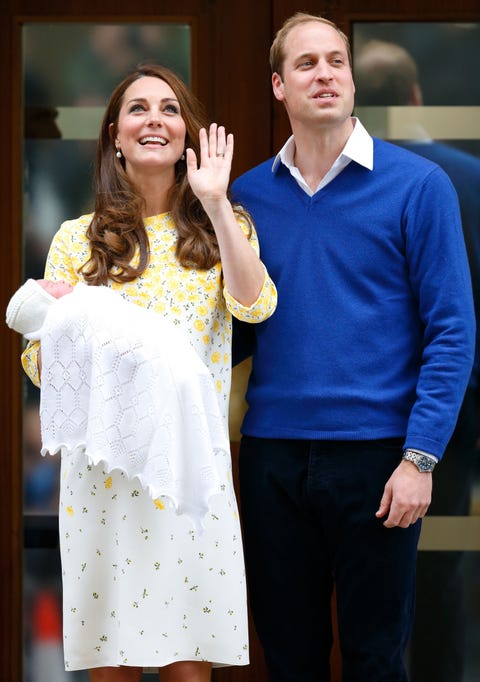 Outside the Lindo Wing
On her first appearance after giving birth to Princess Charlotte Elizabeth Diana, Kate Middleton looked in-credible in a spring-friendly dress by British designer Jenny Packham. Just two years ago, the Duchess wore a dress by the same designer to show baby Prince George to the world, too.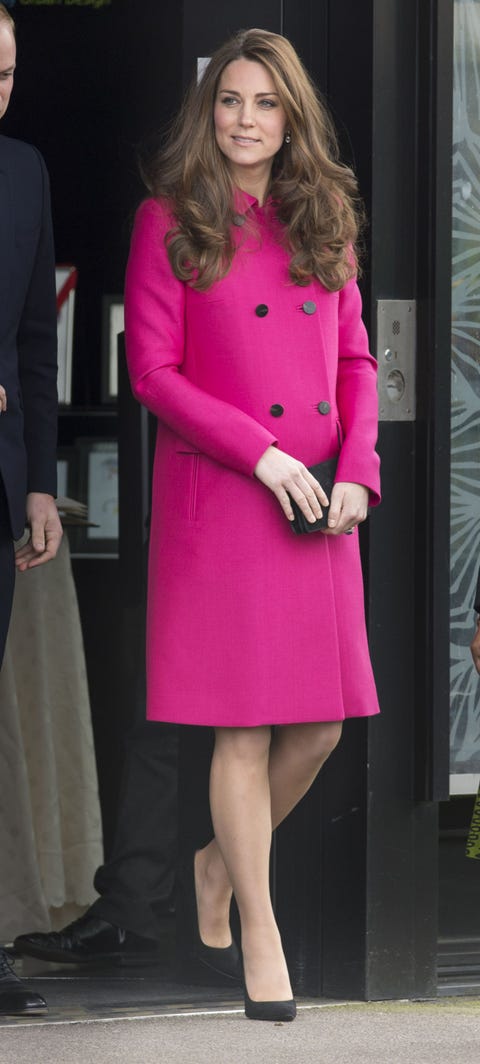 Visiting the Stephen Lawrence Centre
On her last official engagement before she's due to give birth, we're wondering whether Kate Middleton was hinting at the sex of her second child by wearing pink. The most likely scenario? She probably just really liked the colour of this Mulberry coat.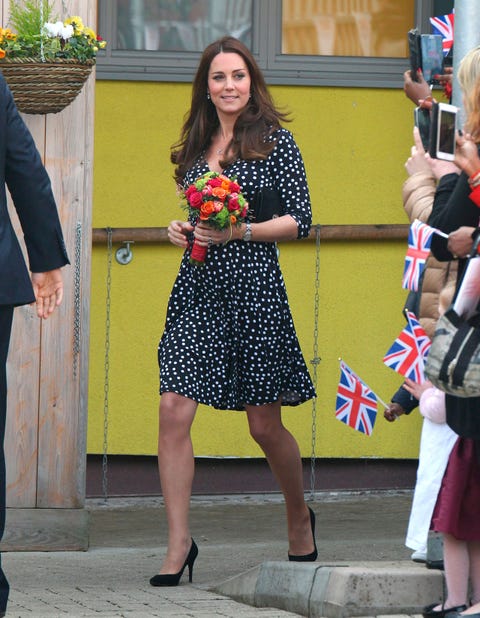 Visiting Brookhill Children's Centre
Apparently the Duchess is a fan of online shopping, as she was snapped looking lovely in a dotty wrap dress by ASOS when visiting the Brookhill Children's Centre. Part of the online retailer's Maternity collection, this pretty number costs a mere £35 and is one of our favourite maternity looks by the Duchess yet!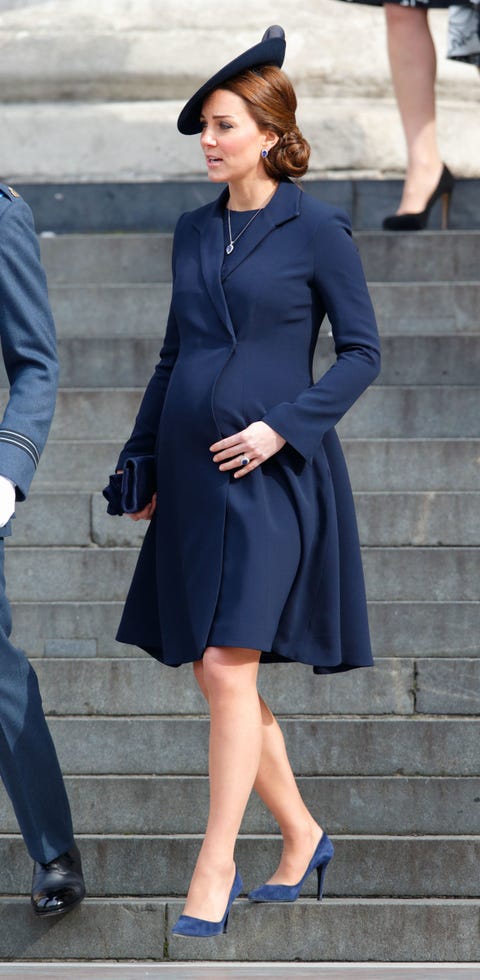 At the Afghanistan Service of Commemoration
As much as we'd LOVE to think Kate's outfit choice to attend the service of commemoration for all those who fought in Afghanistan, was some kind of foreboding sign that royal baby number two - due next month - will be another boy, in reality it's probably just because it was a very nice coat. And it matched William's military attired. The coat dress, from Beulah, matched the Duchess' fascinator perfectly, and we're mega-impressed that just a matter of weeks before giving birth, she's still braving the heels.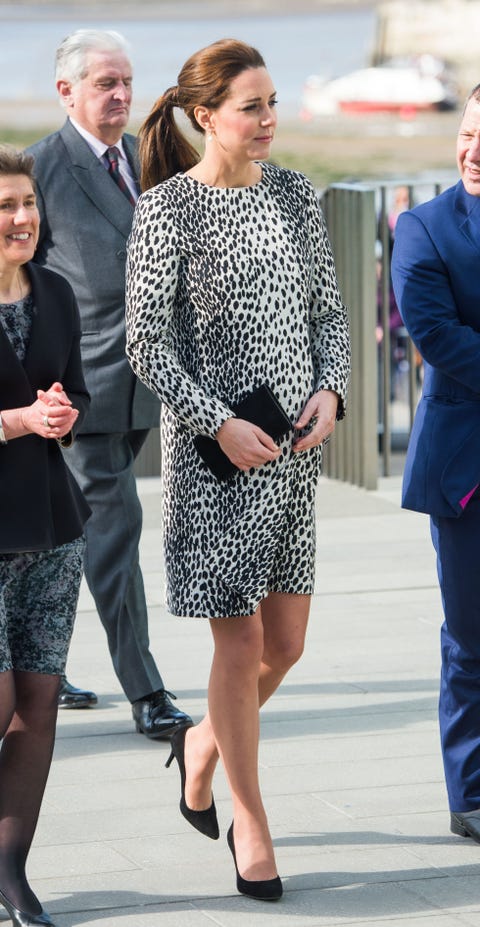 Visiting Margate
At first glance, we guessed that Kate was wearing a beautiful dalmatian print dress in Margate, but a second look proved that it's yet another flawless coat from her grand collection. She previously wore this Hobbs mac while she was pregnant with Prince George, and now she's pulled it out again to dress her growing bump in style.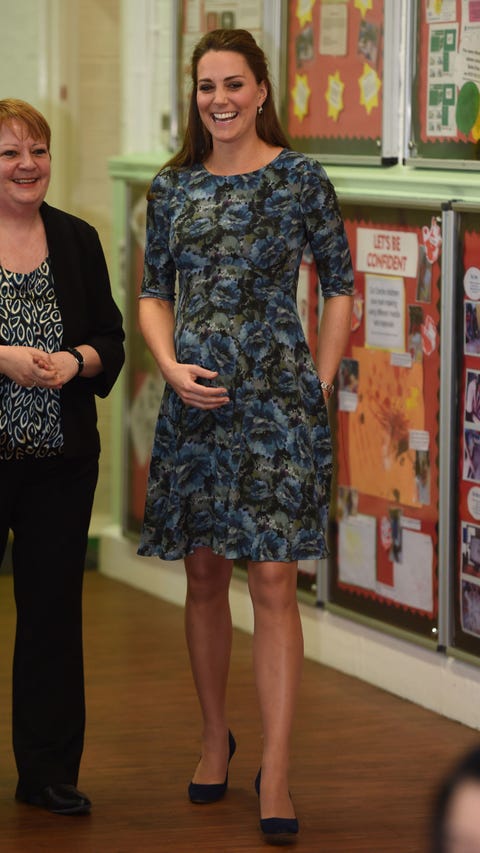 Visiting a children's centre in Smethwick, West Midlands
Kate sure knows how to dress her bump, which is steadily growing with just two months left until Royal Baby number two arrives. And sticking to what she knows, she looked glowing in this gorgeous floral dress from boutique maternity range Seraphine, the second time she's worn this exact style recently. Kate paired her blue-green print dress with an enviable blue Max Mara coat, and some of her favourite Jimmy Choo navy blue suede heels.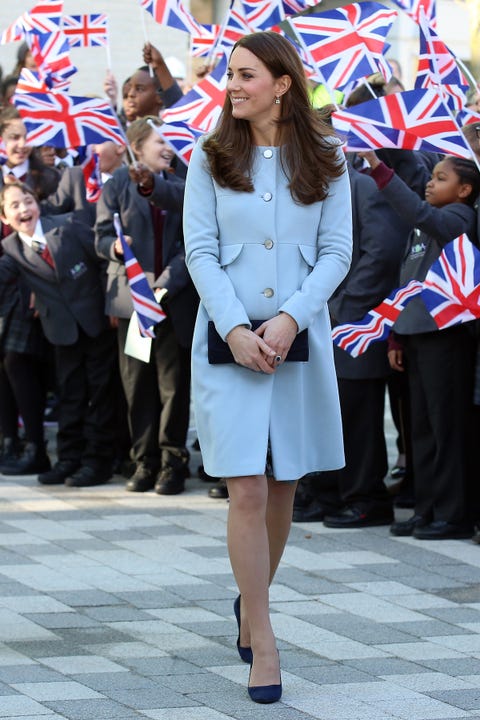 At the opening of Kensington Leisure Centre
As we learned when Kate was pregnant with Prince George, the Duchess has a great eye for coats that will suit her bump, and this second pregnancy is no less stylish. Kate wore a baby blue buttoned coat to open Kensington Leisure Centre, teamed with her favourite navy pumps and matching clutch.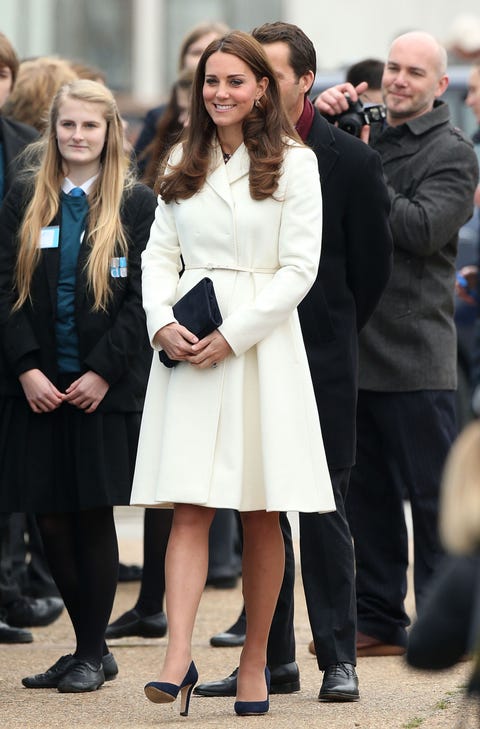 Visiting Portsmouth
Kate Middleton HAS to have one of the best coat collections in celeb land - sorry, Kim - and this latest creamy delight is a dream to behold. A belt around her bump, a black clutch and matching shoes rounded off the Duchess' look.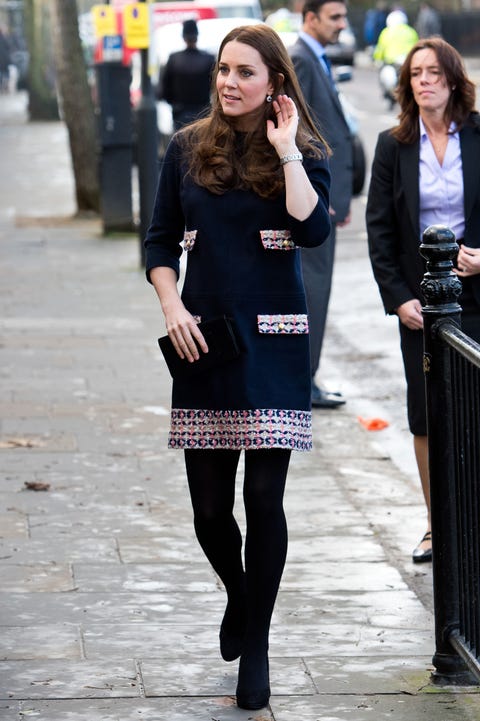 Visiting a primary school in London
Kate selected a navy shift dress by maternity brand Madderson for a trip to a London primary school. Not only do we love the way this smart dress skims Kate's growing bump, but the pocket and hem detail make it more interesting than her usual colour-blocking choices.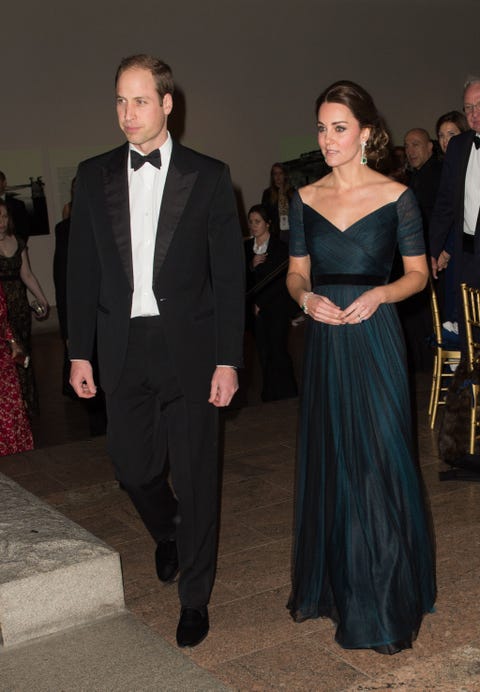 The Duke and Duchess of Cambridge attending the St. Andrews 600th Anniversary Dinner in New York
We love that Kate doesn't care about how many times she's photographed wearing the same dress, in fact, on a visit to New York, the Duchess wore a Jenny Packham number that she's previously worn at TWO other occasions. Yay for thrifty Kate - oh and yay for this dress too, it's a beaut!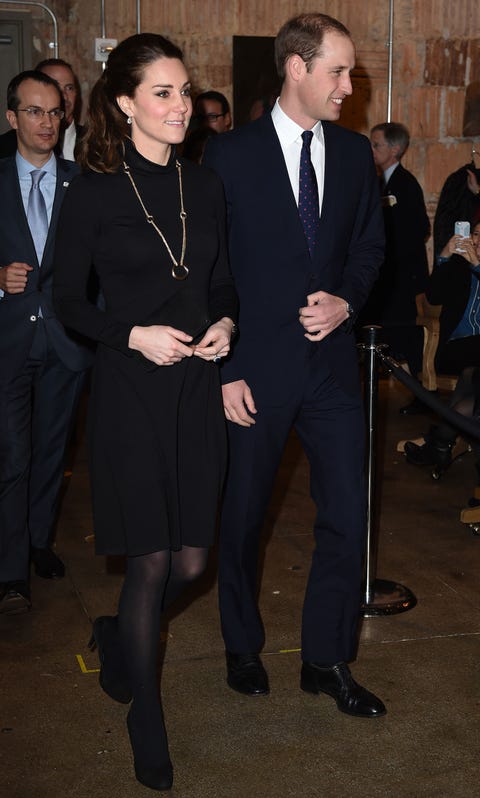 Attending the Creativity is Great reception in New York
Attending a reception in New York packed with the city's fash pack, Kate pushed her own style boundaries by wearing some costume jewellery the likes of which we've not seen the Duchess wear before.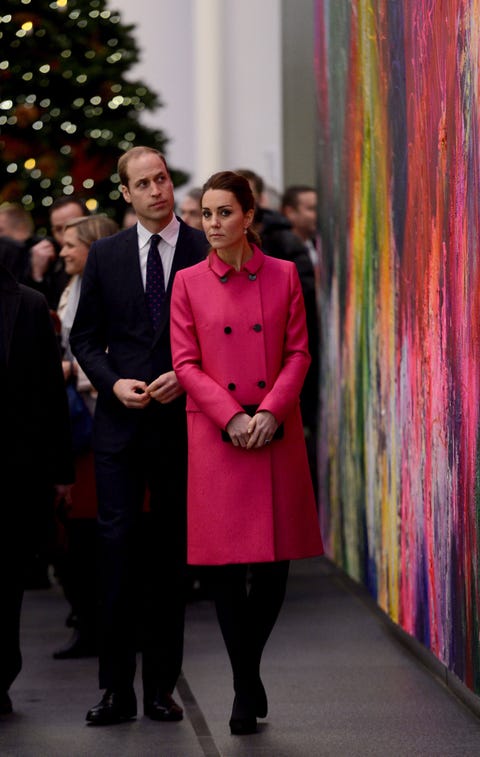 Paying tribute to the victims of 9/11 in New York
The Duchess continued her amazing maternity style run in New York when she visited the site of 9/11 with Prince William in a now-sold-out hot pink Mulberry coat.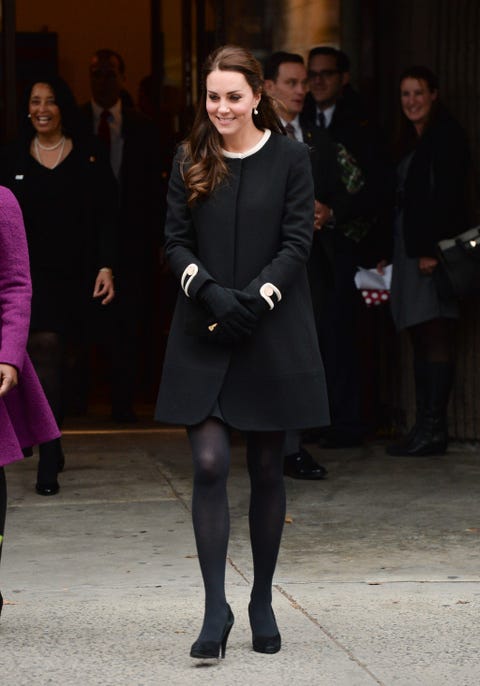 Duchess of Cambridge in New York
Yay for winter and the return of Kate Middleton's amazing maternity wardrobe of coats! For a day out in New York on Monday, the Duchess selected a chic black number that had been tailored especially for her by Goat.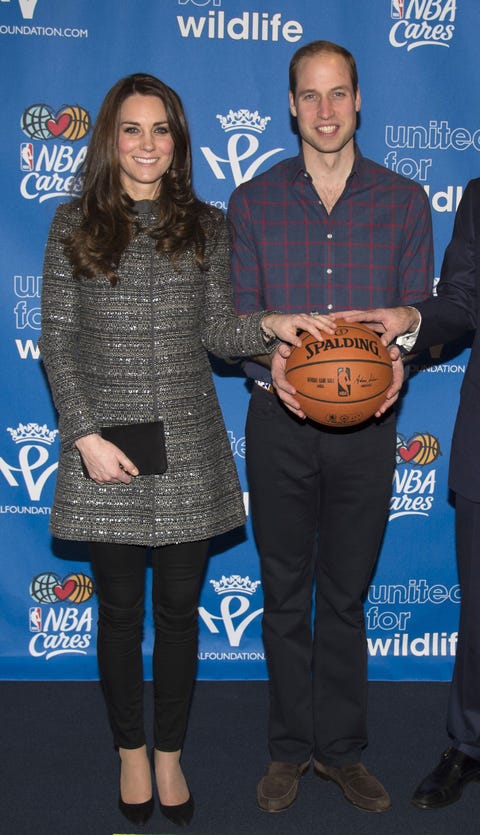 Duchess of Cambridge at the basketball in Brooklyn
The Duke and Duchess of Cambridge caused a meltdown at the Barclays center this week as they attended a basketball match alongside Beyonce and Jay Z. For the sporting occasion, Kate wore black skinny trousers and heels, and a grey bouclé coat by Tory Burch.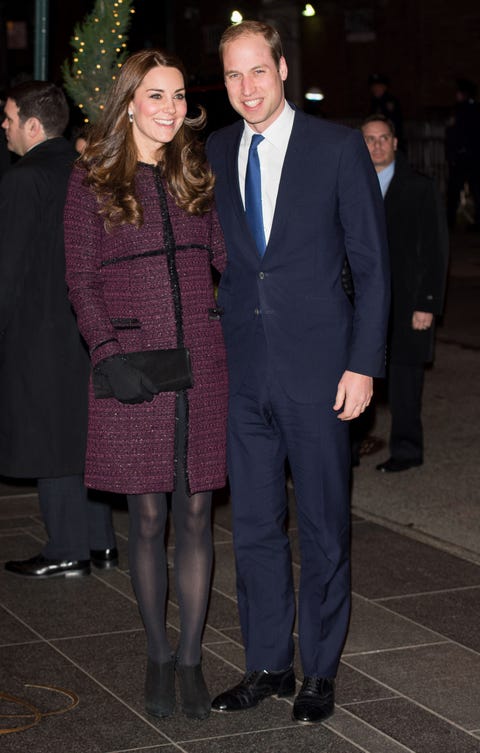 Duchess of Cambridge in New York with Prince William
New York experienced that Kate and Wills mania this weekend when the royal couple arrived at The Carlyle Hotel, once a favourite of Princess Diana. The Duchess wore a maroon and black tweed coat made especially for her by her go-to maternity brand, Seraphine.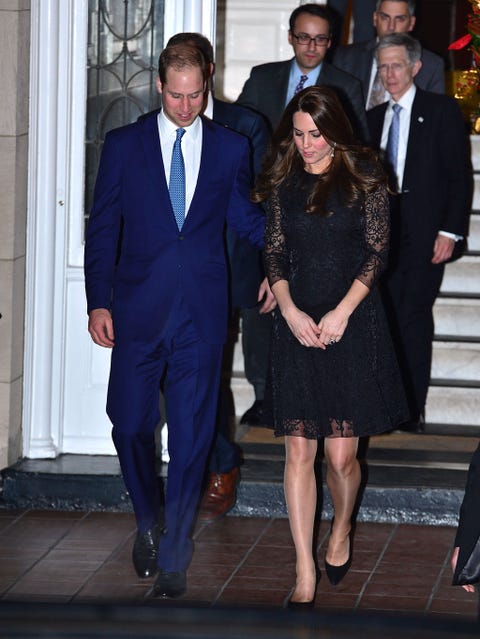 Duchess of Cambridge in New York with Prince William
The Duchess later braved the Big Apple winter in a black lace Beulah dress for a royal benefit in the city.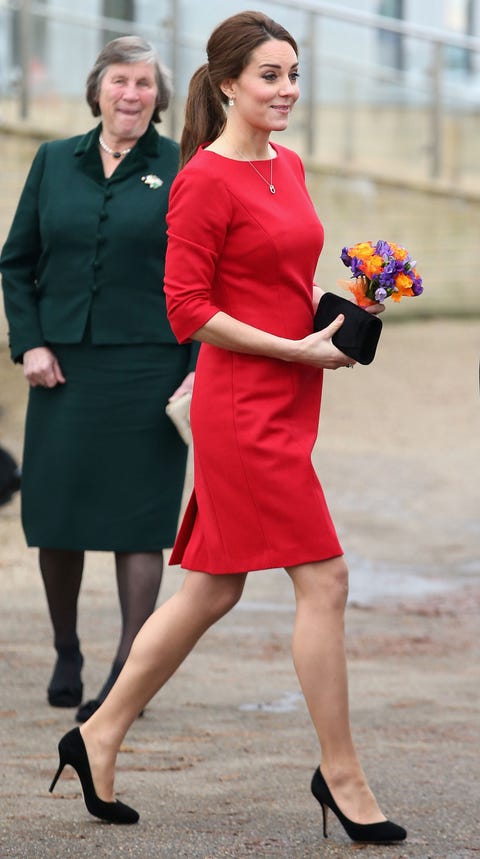 Duchess of Cambridge visits a hospice in Norfolk
Kate Middleton opted for a smart, red dress for a visit to a Children's Hospice in Norfolk on Monday. The Duchess wore the knee-length, long-sleeved shift dress by Katherine Hooker for the royal engagement, keeping her growing baby bump hidden. We love this colour on the Duchess - and it makes a change to see Kate with her hair in a pony, too!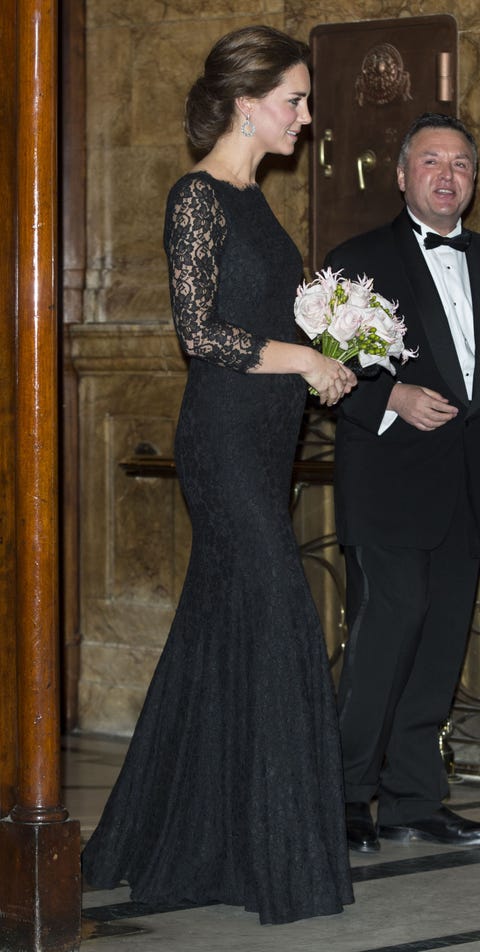 Duchess of Cambridge attends the Royal Variety Performance 2014
Kate selected a lovely lace gown by designer Diane Von Furstenberg for her first appearance at the Royal Variety Performance. If you're quick, you might even be able to snap up the exact dress from Net-A-Porter. That's if you've got £785 to spare, of course...
A perfect-for-a-princess chignon, completed Kate's look.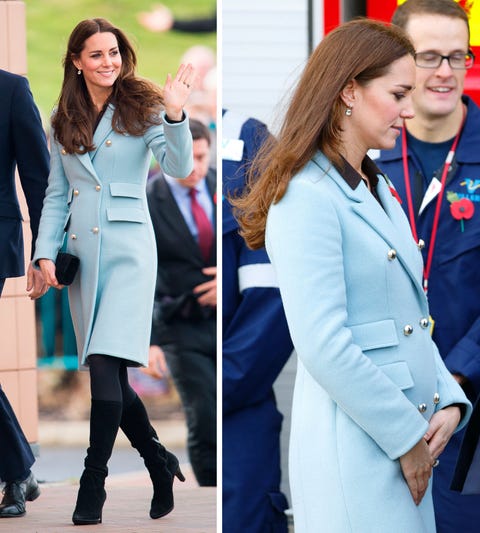 Duchess of Cambridge gives glimpse of baby bump in baby blue dress
Royal baby fans were over the moon when it was announced that Prince William and the Duchess of Cambridge were expecting their second child. And on the weekend, the Duchess stepped out wearing a baby blue Matthew Williamson coat which showed just a hint of a baby bump, sending the excitement levels soaring. Kate teamed her winter coat with some heeled black boots and her trademark blowdry. Lovely.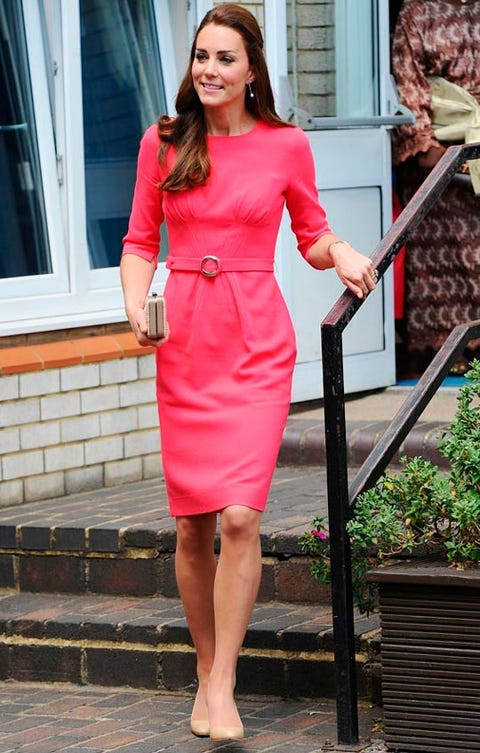 Kate wows in red Goat dress
The Duchess of Cambridge did two things today that made everyone go giddy with excitement: first, she left her house, and secondly, she was wearing clothes! And you guessed it, Kate fans all over the globe wasted no time in snapping her look off the shelves for themselves.
For a trip to the Blessed Sacrament School in Manchester Kate opted for a bright, red dress by Goat, which sold out in mere minutes, along with her trusty beige pumps and matching clutch.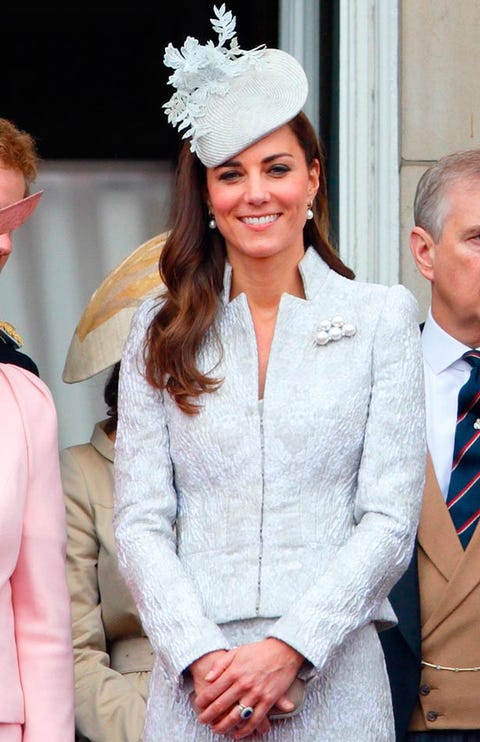 The Duchess wears sky blue McQueen for Trooping Of The Colour
Kate turned to Alexander McQueen and Jane Taylor for one of the most important days in her royal calendar.
MORE ROYAL SHENANIGANS:
KATE MIDDLETON'S ROYAL STYLE CV
BABY GEORGE'S FIRST OFFICIAL PIC
THE PRINCES STRIP FOR COSMO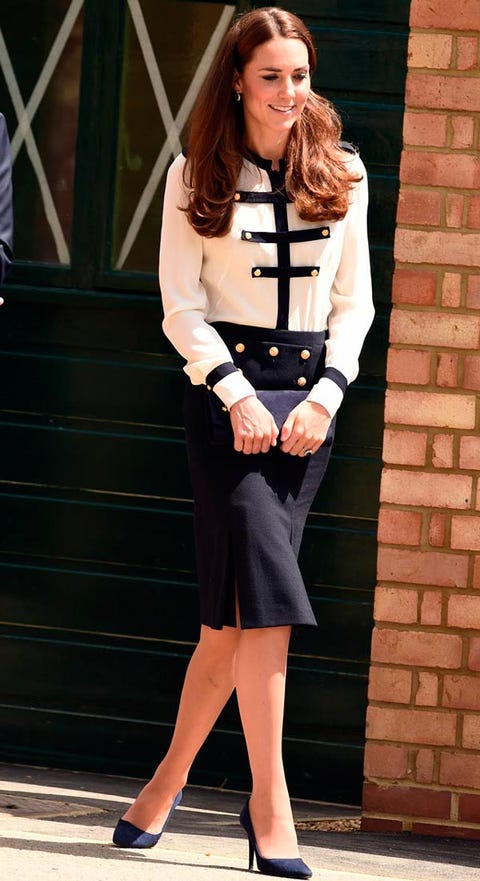 Recycling McQueen skirt and blouse
The Duchess dazzled for a visit to Bletchley Park in one of her greatest ever hits; this military-inspired skirt and blouse by Alexander McQueen.
MORE ROYAL SHENANIGANS:
KATE MIDDLETON'S ROYAL STYLE CV
BABY GEORGE'S FIRST OFFICIAL PIC
THE PRINCES STRIP FOR COSMO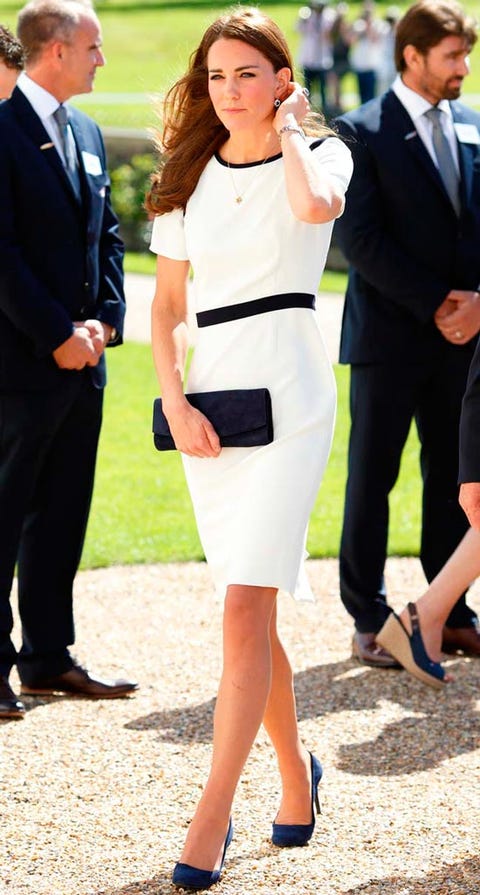 Sailor-inspired sale dress
The Duchess showed off her thrifty side when she arrived at the National Maritime Museum wearing a sailor-inspired shift dress by Jaeger.
MORE ROYAL SHENANIGANS:
KATE MIDDLETON'S ROYAL STYLE CV
BABY GEORGE'S FIRST OFFICIAL PIC
THE PRINCES STRIP FOR COSMO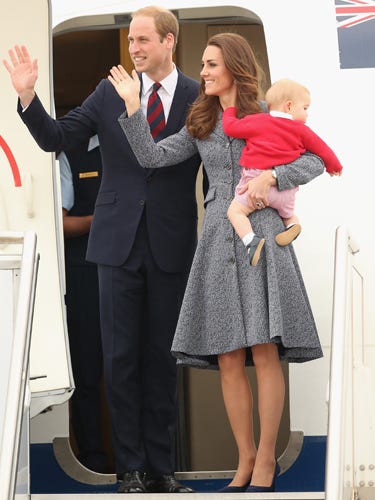 Smartly finished
Kate's final tour outfit was an elegant grey coat dress by Catherine Walker. The Duchess stands side-by-side with the Duke of Cambridge and holds Prince George as the family bid farewell to Australia.
MORE ROYAL SHENANIGANS:
KATE MIDDLETON'S ROYAL STYLE CV
BABY GEORGE'S FIRST OFFICIAL PIC
THE PRINCES STRIP FOR COSMO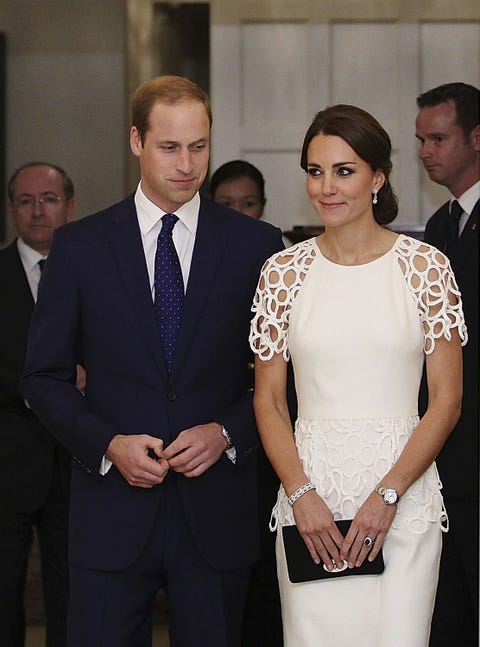 Lela Rose dress
The Duchess looks stunning in a white cocktail dress by Lela Rose. The lace trim gown features a striking peplum detail at the waist.
MORE ROYAL SHENANIGANS:
KATE MIDDLETON'S ROYAL STYLE CV
BABY GEORGE'S FIRST OFFICIAL PIC
THE PRINCES STRIP FOR COSMO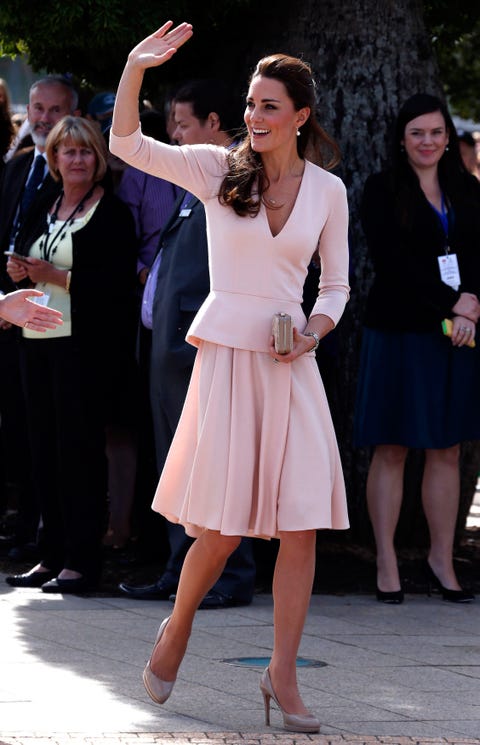 Alexander McQueen
Alexander McQueen was once again the Duchess' designer of choice for her Adelaide stop-off. Kate wears a soft pink, long-sleeved, V-neck top with a peplum detail, and a pleated A-line skirt.
MORE ROYAL SHENANIGANS:
KATE MIDDLETON'S ROYAL STYLE CV
BABY GEORGE'S FIRST OFFICIAL PIC
THE PRINCES STRIP FOR COSMO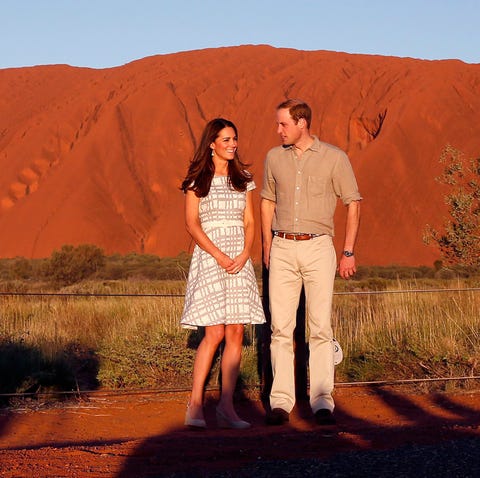 A change of clothes
Kate changes into a fit and flare dress by Hobbs during her visit to Ayers Rock, Australia.
MORE ROYAL SHENANIGANS:
KATE MIDDLETON'S ROYAL STYLE CV
BABY GEORGE'S FIRST OFFICIAL PIC
THE PRINCES STRIP FOR COSMO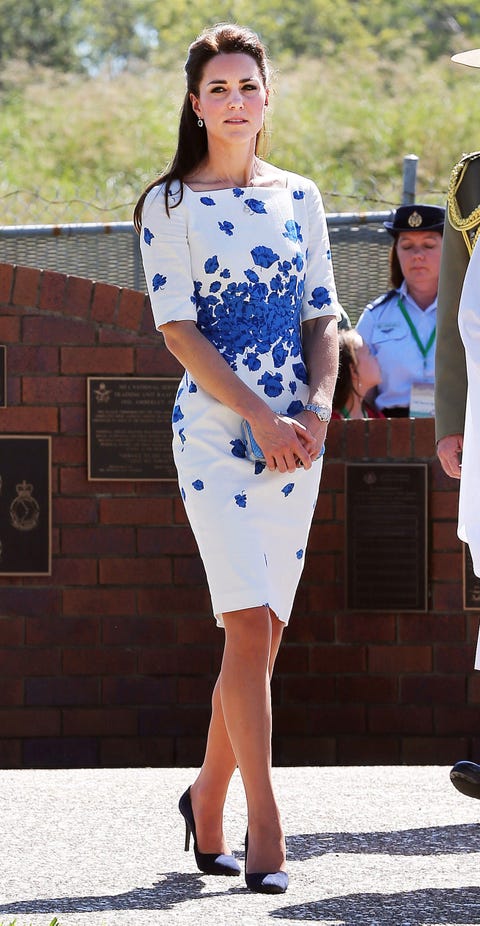 L.K. Bennett florals
This gorgeous L.K Bennett dress is actually STILL AVAILABLE TO BUY - which has gotta be a first for a Kate frock. It'll set you back a fair whack o' cash, but you can pick it up here if you're so inclined.
MORE ROYAL SHENANIGANS:
KATE MIDDLETON'S ROYAL STYLE CV
BABY GEORGE'S FIRST OFFICIAL PIC
THE PRINCES STRIP FOR COSMO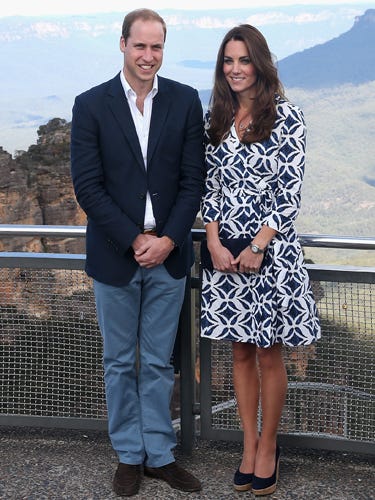 DVF wrapover dress
The Duchess looks chic in a Diane Von Furstenberg wrapover dress, which she teamed with her faithful cork wedge heels and a clutch bag.
MORE ROYAL SHENANIGANS:
KATE MIDDLETON'S ROYAL STYLE CV
BABY GEORGE'S FIRST OFFICIAL PIC
THE PRINCES STRIP FOR COSMO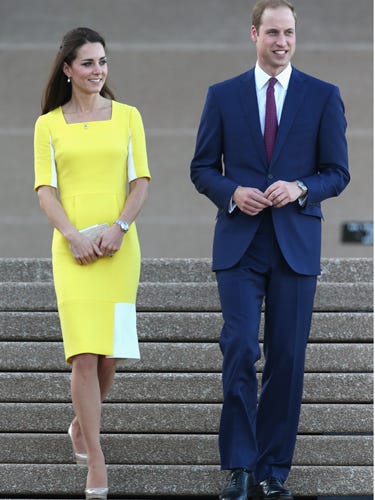 Here comes the sun
British-based designer Roksanda Ilincic has made restrained elegance with a modern twist her signature. She's the perfect choice for Kate - this sunny gown with contrast panelling adds a bit of fashion cred to Kate's default demure look.
MORE ROYAL SHENANIGANS:
KATE MIDDLETON'S ROYAL STYLE CV
BABY GEORGE'S FIRST OFFICIAL PIC
THE PRINCES STRIP FOR COSMO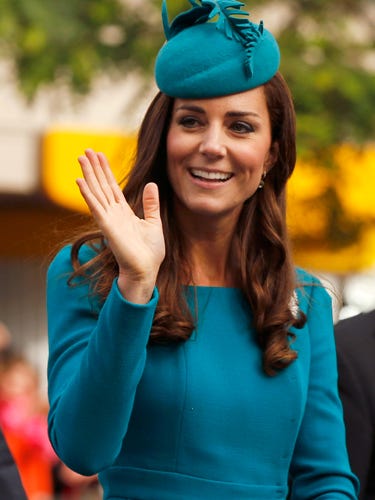 Emilia Wickstead dress
The Duchess opts for a turquoise Emilia Wickstead dress to start her day in Dunedin, New Zealand.
MORE ROYAL SHENANIGANS:
KATE MIDDLETON'S ROYAL STYLE CV
BABY GEORGE'S FIRST OFFICIAL PIC
THE PRINCES STRIP FOR COSMO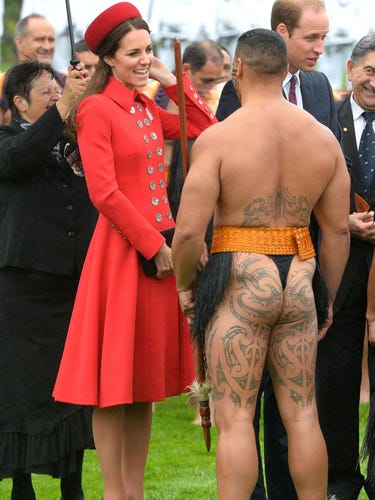 Regal red
The Duchess starts her stately visit as she means to go on, looking stunning in a smart red coat dress by Catherine Walker, who was a favourite designer of the late Diana, Princess of Wales. Kate keeps her composure as she chats to a tattooed Maori leader - the family were treated to a traditional ceremonial welcome at New Zealand Government House.
MORE ROYAL SHENANIGANS:
KATE MIDDLETON'S ROYAL STYLE CV
BABY GEORGE'S FIRST OFFICIAL PIC
THE PRINCES STRIP FOR COSMO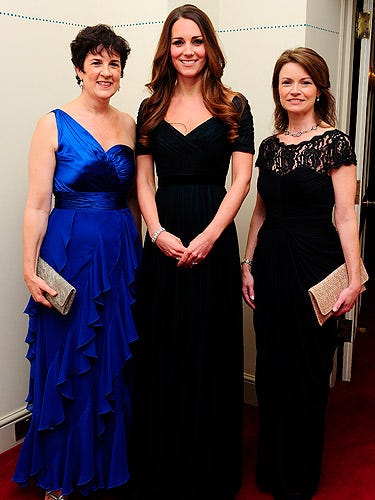 Kate Middleton
There aren't many ladies who look this good after having a baby. In fact, there aren't that many ladies who look this good full stop. Kate Middleton wore a beautiful floor length gown by one of her favourite designers, Jenny Packham, as she attended a charity dinner for 100 Women in Hedge Funds, after the Royal christening the day before yesterday. Her hair looked fabulous (go figure) as she wore it down with loose curls.
Kate Middleton
There is nothing wrong with this picture, right? Kate looked radiant in her go-to designer Alexander McQueen as she matched baby George in cream. As always we love the simplicity of her look - the ruffled lapel was the only detailing on the dress. Her headpiece has made us rethink the whole fascinator look (previously reserved for events such as Ascot only) - but Kate manages to make it look chic. She chose the perfect accessory too - Prince George in all his glory.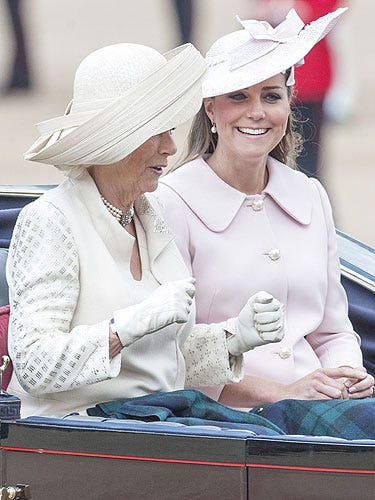 Kate Middleton
Are you ready? This is the last look we'll have of Kate Middleton's magnificent maternity style. For her last official engagement ahead of the royal baby's birth the Duchess of Cambridge saved one of her prettiest looks. Clad in a pale pink Alexander McQueen coat complete with large collar and pearl buttons she wowed the crowds at the Trooping of the Colour parade to mark the Queen's birthday. Her outfit was made complete with a matching hat by milliner, Jane Corbett. It's been an incredible nine months of style watching, thank you Kate.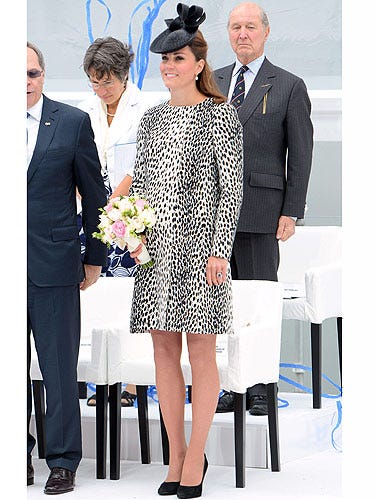 Kate Middleton
Take a long hard look because this is Kate Middleton's final solo outing before she goes on maternity leave. The Duchess Of Cambridge - and her bump - arrived in Southampton to officially name the new 'Royal Princess' cruise ship. KMiddy looked fashionable in a dalmatian print mac by Hobbs, and at a mere £169, it's perfect on the purse strings. She teamed her stylish ensemble with a pair of black court shoes. YES, she's still wearing heels! Kate, we salute you.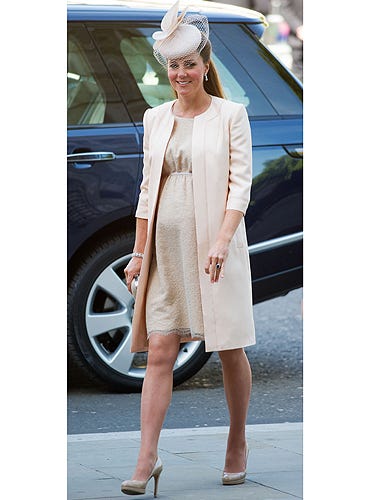 Kate Middleton
A pregnant Kate Middleton has attended a service to mark the 60th anniversary of the Queen's Coronation at Westminster Abbey - yep, back to where she married Prince Wills back in April 2011. The Duchess of Cambridge wore a loose fitting Jenny Packham dress which she matched with a long jacket and her trusty nude LK Bennett heels. This will be Kate's last official public outing, as she'll be going on maternity leave on 13th June. We bet she can't wait to throw on a pair of jogging bottoms and watch Loose Women on the royal sofa.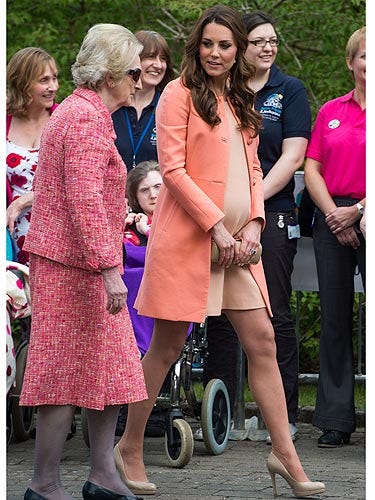 Kate Middleton
Kate Middleton arrived to a warm reception as she visited a Hampshire children's hospice on her second wedding anniversary to Prince William. The mum-to-be looked pretty in peach as she stepped inside Naomi House hospice.
Kate dressed her baby bump in a chic nude dress made by her personal dressmaker which she teamed with an elegant peach coloured coat by Paris-based designer Tara Jarmon. The £380 cotton twill coat was the perfect choice to keep the chilly temperatures away. The duchess finished her look with her favourite nude heels and carried her essentials in a sleek, matching clutch bag.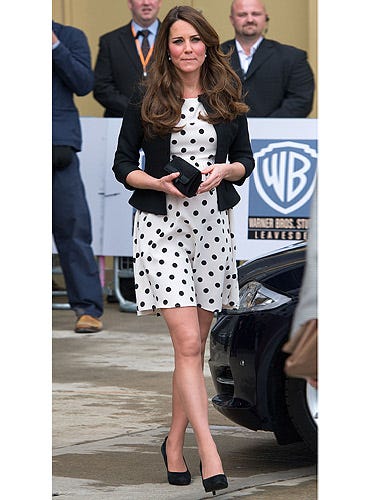 Kate Middleton
Kate Middleton has been a very busy bee this week. The Duchess wore this polka dot number at the inauguration of the Warner Bros Studios in Leavesden, Hertfordshire. She looks magical touring the Harry Potter set. Where's the dress from? Jenny Packham? L.K. Bennett? Nope, Topshop. Uh huh, you can look like a princess for £38. She teamed the dress with plenty of black accessories. She's definitely cast a style spell on us.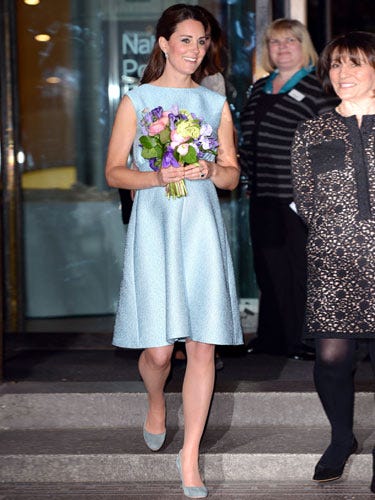 Kate Middleton
Kate Middleton took advantage of the glorious weather this week as she arrived at London's National Portrait Gallery in a dainty duck egg blue cocktail dress – and no coat! The Duchess looked radiant in the Emilia Wickstead frock, showing off her toned arms and legs… and of course, her growing baby bump. We love Kate's relaxed half pony tail and grey suede heels, but it was that sapphire wedding ring that really caught our attention as it popped beautifully against her dress. Simply stunning.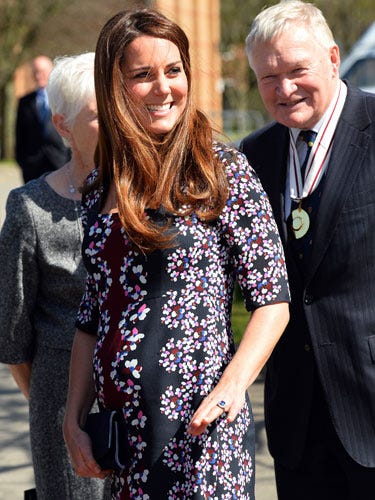 Kate Middleton
Kate Middleton stepped out in a gorgeous floral dress by one of her fave designers, Erdem, to visit The Willows Primary School in Manchester.
The pregnant royal's baby bump was more visible than ever before in the £1,065 silk Sophia dress, which she teamed with a navy clutch and heels.
The frock was pricier than her usual daywear but we doubt that'll put off Kate's fashion followers - it's sure to be a sell-out!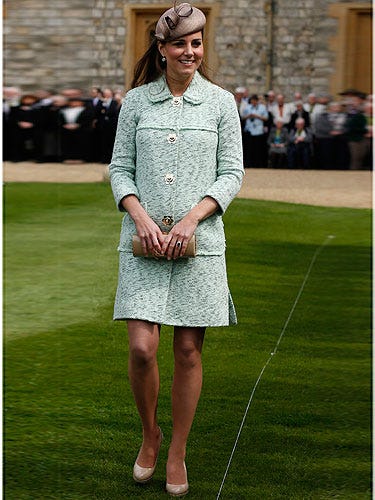 Kate Middleton
There it is! Kate Middleton's growing baby bump is clearly visible under her gorge Mulberry mint coat as she attends the National Review of the Queen's Scouts at Windsor Castle. Despite being nearly 7 months pregnant, the Duchess of Cambridge still wore her trademark nude LK Bennett heels teamed with a taupe pillbox hat. We think she looks just swell, do you?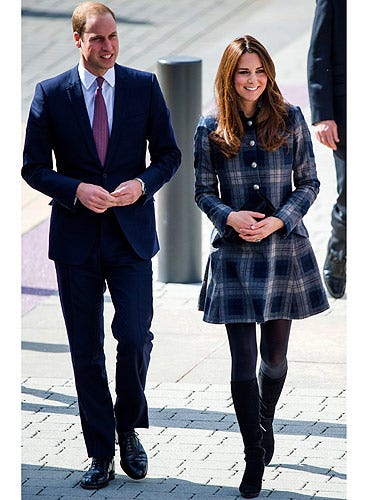 Kate Middleton
The Duchess of Cambridge has braved the chilly temperatures to visit Glasgow in Scotland. And get this, KMiddy, who is believed to be around five-and-half months pregnant, wore a coat that is THIS season, AND available to buy now. Yep, that's right, the plaid 'Worker's Coat' by British heritage label Moloh was her coat of choice, and it's priced at £425. Well, when we say it's available now, it won't take long for it to be a sell-out - it is Kate Middleton after all.
Kate Middleton
The Duchess of Cambridge looks anything but grim in Grimsby. Baby mama-to-be Kate Middleton visited the National Fishing Heritage Centre looking lovely in a burgundy coat from Hobbs layered over a Great Plains dress. Apparently, the crowds were chanting, 'we want Kate!' as she arrived – well, we want Kate's wardrobe!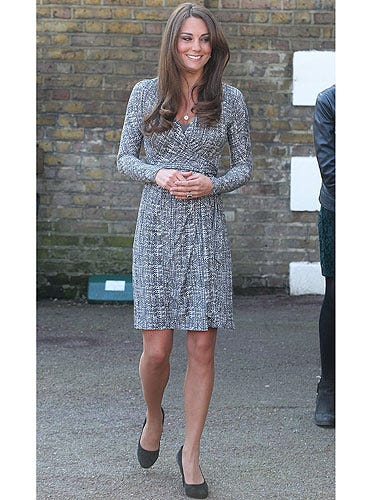 Kate Middleton
The Duchess of Cambridge headed back to work for the first time this year wearing a wrap dress from MaxMara. Kate Middleton returned to the day job following her holiday to the Caribbean with her husband Prince William. KMiddy teamed her Max Mara wrap dress with a pair of black suede court shoes and an Asprey 167 Button Pendant.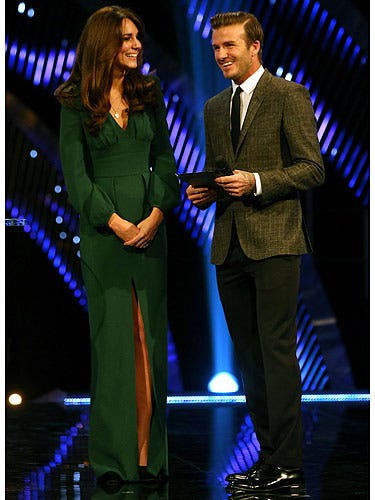 Kate Middleton
The Duchess of Cambridge looked gorgeous in green Alexander McQueen at the Sports Personality of the Year Awards 2012. And doesn't William look handsome?! We joke, of course. Kate shared the stage with the HOTTEST man on Planet Earth, David Beckham. The pair presented Bradley Wiggins with the Sports Personality of the Year trophy. Ah, let bump watch commence...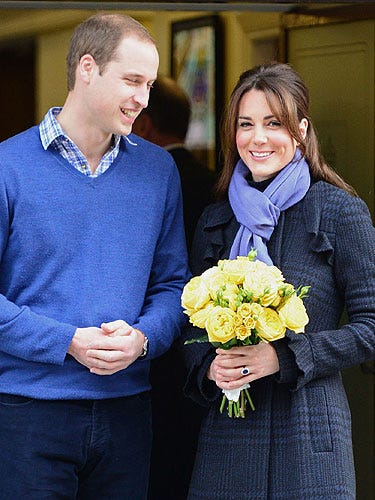 Kate Middleton
Hurrah! Kate Middleton emerged from King Edwards VII hospital with her hubby by her side. Kate and William were both smiling as they left the hospital where she had to stay in for three nights due to morning sickness. The royal beauty was wrapped up against the cold in a coat and scarf - and we're positive the Duchess is already glowing...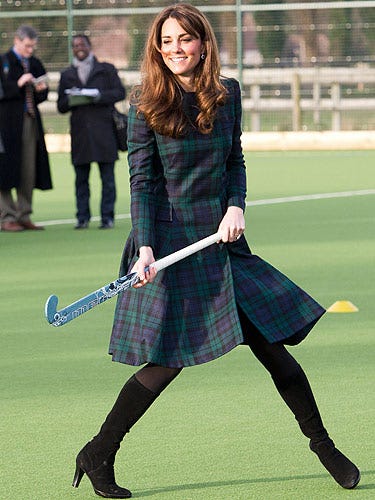 Kate Middleton
Kate Middleton paid a visit to her former school, St. Andrews on Friday. The 30-year-old royal wore an Alexander McQueen coat dress teamed with her fave boots. And look, KMiddy even joined in with the fun and games by grabbing a hockey stick - go Kate! Did she score a fashion goal or was this look too predictable? Our verdict: GOAL!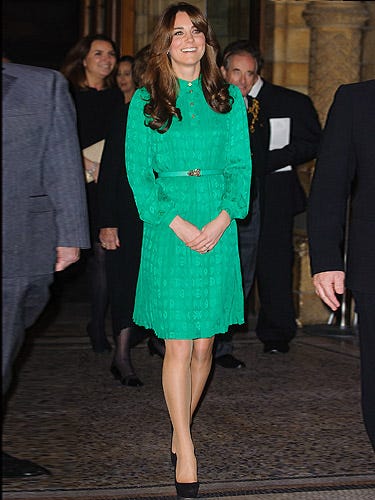 Kate Middleton
Kate Middleton made us all green with envy last night as she opened the Natural History Museum in London. Wearing one of her old favourite Mulberry dresses (well it is gorgeous!) Kate looked both elegant and classic. Paired with her black stilettos and a fabulous new hair do, KMiddy looked ready to rock!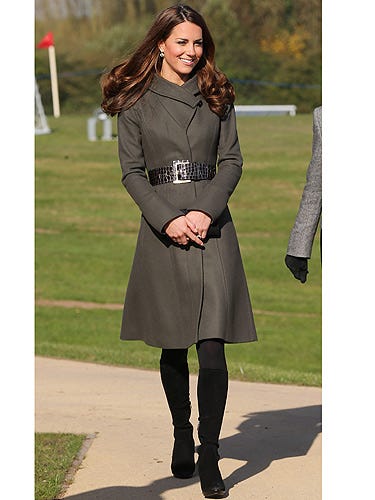 Kate Middleton
What does one wear to meet the England football squad? Well, something warm and comfy if you're Kate Middleton. KMiddy met the squad in an olive green belted coat from Reiss and her trusty black knee-high boots. What, no nude heels?! Oh well, she still scored with us!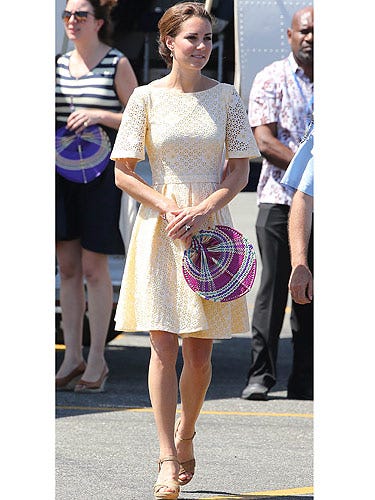 Kate Middleton
Kate Middleton seems to have taken a shine to yellow frocks on her Diamond Jubilee Tour as she wore this cute eyelet dress by an independent dress maker. The Broderie Anglaise fabric and sweet pastel shade makes it perfect for the heat in Honiara as Kate embarks on the final leg of her and Prince William's Asia tour. She teamed her dress with a pair of Stuart Weitzman Minx wedges and a set of very elegant Kiki McDonough drop earrings. Kate also opted to tie her hair in a bun instead of her usual flowing waves - we're guessing the humidity was finally getting to her…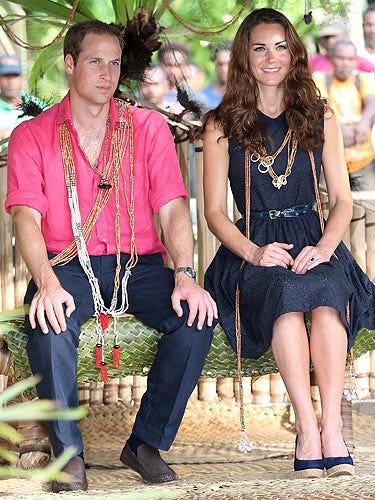 Kate Middleton
On day seven of Kate Middleton and Prince William's Diamond Jubilee Tour, the Duchess of Cambridge chose a sleeveless Nightshade Blue Broderie Anglaise dress from Mulberry's SS12 collection which she teamed with a patent belt. KMiddy teamed her designer frock with her Russell & Bromley wedges… AGAIN! We have to say, this is the KMiddy look we know and love...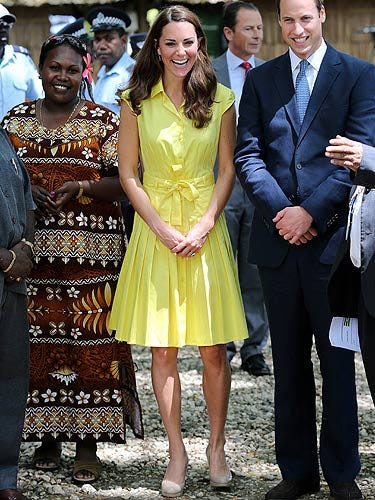 Kate Middleton
Kate Middleton looked bright and beautiful as she continued the Diamond Jubilee Tour. This yellow shirt dress from Jaeger not only showed off her super toned arms but was also perfect for brightening up a dull day and boosting a bad mood. She puts on her fave nude L.K.Bennet heels (they've definitely been a good buy ay KMiddy?) and she looks perfect for another day touring. We think this may be our best outfit yet, what do you think?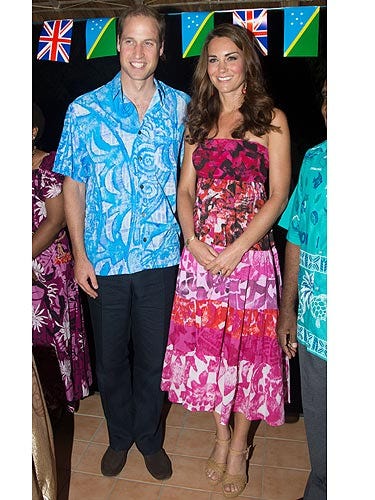 Kate Middleton
Kate Middleton headed out on her Singapore travels AGAIN - blimey, we can only imagine her luggage allowance on this trip! The loved-up pair attended a reception and dinner hosted by the Governor General at his residence - ooh err, what would one wear to an event like that, eh? KMiddy went for a dress purchased locally on her travels, and doesn't she look totally tropical?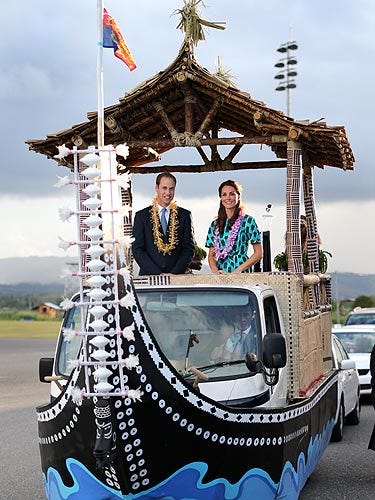 Kate Middleton
Kate Middleton and her hubby Prince William, know how to travel in style. The pair boarded a special boat vehicle as they arrived at Honiara International Airport during their Diamond Jubilee tour of the Far East. And just look at her, in her gorgeous Jonathan Saunders Evelyn cotton dress and those LK Bennett heels she adores. Oh and P.S, this might be our fave pic of the loved-up couple EVER!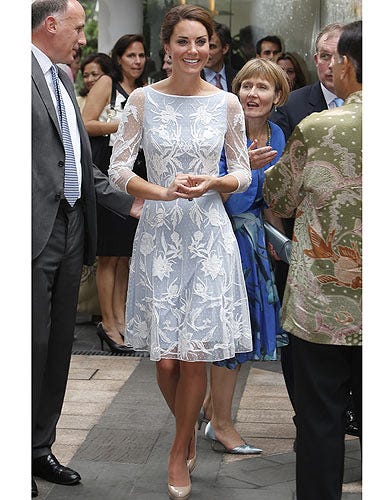 Kate Middleton
We heart Kate Middleton's gorgeous Temperley London dress! Continuing her fashion parade around Asia, Kate put her media boob troubles behind her as she attended a tea party in Kuala Lumpur this morning. The pale blue under dress compliments the lace top perfectly and paired with her trust L.K.Bennet shoes, Kate had one fail proof outfit. Very elegant KMiddy!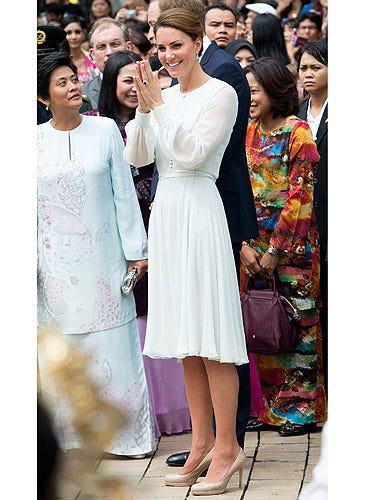 Kate Middleton
Kate Middleton continued on with her pastel silk trend, this time wearing Beulah London at another cultural event in Malaysia for the Diamont Jubilee tour. She looked royally prim and proper pulled her hair back in a low bun and her favourite nude LK Bennett pumps standing next to Prince William. Didn't they look smashing?
Kate Middleton
Kate Middleton continued her tour of South East Asia with husband Prince William as the pair were wined and dined in regal style by Malaysia's Head of State. And, just as she did for her wedding day to Wills last year, KMiddy cracked out another corker by Alexander McQueen, this time featuring gold embroidery in the shape of Malaysia's national flower, the hibiscus, with pretty flutter sleeves. Do you love Kate's gown? Do you rate this more than her McQueen wedding dress?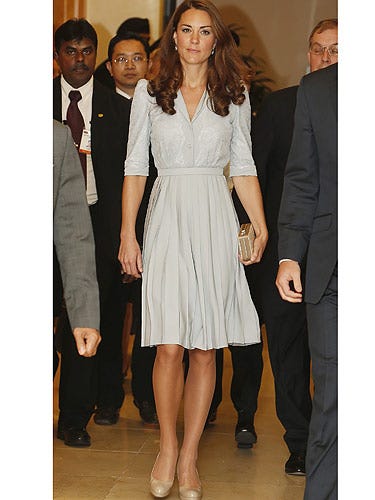 Kate Middleton
We're loving that we get to see Kate Middleton in a fabulous new frock everyday as she tours Singapore for the Diamond Jubilee. Wearing another Jenny Packham dress (obviously one of her faves!) Kate showed off her famous ladylike style. Despite the fact it was an emotional day (Kate was visiting a war memorial site) the Duchess still kept things cool and stylish in this duck egg coloured dress with demure detailing. Adding her classic L.K.Bennet heels, Kate was the perfect picture!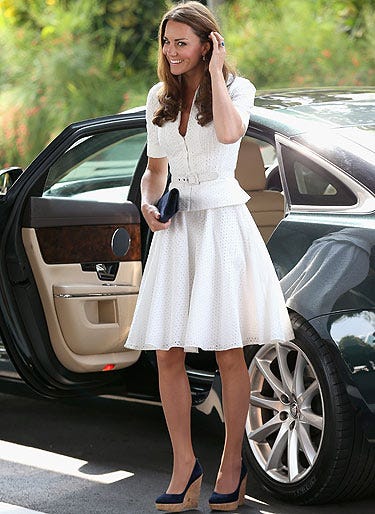 Kate Middleton
Wow! Kate Middleton looked stunning in her pretty white Alexander McQueen broderie anglaise suit. On her feet she wore her fave navy suede Coco wedges by Stuart Weitzman for Russell & Bromley. Kate and her hubby are on a Diamond Jubilee Tour of the Far East taking in Singapore - LOVE!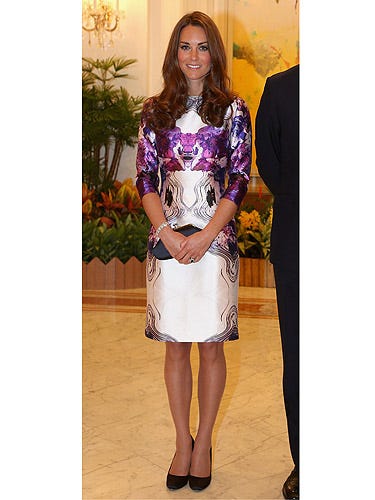 Kate Middleton
We're loving Kate Middleton's style as she tours Singapore for the Diamond Jubilee. Here she wears a gorge Prabal Gurung frock that was full of colour and print. Looking elegant as usual, we can feel this Singapore tour turning into quite the fashion parade…
GET THIS LOOK FOR LESS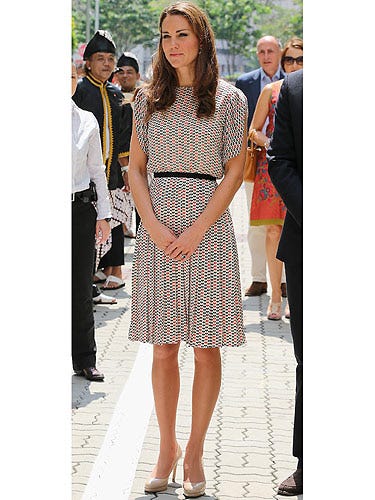 Kate Middleton
Singapore is Kate's new playground. The gorgeous Duchess arrived in the for her second day dressed to kill. Kate chose a pretty patterned silk skirt and top by Asian designer Raoul. We think she looks super doper pretty - as per usual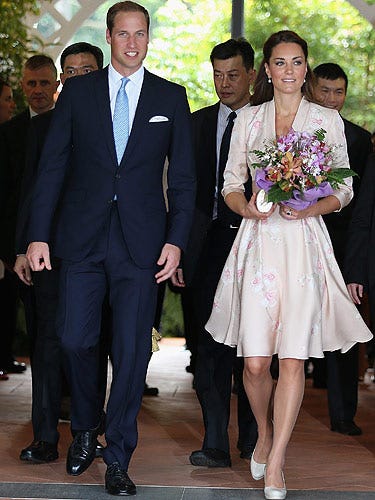 Kate Middleton
Kate Middleton kicked off the Diamond Jubilee tour in Singapore with class in this beautiful Jenny Packham dress. Covered in orchids, the dress paid tribute to Singapore's signature flower and made Kate look effortlessly gorgeous as always while maintaining her elegant fashion sense. We LOVE!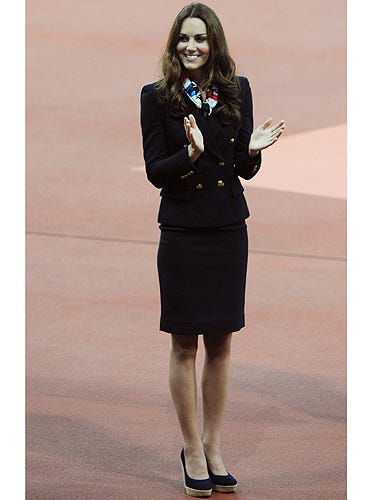 Kate Middleton
Kate Middleton channels air stewardess chic as she hands out medals at the Olympic Stadium during the Paralympics.
The Duchess wore a patterned Team GB scarf and a navy blazer teamed with a navy pencil skirt and her favourite Stuart Weitzman wedges.
Hmm, we wonder whether she directed people to the nearest safety exits while she was there?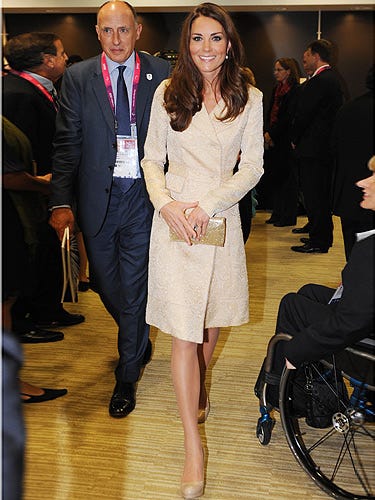 Kate Middleton
Kate Middleton goes for gold at the Paralympics opening ceremony - maybe she's predicting a hefty gold medal haul for Team GB?
She's certainly winning in the style stakes - the thrifty Duchess recycled the DAY Birger et Mikkelsen dress coat she wore to Zara Phillips' wedding last year - teamed with her face Kurt Geiger heels, natch.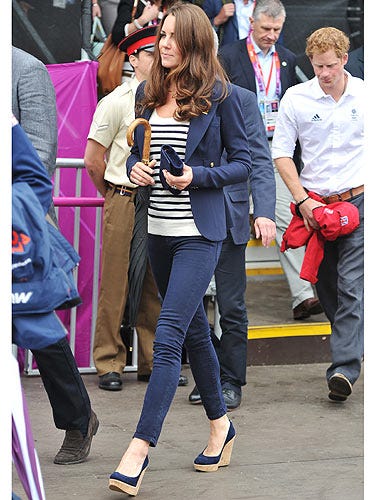 Kate Middleton
Kate Middleton is loving the London Olympics - she's rocked up two days in a row! Looking sharp in her tight indigo jeans, blue and and white-striped top and her hair big and bouncy - we're loving her London look!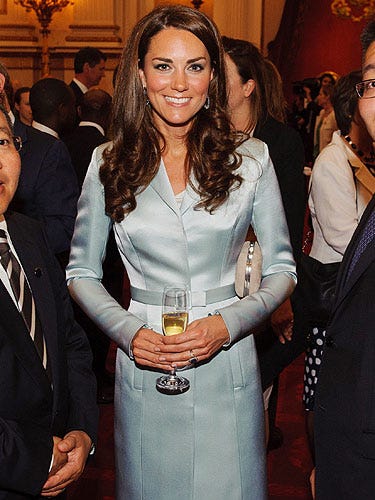 Kate Middleton
For the 2012 Olympics opening ceremony reception at Buckingham Palace, Kate Middleton opted for a Christopher Kane outfit - and what a remarkable decision! The Duchess of Cambridge teamed her designer ensemble with bronzed skin, a KMiddy blow-dry and a celebratory glass of champers - LOVE.
.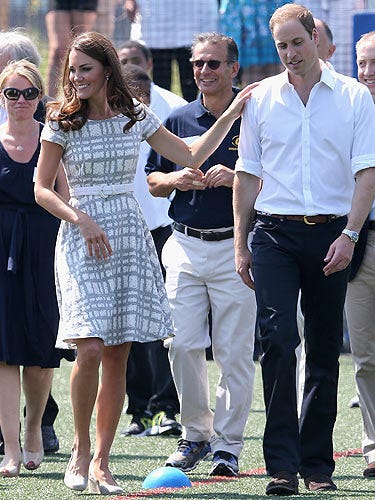 Kate Middleton
Wow, check out Kate Middleton rocking a £35 dress! The Duchess of Cambridge wore this Hobbs number in Tottenham to witness Olympic torch relay before it arrives at Buckingham Palace. We're not sure whether KMiddy got this full price, or whether she got a £35 bargain in the sales - either way she looks pretty. Plus, we kinda love seeing KMiddy and Wills looking as excited as we are in the countdown to the Olympic Games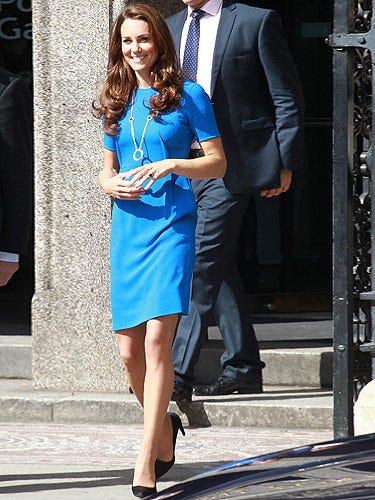 Kate Middleton
Kate Middleton looked tres chic as she visited the Road to 2012: Aiming High Exhibition. We think she looks stunning in her electric blue Stella McCartney dress - don't you just love it when KMiddy flies the flag for British fashion? She teamed her blue dress with Prada heels and a necklace that looks very much like a subtle nod to the Olympic rings, dontcha think?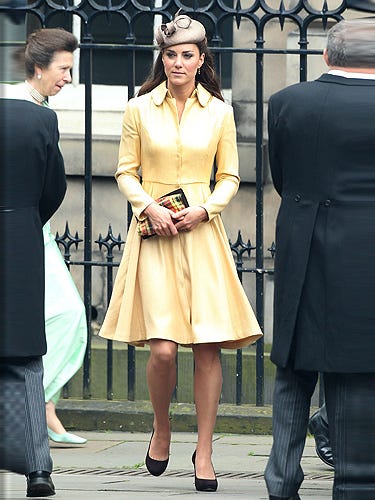 Kate Middleton
Kate Middleton pulled out all the stops for hubby Prince Will's Order Of The Thistle ceremony - this bespoke primrose coat dress by Emilia Wickstead was perfect for the royal occasion. The pale yellow hue showed off her golden tan to perfection and we adore how it nipped-in around her enviable waist.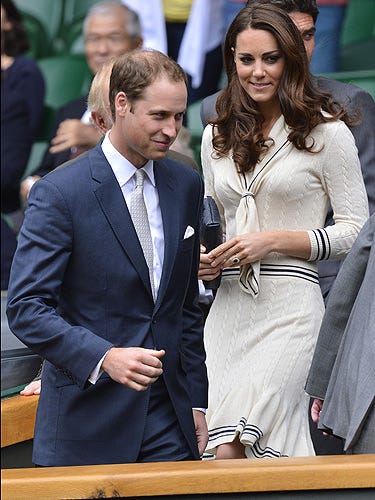 Kate Middleton
Kate Middleton appreciates a good dress when she has one which is why we often see her wearing them more then once! This Alexandra McQueen dress is no exception. Wearing it to Wimbledon 2012, Kate was also spotted wearing this same little number around the same time last year. Well, it is a classic afterall...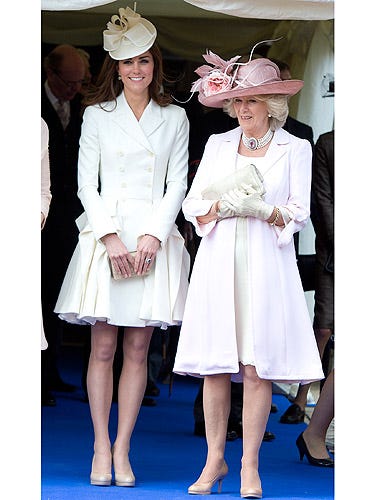 Kate Middleton
Kate Middleton just loves a bit of Alexander McQueen, doesn't she? No wonder Sarah Burton's all set for an OBE – for services to dressing the next Queen of England, maybs? KMiddy joined the rest of the royals at the Order of the Garter service wearing a pale yellow dress coat by McQueen and a regal looking hat by esteemed milliner Jane Corbett (who also created her headgear for Saturday's Trooping the Colour Parade). That's our wedding guest outfit inspiration, right there. Thanks Kate!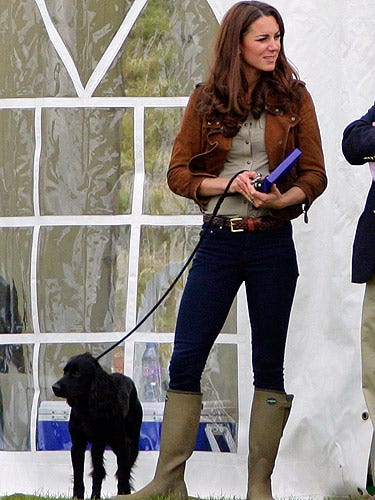 Kate Middleton
Kate Middleton dressed for the great outdoors on a charity visit with children in the countryside. In contrast to the pomp and ceremony of the Trooping of the Colour, KMiddy opted for casual cool in blue Zara jeans, a khaki Burberry blouse, and matching Zara jumper layered under a Really Wild leather waistcoat. The Duchess also looked bootylicious in a pair of – get this - £300 wellies from French brand Le Chameau. We're ooh-la-loving Kate's off duty style!
Kate Middleton
Kate Middleton looked ravishing in red at the Diamond Jubilee pageant on the Thames during the Jubilee bank holiday weekend. The scarlet pleated McQueen dress was teamed with a matching hat, complete with a feather, and nude shoes (obvs! KMiddy loves them). GORGEOUS!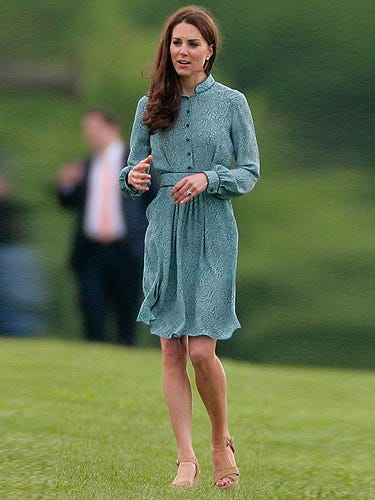 Kate Middleton at the polo
Whilst Princes William and Harry played a charity polo match, Kate Middleton won the style stakes with yet another elegant ensemble. Wearing a printed sea-green 'Rebecca' dress by Libélula and sky-high nude wedges by Stuart Weitzman with her trademark tumbling tresses, we think this is one fashion match Kate totally won, regardless of the windy weather. Tally-ho!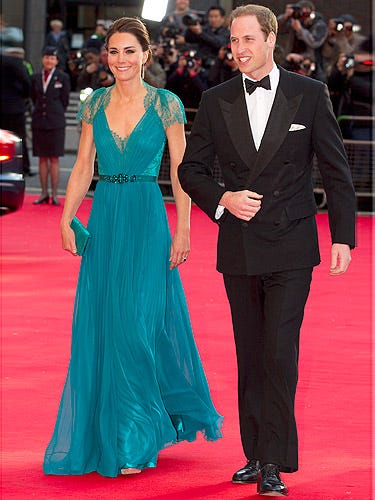 Kate Middleton in Jenny Packham
We're (jade) green with envy at Kate Middleton's latest red carpet look! The Duchess dazzled as she arrived at the Olympics concert in London. Not only do we love the beautiful chiffon pleated gown with lace cap sleeves embellished with Swarovski crystals and a bejewelled waistband, but we also heart Kate's new hairstyle: a braided bun! Gorge.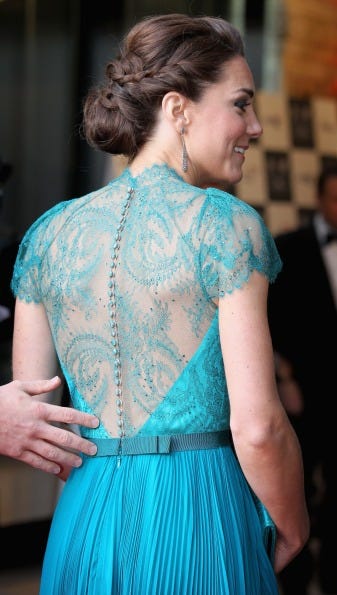 Kate Middleton in Jenny Packham
Stepping out with Will for the Olympics concert, Kate wore this gorgeous teal Jenny Packham dress with an intricate lace back. Almost exactly a year on from her wedding where she wowed in lacy Alexander McQueen, it seems like Kate knows what works for her whether she's dressing for her own wedding or a glamorous red carpet event.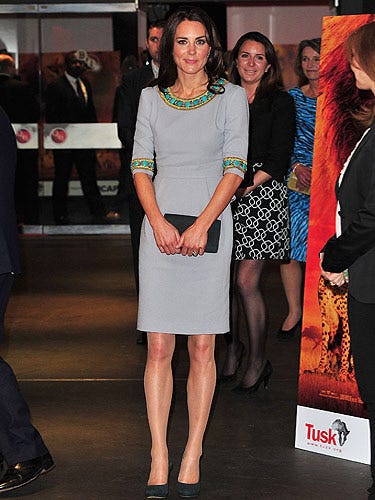 Kate Middleton
Wow! Is it just us or is this Kate Middleton's most fashion forward look to date? We love the sleek two-piece Matthew Williamson outfit she wore to the premiere of African Cats. It's from his pre-fall 2012 collection which means she's way ahead of the fash pack - go KMiddy!
Kate accessorised her fabulous peplum number with a pair of bright blue topaz and diamond earrings by Kiki McDonaugh and co-ordinated the lot with heels and a clutch bag, both by Emmy Shoes. We can't wait to see what she wears next...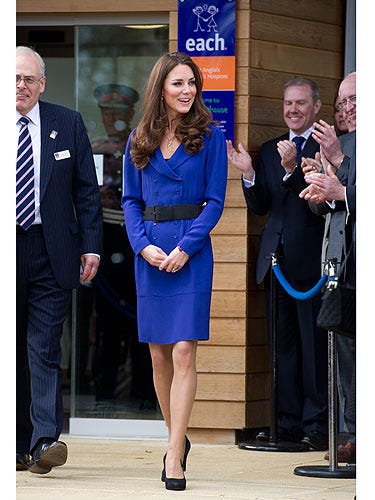 Kate Middleton
Just like any girl, Kate Middleton loves dressing up in her mum's clothes! When she stepped out in this gorgeous ROYAL blue Reiss dress, we noticed it was identical to the one her mother Carole wore to Royal Ascot in 2010. The Duchess snapped it up a while back for a cool £139 and we guess it was the perfect way to boost her confidence before her first public speech!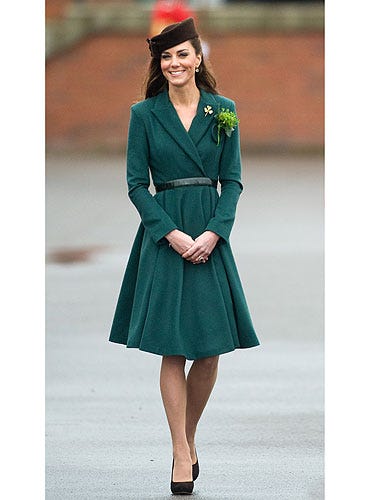 Kate Middleton
We loved Kate Middleton's gorgeous green ensemble when she stepped out on her first solo military engagament. In a fitting tribute to St Patrick's Day, the Duchess selected a £1,150 bottle-green coat dress by Emilia Wickstead, teaming it with a brown felt cap from Lock and Co. Of course, it was the sprig of shamrock and gold shamrock brooch that really caught everyone's eye in the accessories department!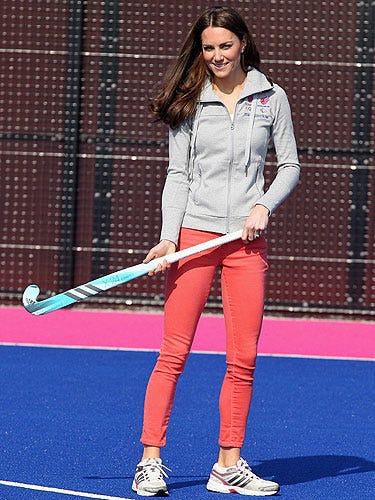 Kate Middleton
Didn't Kate Middleton look absolutely gorgeous when she swapped her usual elegant dressed-up style for the sports luxe trend? Our fave Royal fashionista donned a pair of coral skinnies, trainers and a marl grey hoody when she played a game of hockey with Team GB... and we loved it! This look definitely proved that Kate can work any trend and any occasion.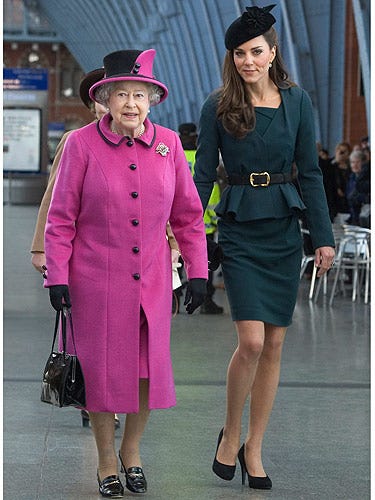 Kate Middleton
Woo hoo! It's officially spring, Kate Middleton has her (enviable) legs out! Doesn't she look stunning in her teal LK Bennett outfit? The Duchess joined the Queen on her visit to Leicester De Montfort University, which marks the first date of Queen Elizabeth II's Diamond Jubilee tour of the UK. We have to say, we're loving Queenie in her fuschia pink ensemble, but it's Kate's Jude jacket and Davina dress that we're lusting over. Kate is right on trend with the subtle peplum detailing. See our pick of the best peplum pieces here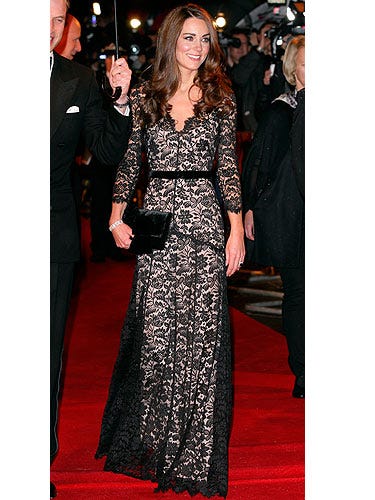 Kate Middleton
On the night before Kate Middleton's 30th birthday she graced the red carpet for the London premiere of 'War Horse'. There's no doubt about it, the birthday girl looked fabulous in a black lace gown by Alice Temperley, with her brunette tresses loose and super shiny. As for jewellery the Duchess decided to keep it simple, opting for a silver bracelet and her exquisite engagement ring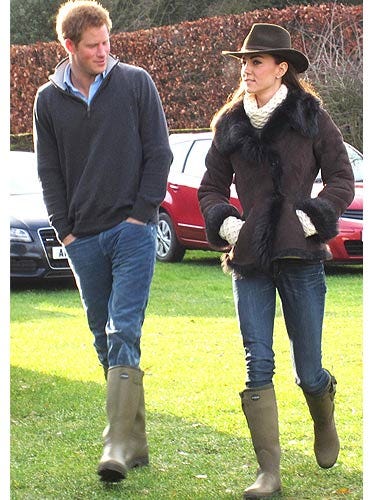 Kate Middleton
Ooh, we love Kate's off-duty style just as much as her on-duty one. Here she is on Christmas Eve wearing a jacket from LK Bennett, a white Temperley jumper and a pair of wellies. Oh and she added a gorgeous hat - loving the headgear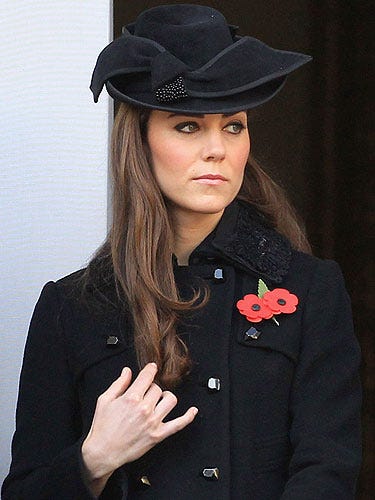 Regal Kate
All eyes were on the Duchess of Cambridge as she arrived to pay her respects on Remembrance Sunday, she wore an all-black ensemble and a double poppy at her button hole to show her respect for those who have fought and died for Britain. The poignant service was held at The Cenotaph in London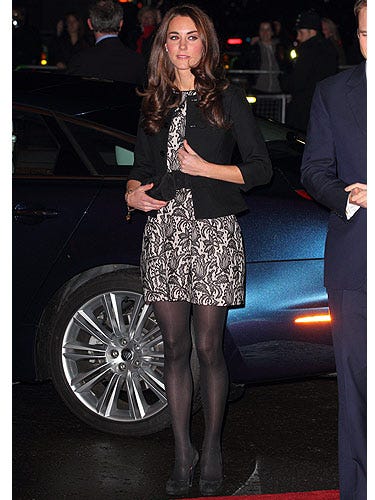 Kate Middleton
We love that Kate Middleton wore a cream and lace mini dress from Zara, alongside a black Ralph Lauren jacket to a Prince's Trust charity concert hosted by Gary Barlow. She likes to champion the British high street and we think that's VERY cool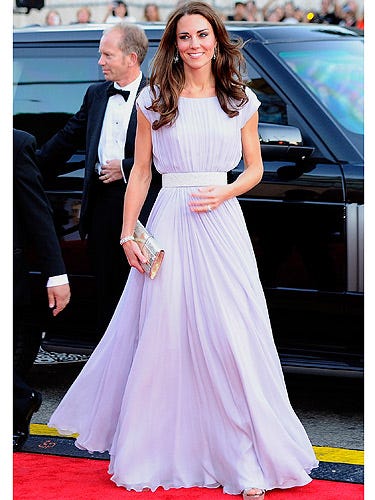 Kate Middleton
When Kate Middleton arrived with her hubby Price William at the BAFTA 'Brits to watch' event, the flashbulbs went crazy. She looked serene and gorgeous in her lilac Alexander McQueen pleated dress. The sparkly belt and clutch finished off her look perfectly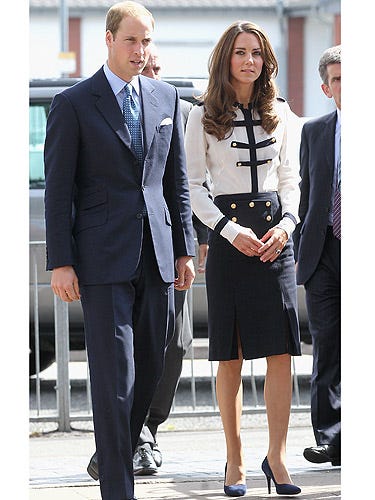 Kate Middleton
After the riots which took place over the summer, Kate Middleton visited Summerfield Community Centre in Birmingham. Dressed sensationally in an Alexander McQueen military style blouse with a gorgeous knee length skirt split at the knee, and modest shoes completed her look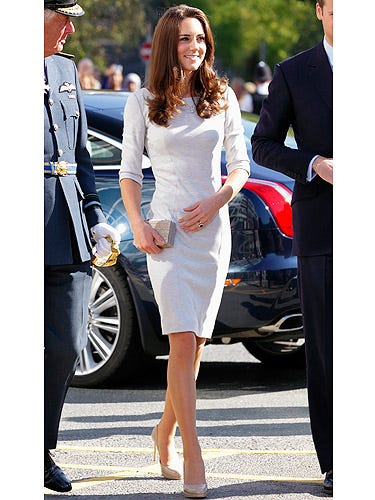 Kate Middleton
When Kate and William made a trip to the to the Royal Marsden Hospital we were in awe of her Amanda Wakeley dress. So chic, so regal so utterly divine! Top points from us here at Cosmo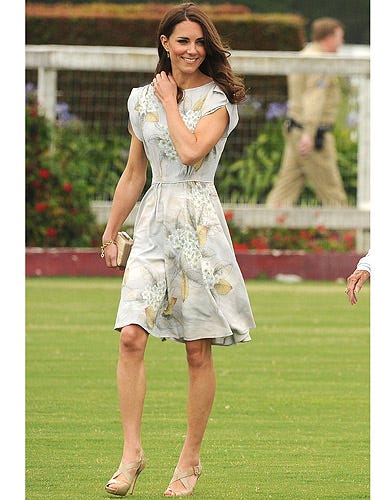 Kate Middleton
The Duke and Duchess of Cambridge attended a polo match in California where back in July, the Duke's team won the Foundation Trophy just so you know. Kate Middleton looked super pretty in her Jenny Packham grey floral patterned silk dress and nude strappy shoes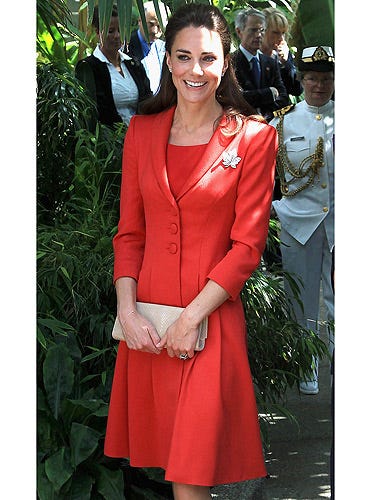 Kate Middleton
Swit swoon! Kate looked red-hot in her scarlet ensemble at the Government of Alberta Reception at The Enmax Conservatory, at Calgary Zoo. Yeah, we're a little bit confused as to what this event entails too, but she looks pretty in her Marianna coat-dress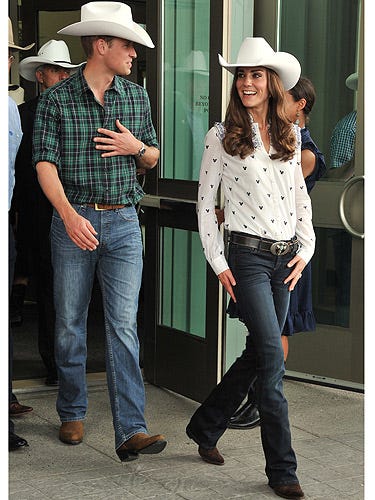 Kate Middleton
Yee-ha! K-Middy rocked the cowgirl look at the annual Calgary Stampede. Only Kate could make a stetson look cool (but only just)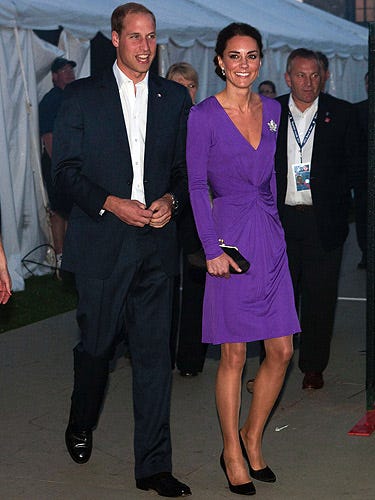 Kate Middleton
Doesn't purple look marvellous with a bronzed glow? Here's Kate looking sensational in her purple Issa dress, up-do and chic, black accessories. Block colour looks fabulous on K-Middy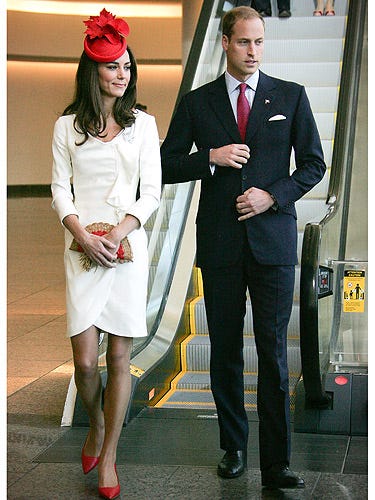 Kate Middleton
Wow! This was a show-stopper of a look for the Duchess. A red patent shoe isn't your typical royal uniform but she makes the look work. Plus, here she is wearing a Reiss dress - Kate's a champion of the high-street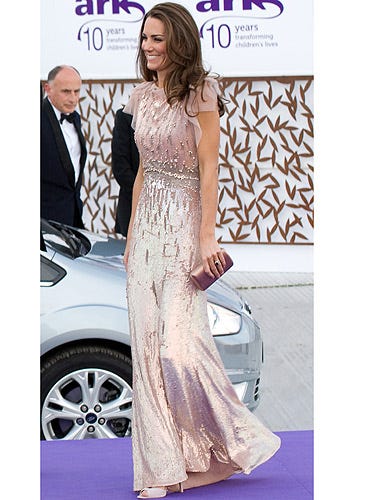 Kate Middleton
Wow! Kate Middleton stole the show when she arrived wearing this Jenny Packham, nude sequin dress. Gossip Girl's Blair Wardorf also wore it in the show - the ultimate princess dress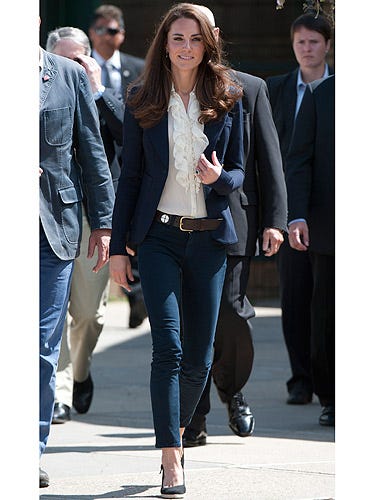 Kate Middleton
Here's off-duty Kate, well, she's never off-duty now she's a royal but sometimes she dresses as if she is. Coming off a plane in Canada, she's rocking a Smythe blazer, J Brand jeans, ruffled blouse and a pair of Pied a Terre black wedges, all topped off with hair that swishes as she walks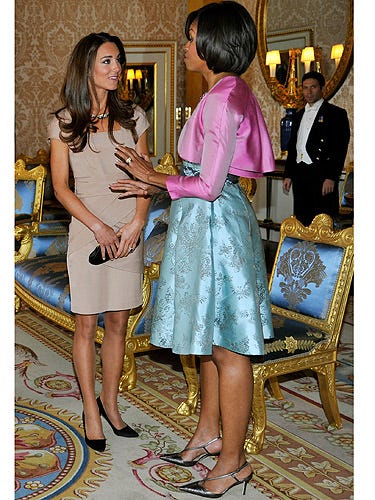 Kate Middleton
What does one wear to meet the Obama family? Reiss of course. Kate looked gorgeous having just returned from her honeymoon. So pretty!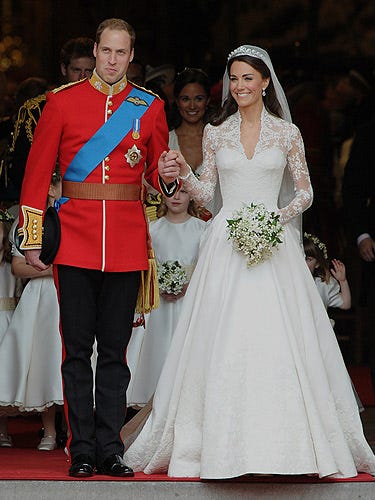 Kate Middleton
When Kate Middleton got out of the car in that Sarah Burton for Alexander McQueen wedding dress the world gasped with sheer delight. She couldn't have looked more beautiful, not even if she tried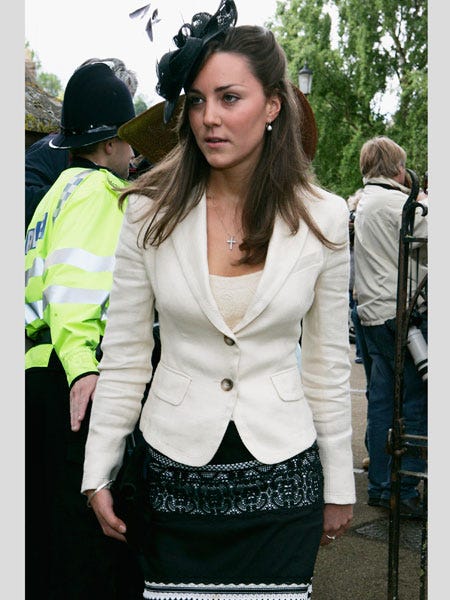 First appearances
Follow Cosmo as we style stalk the newly engaged Kate Middleton
Left: One of Kate's earliest appearances as William's girlfriend Kate attended the society wedding of Hugh Van Custem Junior and Rose Astor in June 2005. Teaming a black lace detail skirt with a cream fitted jacket Kate went for simple sophistication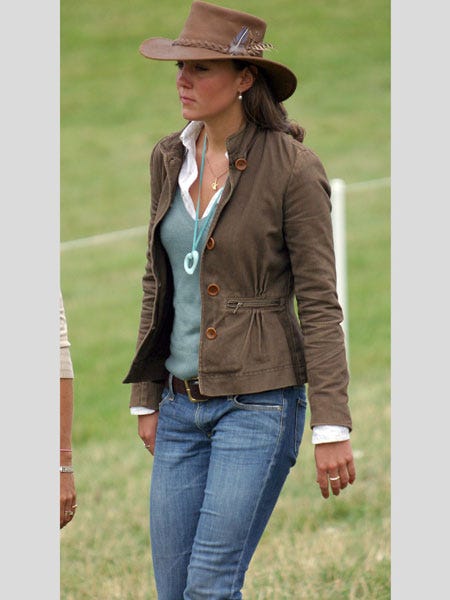 Country girl
Skipping forward a few months to August 2005 and Kate takes on rural high society chic at the Gatcombe Festival. We are loving the leather brimmed hat and feather combo!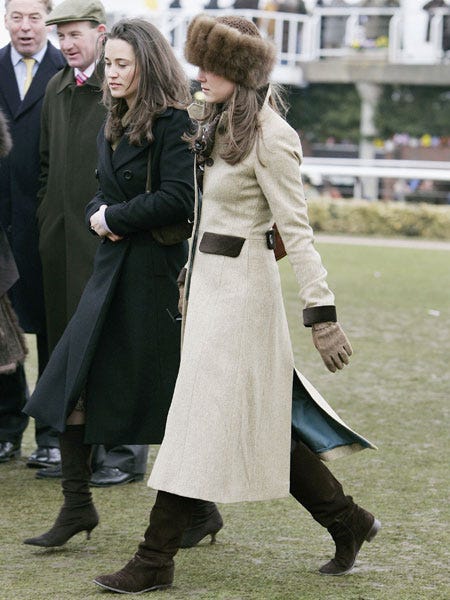 Furry queen
Attending the Cheltenham Races in March 2006, Kate made sure she was not caught out in the cold with this snuggly Russian-style fur hat. We do hope it was faux fur Kate!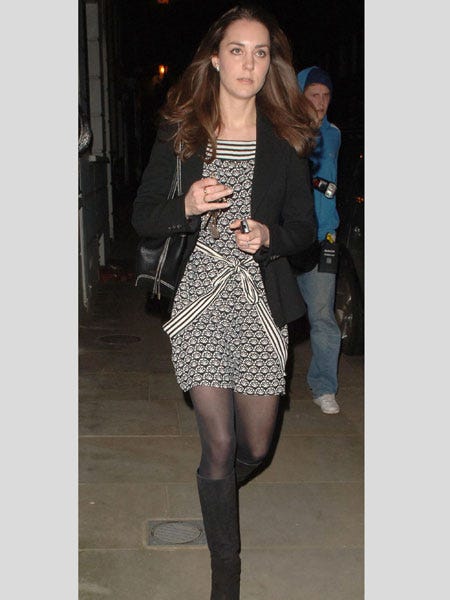 Monochrome maiden
Kate was papped returning home from work in Chelsea in January 2007. As an accessories buyer for Jigsaw bride-to-be Kate was wearing a monocrome shift dress and jacket combo teamed with suede boots. Smart yet stylish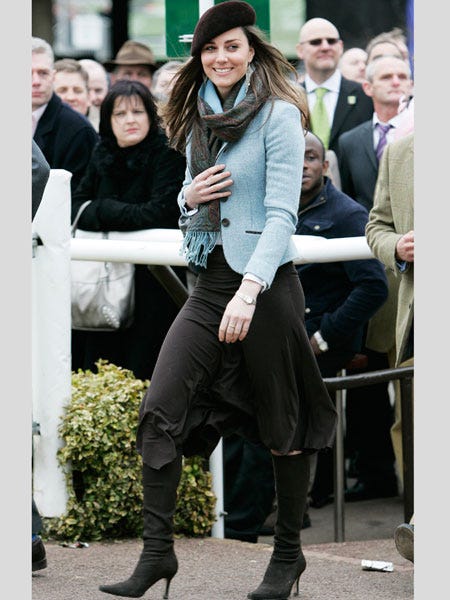 Lady in waiting
Attending the final day of Cheltenham festival in 2007, Kate sported a calf gracing black skirt teamed with a patsel fitted jacket. Accesorising with a pashmina, beret and shoulder sweeping chandaler earrings Kate gets our seal of approval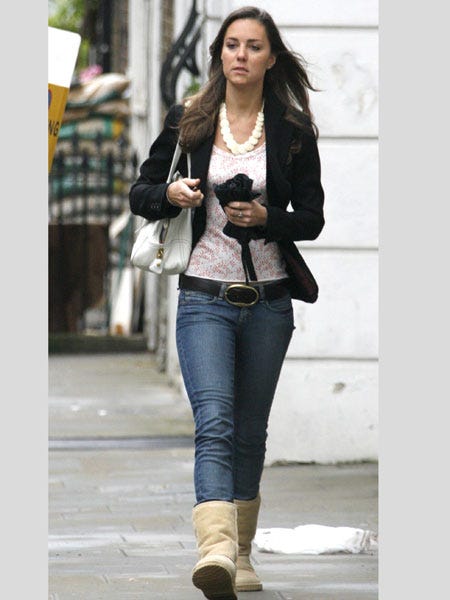 Queen of comfort
Even future Queens have their dress for comfort days and Kate teamed her failsafe jeans and jacket combo with some beige Uggs in May 2007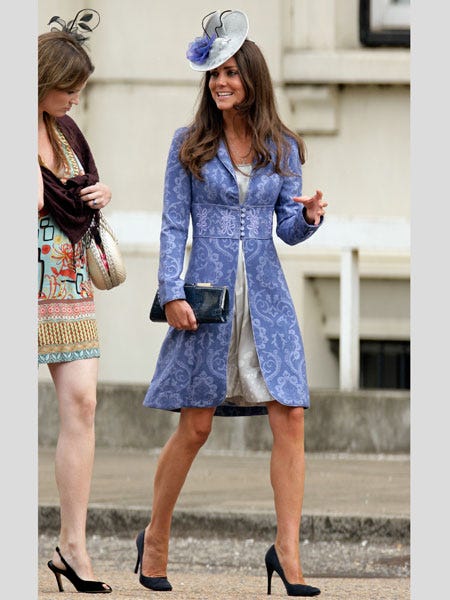 Dressing the part
By August 2009 Kate had her royal style set and worked this sophisticated lilac jacket over a shimmering silver dress. Attending another society wedding at Wellington Barracks Kate chose navy accessories and a lilac and silver fascinator. Simply stunning!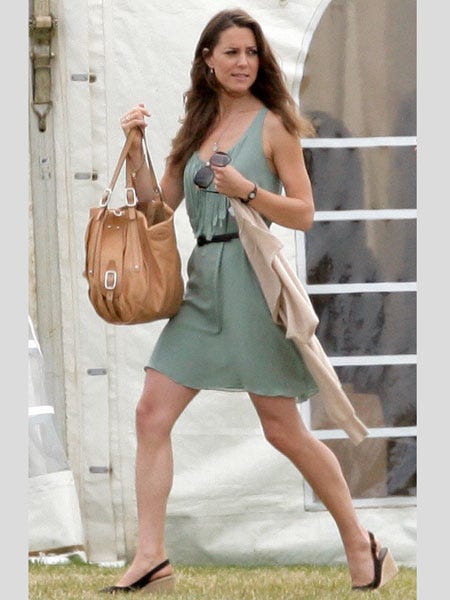 Pastel princess
Performing her girlfriend duties Kate donned this gorgeous green dress to watch Prince Willian and Prince Harry play polo. Wearing on trend brown wedges and carrying an oatmeal colour cardi Kate embodies sophistication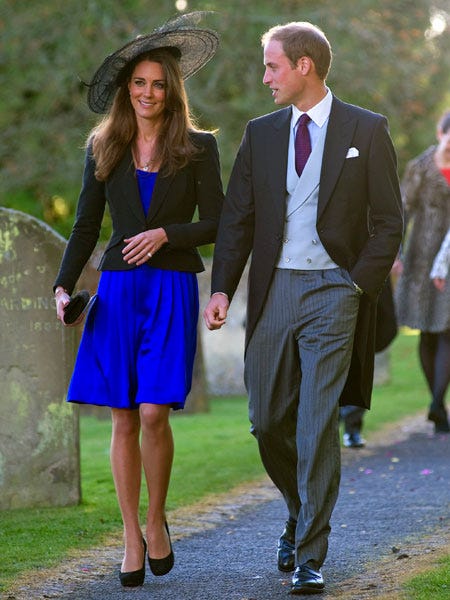 Royal couple
Showing off her althetic figure in a midnight blue dress Kate attended a wedding with Prince William by her side earlier this year. What a lovely couple they make. All together now... ahhhhhhh
Now have your say on today's big issue: should the public foot the security bill for the royal wedding?
CHECK OUT KATE'S WEDDING DRESS POSSIBILITIES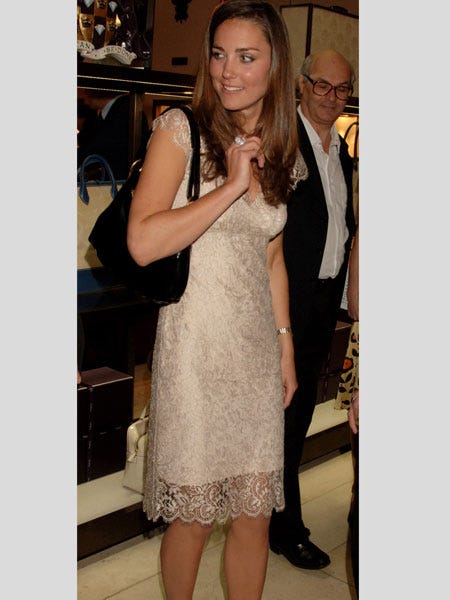 Lace lady
Kate donned this lacy cream shift dress and black peep toe shoes for a London book launch in May 2007