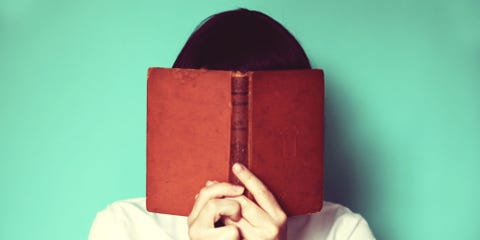 While talk of Dry January, visiting the gym, and approaching life with a peppy, confident and positive outlook are all good and well, there always seems to be one thing on our to-do list at the beginning of each year that falls by the wayside: to read more.
While Leila Slimani's and Sarah Vaughan's are already tipped to become this year's best-selling books (and most probably on your radar), we have a feeling you might want to see what else is currently sitting at the top of our Amazon wish lists.
So buckle up, because here's your go-to list of 12 books you need to read each month in 2018:

When They Call You a Terrorist: A Black Lives Matter Memoir by Patrisse Khan-Cullor and Asha Bandele
From one of the co-founders of the Black Lives Matter movement, Patrisse Khan-Cullor, comes an empowering account of strength, resilience and bravery.
Labelled terrorists and a threat to the US with her Black Lives Matter co-founders Alicia Garza and Opal Tometi, Khan-Cullors documents her personal story as a rallying cry to remind people to see protest for justice as a manifestation of love and reads as a poetic memoir humanity to change its view of the black community.
With a forward by political activist Angela Davis, this is your go-to book to starting the year with courage and determination.

is out 16 January.

Thinking in Bets: Making Smarter Decisions When You Don't Have All the Facts by Annie Duke
Have you ever found that no matter how hard you work, how well you organise and the several 'rainy day' situations you plan for, life always seems to bite you in the bum?
Then, it's about time you start your year by reading the secrets to success by former World Series of Poker champion turned business consultant, Annie Duke.
Sharing her advice to embracing uncertainty, changing the goalpost and altering decision making, Duke teaches how to carefully assess what you do and don't know, how to react to unexpected situations, and how to find long-term success, without trying to control the outcome.
With January being the most likely time for people to look for new jobs, this book is sure to help you finally nail the next job interview.
is out 6 February.

Red Clocks Hardcover by Leni Zumas
After the US House of Representatives passed a ban to criminalise all abortions after 20 weeks of pregnancy, and the dismay that followed, author Leni Zumas' fierce new novel is more pertinent than ever.
Imagining a not-so unbelievable world where abortion is illegal in America, in-vitro fertilisation is banned, and the Personhood Amendment grants rights of life, liberty, and property to every embryo, Zumas' Red Clocks follows five Oregan-based women challenging the status quo.
If you loved Naomi Alderman's The Power and couldn't stop binge-watching The Handmaid's Tale last year, this is your go-to book in 2018 to question what it means to be a woman.
Hardcover is out 8 March
The Financial Diet: A Total Beginner's Guide to Getting Good with Money by Chelsea Fagan
If you're planning a summer girls holiday or a romantic getaway with your partner in the countryside but still finding yourself scraping the pennies and resorting to tinned soup for lunch, you might want to start rethinking how you spend your money.
And no, before you say it, it's not too late in the year to start saving.
Released earlier this year, Fagan's is this year's personal finance guide to people who haven't the foggiest idea of how to save, spend and plan.
From learning how to save on the weekly show, how to discuss money with friends and family and learning the ins and outs of investing (shock horror) to realistically sticking to a budget, this book is going to switch up your finances.
That mojito on the beach in Mexico will be more realistic after reading this book, trust us.
is out 2 January

Ponti by Sharlene Teo
As one of our top 20 stars on the rise to watch in 2018, it's about time you learn the name Sharlene Teo.
With her debut novel Ponti having gone through a seven-way auction before finding its publisher, and being described as 'remarkable' by renowned author Ian McEwan, the Singaporean's novel is tipped to be a 2018 best-seller.
The story follows sixteen-year-old Szu who lives a lonely life in Singapore with her mother, a former actress. An unexpected friendship later leads Szu to escape her mother's grip but17 years later, she's brought back to reality when a project comes up at work: a remake of the cult seventies horror film series Ponti that defined her mother's short-lived film career. Cue childhood guilt and themes of friendship, memory and adulthood.
With comparisons to Zadie Smith, Teo's voice is not to be missed.
is out 19 April
If you're about to go on a summer holiday and fancy a gripping thriller to tickle the hairs on the back of your neck, look no further for your scary delights than Force of Nature.
From the author of the Sunday Times top ten bestseller and one of the most stand-out crime debuts of 2017, The Dry, Harper's latest novel follows a group of five female colleagues on a hike through the Australian outback on a work retreat.
That is, until only four of them come back.
A tale of suspicion, violence and mistrust, this thriller is sure to make you question everything (and become rather suspicious of your colleagues).
is out now.
Slay In Your Lane: The Black Girl Bible by Elizabeth Uviebinene and Yomi Adegoke
What better choice for a summer read than this inspirational guide to life for the modern British black woman, promising to help you 'make lemonade out of lemons, and find success in every area of your life'.
Best friends Elizabeth Uviebinene and Yomi Adegoke provide insights from their own experiences and have also interviewed dozens of black women who are killing it in the UK and globally – including Amma Asante, Malorie Blackman and Jamelia.
They talk about topics including education, work, dating, media representation, money, and physical and mental health.
is out 12 July

America Is Not the Heart by Elaine Castillo
Picture it: It's mid-summer, the days are long and steamy and the nights are carefree. You finally have endless hours to devour a proper book, that epic read you've been putting off all year for lack of time.
This book is it: one of the best debut novels (and novels, period) of recent years, America Is Not the Heart is the absorbing saga of one family, centred on young woman, Hero, who immigrates to the US from the Philippines.
It's about the toil the past has on us, and the false promise of the American Dream; and it is about love and intimacy.
is out 3 May

The Guilty Feminist by Deborah Frances White

Have a laugh and get empowered as autumn kicks off. If you listen to the hilarious, thought-provoking podcast , you already know you're in for a treat with this book by its host, Deborah Frances White.
Like with the podcast, no subject is too high (or too low) to be discussed in this series of essays – from activism to body hair via sexism in the workplace and everything in between. For fans of Caitlin Moran and Sara Pascoe.

is out 6 September

A place for us by Fatima Mirza
This novel is the first book from Sarah Jessica Parker's publishing project, and it turns out she has excellent taste when it comes to championing great new voices.
A Place for Us follows the lives of an Indian-American Muslim family who gather in California for the eldest daughter's wedding. The narration shifts between the points of view of each member of the family, from the kids – for whom it's hard to reconcile the culture in which they grew up and that which they inherited – to the parents, who strove to pass their traditions and faith to the next generation.
A brilliant, highly readable contemporary tale of identity and belonging.
is out 14 June

The House of Impossible Beauties by Joseph Cassara
Escape the dwindling daylight and the dread of autumn with this fabulous voyage to 1980s New York and the glamour and energy of the burgeoning Harlem ball scene.
Seventeen-year-old Angel is wounded by a traumatic past, and she arrives to the drag world ready to build a new family with kindred souls. Then she falls in love, and with her lover, Hector, forms the House of Xtravaganza – but then Hector dies, and she has to run it alone.
Inspired by the real story featured in the iconic documentary Paris Is Burning, this is a grand, beautiful tale of art, love and the human spirit.
is out 1 February

The Wedding Date by Jasmine Guillory
However the year has gone, you know you want to end it with pure escapism and joy. Look no further than The Wedding Date, a hilarious, sexy, smart novel that is guaranteed to make you laugh out loud.
Bear with me: a guy called Drew (a surgeon from LA) is invited to his ex's wedding, and he doesn't have a date … Until he gets stuck in an elevator with Alexa (the mayor's chief of staff in a different city). Guess what – she will be his date, despite it being something 'she would never do'. And they will have a lot more fun than they expected. But then they must part ways.
In film and literature, there's nothing quite like the pleasure of a GOOD rom-com, in capital letters, and this is it.
is out 30 January